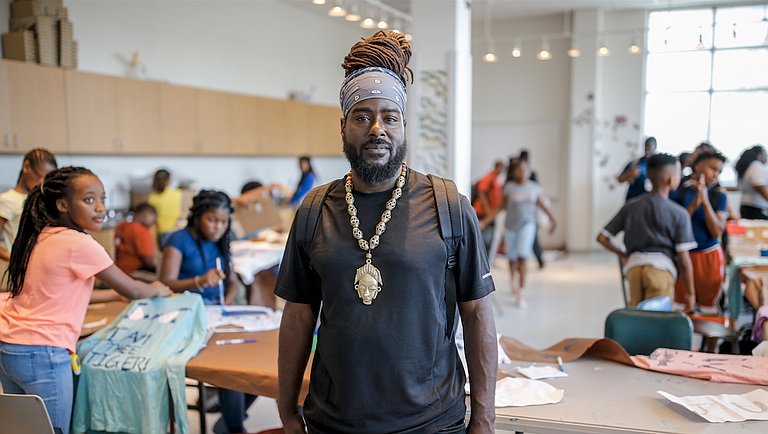 Local mixed-media artist Shambé Jones led a group of 100 sixth-graders in a T-shirt design class at Jackson State University's Johnson Hall on Thursday, June 21, as part of JSU's four-week art program, the Summer Art Institute.
Jones, a member of the Mississippi Artists Guild who received his bachelor's degree from Jackson State in 2002, is one of four JSU alumni participating in the College of Education and Human Development Kids Kollege afterschool and summer program. The program provides art instruction to more than 250 students from preschool to eighth grade. Participating students also get to work in art studios, a photography lab, a printmaking room and an art gallery.
In addition to Jones' T-shirt decorating class, last week's event included cartoon illustration with Monique Davis, the director of membership and visitor relations of the Mississippi Museum of Art, card-making with artist Karen Cotton, and an art party workshop with Prissy Paintbrush Studios, a female-owned small business in Ridgeland.
On Friday, June 29, the Kids Kollege students will celebrate and showcase their art from 1 p.m. to 3 p.m. as part of JSU's "Thee Summer Art Spot for Kids" art exhibition. For more information, call 601-979-2121 or visit jsums.edu.
Paul Tchounwou Receives Presidential Award for Excellence
The National Science Foundation and the White House Office of Science and Technology Policy recently presented Paul Tchounwou, associate dean of Jackson State University's College of Science, Engineering and Technology, with a Presidential Award for Excellence in Science, Mathematics and Engineering Mentoring for his work at CSET.
Tchounwou is one of 41 individuals and organizations to receive the award in 2018 and is the only recipient from Mississippi this year.
A member of the JSU faculty for 15 years, Tchounwou helped establish the university's doctorate program in environmental science and has mentored or co-mentored 73 Ph.D. scholars, 32 of whom went on to receive doctoral degrees in the subject. Tchounwou also supervised thesis preparations for 12 graduate students and has mentored 11 junior faculty members at JSU.
Tchounwou previously received the Millennium Award for Excellence in Research at Historically Black Colleges and Universities from the White House Office of Science and Technology Policy in 2003 and the American Association for the Advancement of Science's Mentor Award in 2013.
Nicholas Fitzkee Receives National Institutes of Health Grant
The National Institutes of Health recently awarded Nicholas Fitzkee, an associate professor in Mississippi State University's chemistry department, with a five-year, $1.8 million grant to study how bacterial proteins attach to plastic and glass surfaces, and thus impact public health.
A native of York, Penn., Fitzkee received his bachelor's degree in computational physics in 2001 from Carnegie Mellon University in Pittsburgh. He received his Ph.D. in biophysics from Johns Hopkins University in Baltimore in 2005 and joined the MSU faculty in 2011.
He established the Fitzkee Lab research group after coming to MSU and began studying the relationship between protein dynamics and function. He plans to use his bacterial attachment research to help scientists develop medical implants more resistant to biofilm formation, which is a process in which microorganisms irreversibly attach to and grow on a surface. Three doctoral students and several undergraduates are assisting with Fitzkee's research.
For more information on the NIH and its Research Project Grant Program, visit grants.nih.gov.