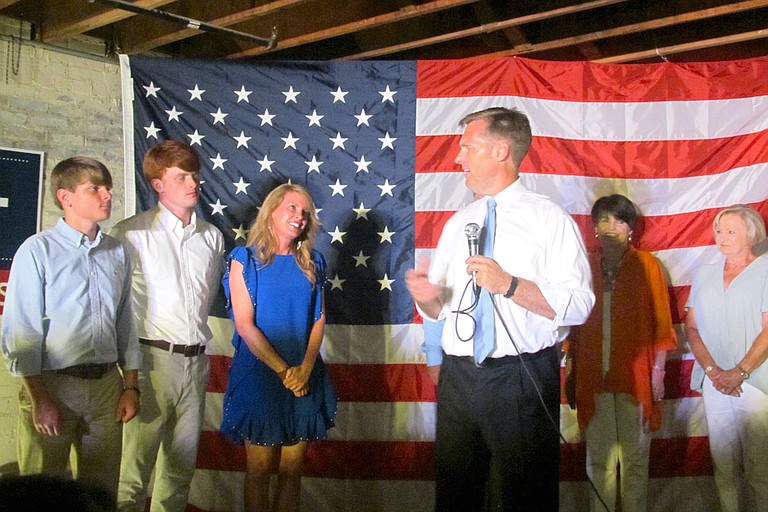 JACKSON — The celebratory atmosphere filled Mudbugs in Brandon—even before the primary run-off results came in. The crowd knew their candidate, Michael Guest, would win the Republican nomination for the Third U.S. Congressional District, and he did.
Banjo and bass players provided live music as Guest defeated Whit Hughes Tuesday evening. 
At Sombra in Ridgeland, Hughes' supporters anxiously awaited election results, with chips, salsa and alcoholic beverages on every table. His campaign team sat solemnly with open laptop screens as the remaining results trickled in. Almost every crowd member was wearing a "Whit Hughes for Congress" or a "Salute Me, I Voted" sticker.
At 8:11 p.m., the Associated Press called the election, with Guest winning with 65 percent of the vote. An hour later, he was on stage at Mudbugs to thank his supporters.
"About all I can say is thank you," Guest said. "You will never know how much Haley and I appreciate everybody, appreciate everything that y'all have done on our behalf." 
Hughes addressed his supporters around 8:45 p.m., thanking them and his family. "I made it very clear from the beginning that I'm driven by faith and family," he said. Hughes added that he was proud of the positive campaign. "This is not an evening in which we're going to dwell on any negativity," he said.
Guest also spoke about his pride in the campaign.
"There is not one thing on this campaign we would have wanted to done different," Guest said. "We ran the campaign that we wanted to run, we put forth the message that we wanted to put forth, and you and the voters throughout the Third Congressional District, y'all chose us, and we are so humbled by that."
Guest said he has not started thinking about November. Instead, he owes his family a weekend at the beach to recover from campaigning. After that, then it's time to start again, he said.
"I promise you as soon as we get back, we're going to begin working," Guest said. "What we need to do, is we need to begin reaching out to other conservatives who supported other candidates in this race. We want to consolidate this Republican base."
Guest said he is excited to return to Mudbugs on Nov. 6 for the election, as voters go the polls to choose between him and Democratic nominee Michael "Ted" Evans.
"This is not a 'who won and who lost,'" Guest said. "We need to now come together as a family. As a family of conservatives, a family of Republicans so we can be victorious in November."
Read more about Guest and Evans at jfp.ms/2018elections.