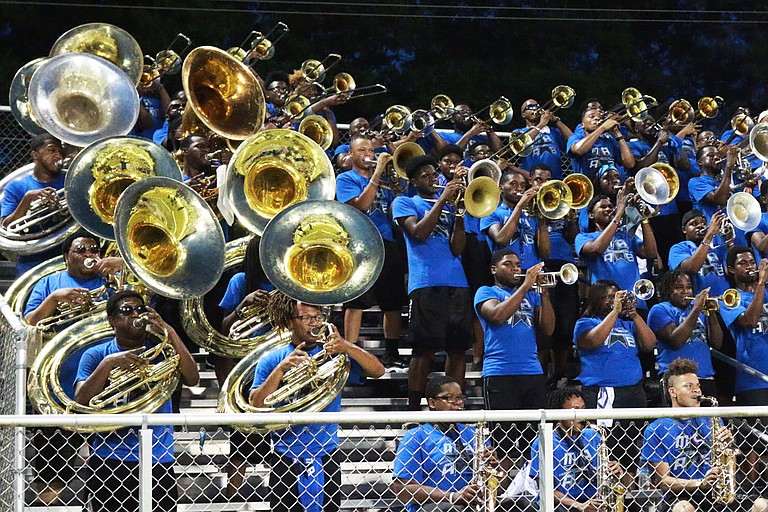 A wave of brass and booming percussion spills out onto the gravel lot behind Jim Hill High School. A few young men, who look to be freshly out of an athletic practice, peer through an open back door to watch more than 50 musicians prepare for battle—or at least, for a battle of the bands.
Standing or seated in groups, the musicians play and mimic the movements spectators will later see on the field. Flutes, saxophones and quieter instruments sit nearest to the platform where the bandleaders conduct. Cymbal players and drum-line members close out the pack, standing in the back beneath a rainbow of trophies.
On the wall, a banner reads "Jim Hill High School Marching Band," but of course, that's not entirely true. While some are Jim Hill students, many come from other schools around Jackson or are even recent high-school and college graduates.
Together, they form the Mississippi Alumni All-star Band, which is preparing for the Independence Showdown, an annual competition featuring marching bands from states such as Alabama, Louisiana, Tennessee, Georgia, Ohio and Michigan.
"We started off just with this marching band in 2011, and everything just grew," Chris Little, 34, says. "Now, we have two marching bands. We have a high-school and middle-school-only band, and this band is high school, collegiate members and people who are alumni."
Little, director of bands at Jim Hill, co-founded the Independence Showdown and its parent nonprofit, Mississippi Music Institute, with Atlanta native Travis Parks, 32, and Memphis native Travis Pruitt, 31.
The trio connected while studying music education at Jackson State University in the early 2000s. Around that time, Parks approached Little about launching an all-star band in Jackson. They have since brought on additional staff members Curtis Luckett, Anthony O'Bryant, Trenton Harper and Jordan Harper.
"We saw that there was a want," Parks says. "I won't say it was a need. The need is something we saw later because of just the landscape of music in Mississippi. But there was a definite want to do something recreational and positive, and we just wanted to provide that outlet for the young people, not just people who are in school."
Parks says they aim for the event to be a national attraction for the city, a platform to advocate for performing arts, and a source of opportunities for the musicians. The bands have been able to help several students earn scholarships, he says, and this year, they received invites to competitions in the Bahamas and Jamaica in the fall.
This year presents a few changes for the Showdown, as this will be its first at the Mississippi Coliseum, relocating from its home at Newell Field due to renovations. Along with the bigger location is a bigger version of the middle- and high-school group, the Magnolia All-star Band, which now has four divisions across the state.
In the near future, they also hope to expand other Mississippi Music Institute programs, which include a band-director training program, two dance ensembles and a flag corps. They are planning a band-directors conference for 2019 and want to eventually start symphonic and jazz bands.
The main obstacle has been a lack of funds, which has made it difficult to travel and obtain equipment, uniforms and facilities, Parks says. The bands do have membership fees, but he says they try to provide fundraising opportunities, including smaller performances. They also don't turn people away due to money.
"It's really about the kids having that experience," he says. "... We want to change the landscape and let people know that this avenue of music can really take you to multiple degrees. You can have a very good life, as far as your career. A lot of people don't know that. Even if you're not in music as a career, it can be a vehicle for you."
The Independence Showdown is at 5 p.m., Saturday, June 30, at the Mississippi Coliseum (1207 Mississippi St.).The gates open at 4 p.m. Admission is $18 per person. Visit msmusicinstitute.org.