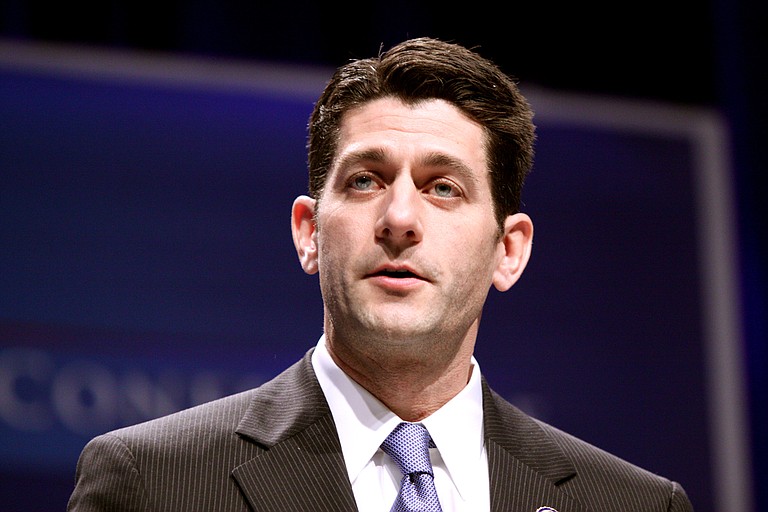 WASHINGTON (AP) — House Speaker Paul Ryan scheduled a long-awaited showdown vote on a broad Republican immigration bill for Wednesday, but is showing little confidence that the package will survive.
Underscoring the legislation's weak prospects in his GOP-run chamber, Ryan, R-Wis., declined to answer questions Tuesday about a separate, narrow measure Republicans are privately discussing. It would focus on the issue that has grabbed public attention in recent days: the Trump administration's separation of migrant children from their parents when families are caught crossing the border without authorization.
"If that doesn't succeed, then we'll cross that bridge," Ryan told reporters about his preference to focus on trying to pass the broader bill. "But the last thing I want to do is undercut a vote on what is a great consensus bill."
Many conservatives are preparing to vote against the wider ranging bill because it would provide a chance for citizenship for many immigrants who arrived illegally in the U.S. as children. They have blasted that provision as "amnesty," and the emerging, narrower bill would give them a chance to show they are addressing family separation without risking the wrath of hard-right voters.
The broader measure would also stop the Homeland Security Department from separating migrant families and provide $25 billion for President Donald Trump's border wall and other security measures. Democrats are expected to solidly oppose that bill, which is a compromise between GOP moderates and conservatives.
Senate Minority Leader Chuck Schumer, D-N.Y., weighed in from across the Capitol, criticizing Trump for lacking a process for bringing families back together. Trump signed an executive order last week reversing his own administration policy of separating families, but many children remain apart from their parents.
"This administration needs to present a plan ASAP of how to unify the kids and how to deal with border. They have no plan," Schumer said.
Ryan praised the compromise GOP bill.
"What we have here is the seeds of consensus," he said. He predicted it would be the basis for legislation that eventually becomes law, "hopefully now but if not, later."
He also accused Democrats of favoring a return to the previous "catch and release" policy under which immigrants being prosecuted were released into the U.S. until their court dates. Under Trump's "zero tolerance" policy, more migrants are being prosecuted and therefore detained.
Ryan said Democrats would in effect "tell the world, 'You can just come to this country, we're not going to have closed borders.'"
Republicans exited a closed-door strategy session in the Capitol basement with little indication that party leaders had finally won enough over to approve the bill.
"You've got to be unified on this and I get the feeling we're not unified," said Rep. Paul Cook, R-Calif., who said he was still deciding what to do.
Looking to garner support, leaders added provisions making it easier for migrant agriculture workers to stay in the U.S. for longer periods, and requiring employers to verify workers' citizenship. But several lawmakers said those provisions hadn't addressed the major reason for GOP disaffection — opposition to helping young immigrants stay in the U.S. legally who broke laws to arrive.
"I don't think it advances the ball, I really don't," said Rep. Bradley Byrne, R-Ala.
A Senate Republican family separation bill would also add more immigration judges to reduce the backlog of cases, but Trump has opposed that, saying it would only lead to graft.
Still, many Republicans are eager to address the border crisis and distance themselves from the Trump administration's policy that has resulted in more than 2,300 migrant children being separated from their parents.
Lawmakers heading into midterm elections want to be able to show constituents they voted to end it. Some 500 minors have been reunited so far, officials said.
"I don't know why we wouldn't vote for a bill that keeps families together," said Sen. John Cornyn, R-Texas.
Senate Republicans have proposed legislation that would lift rules that prevent children from being held longer than 20 days in custody. It would add 200 immigration judges to more quickly process the claims.
Republican Sen. Ted Cruz of Texas has been holding discussions with Sen. Dianne Feinstein, D-Calif., to see if they can reach middle ground on what to do about separated families.
With the Senate's narrow 51-seate GOP majority, a compromise with Democrats would likely be needed to reach the 60-vote threshold usually required to advance legislation. But resolution seemed difficult.
Republicans are worried about leaving town for the weeklong July 4 recess without addressing immigration issues, particularly the family separations at the border.