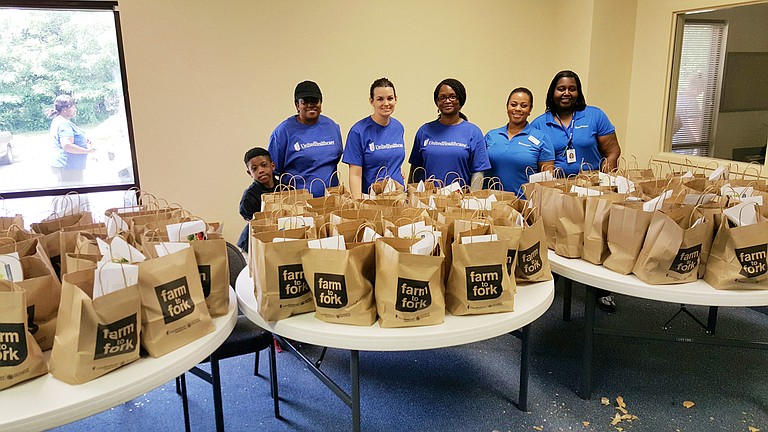 The Alcorn State University Extension Program, an education center at Alcorn focused on agriculture, began partnering with UnitedHealthcare Community Plan of Mississippi for the seventh year of the Farm to Fork food distribution program on May 1.
Every year from May to September, Farm to Fork distributes bags of produce to residents of food deserts, which are areas where fresh fruits and vegetables are not readily available. The program is free for UnitedHealthcare Community Plan members enrolled in the Mississippi Children's Health Insurance Program and the Mississippi Coordinated Access Network programs. Farm to Fork has delivered more than 64 tons of food to communities since 2012.
In addition to bags of fresh produce, such as lettuce, cabbage, tomatoes, beans, squash and sweet potatoes, members also receive weekly recipes and educational information about healthy cooking methods.
Alcorn and UnitedHealthcare have 12 distribution days planned throughout the state in July, including one at the Jackson Medical Mall (350 W. Woodrow Wilson Ave.) from 1 p.m. to 3 p.m., Tuesday, July 3. Produce is available on a "first come, first served" basis. View the complete list of 2018 distribution dates and sites here.
For more information about the Community Plan of Mississippi and how to enroll in the CHIP and MississippiCAN programs, visit uhccommunityplan.com/ms.
USM Establishes Campus Bus Route with City of Hattiesburg
The University of Southern Mississippi and the City of Hattiesburg will launch a new Hub City Transit bus route on July 2 to provide convenient and safe on-campus transportation, and connect to the city's existing network of transit routes.
Hub City Transit's "Gold Route" will include 14 stops on campus, two of which will transfer to the Hattiesburg transit system. USM students, faculty and staff with valid USM identification will be able to ride the Gold Route buses free of charge. Gold Route buses will be Americans with Disabilities Act-compliant, and include space to secure and carry up to two bicycles. View a list of stop locations at usm.edu/gold-route.
The buses will operate Monday through Friday from 7:30 a.m. to 6:30 p.m., and USM's University Police Department will remain on call to transport students to locations on the Hattiesburg campus on evenings and weekends, or at any time in case of safety or emergency situations.
Mississippi University for Women Names New Development Officer
Mississippi University for Women recently named Timothy L. Hopkins, MUW's senior admissions counselor, as its new development officer.
Hopkins, a native of Brooksville, Miss., graduated from MUW with a bachelor's degree in psychology with a minor in family studies in 2009 and earned his master's degree in counseling and psychology from the University of West Alabama in 2011. He joined MUW's staff in 2013 as an admissions counselor, and a year later, the university promoted him to senior admissions counselor. In that position, he was responsible for the recruitment and enrollment process for prospective students in east Mississippi.
Additionally, Hopkins is a committee member for the MUW Black Alumni Committee and a reporter for the MUW Staff Council. He has also served as an adviser for organizations such as Men of Excellence, the Young Black Leadership Association, MUW's Modeling Squad and Audacity Dance Team.
Hopkins is also chief of staff for the Pi Tau Sigma Chapter of Phi Beta Sigma Fraternity, Inc., and is a member of the Mississippi Association of College Registrars and Admissions Officers, and the National Pan-Hellenic Council.