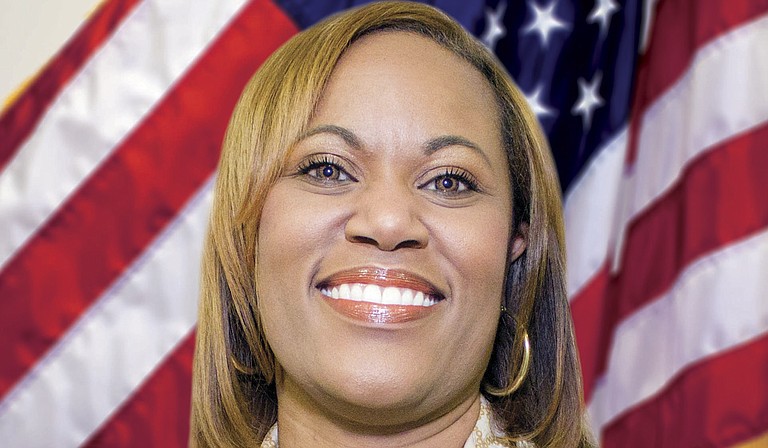 JACKSON — The parking lot of Christ United Methodist Church in northeast Jackson looked like the rear of any prison in the state this morning—lined with white Mississippi Department of Corrections vehicles and vans. Hundreds of judges, lawyers, legislators, politicians, corrections officers, re-entry advocates and previously incarcerated people gathered in the church hall for the 2018 Statewide Re-Entry Symposium.
MDOC Commissioner Pelicia Hall hosted the program and introduced the notorious keynote speaker: Richard F. "Dickie" Scruggs. He is a former high-powered trial attorney in Mississippi known for lawsuits against the asbestos and tobacco industries, as well as for suing insurance companies that would not pay out to homeowners after Hurricane Katrina devastation. In 2007, Scruggs pled guilty to conspiracy to bribe Circuit Judge Henry L. Lackey in 2008 and then pled guilty in 2009 to a bribery scheme involving Hinds County Circuit Judge Bobby DeLaughter and former Hinds County District Attorney Ed Peters. Scruggs served six years in federal prison, and was released in 2014. DeLaughter also served time, and Peters got immunity for admitting his role in the scheme.
At the symposium, Scruggs made the crowd laugh, but also shared personal stories from his time in federal prison to underscore how people inside the system view re-entry. The federal system often carries much longer sentences, especially without a parole system. Scruggs talked of fellow inmates adjusting to the prison conditions, and fearing life on the outside, where they have to make decisions for themselves again and perhaps return to the same environments where they landed in trouble.
He also painted the grim reality that without familial support, many returning citizens struggle to successfully re-enter society. Studies back Scruggs up.
"I think when we think of re-entry we want to think of men and women released from prison, reconnecting with their families, getting jobs, going to school, getting back into the American mainstream," Sruggs said. "But many of the people like I served time with have a different view of re-entry: They have by and large ruptured their family relationships. I bet you would be surprised that the typical inmate during the time he is in prison gets two visits. It's not two visits a year; that's two visits the entire time."
Scruggs talked about re-entry programs needing to help at-risk returning citizens mitigate their fears that include going back to the dysfunctional lives they may have led before incarceration.
After being released from prison, Scruggs founded 2nd Chance Mississippi, a nonprofit organization that helps those who did not finish high school obtain a GED and skills-based training to join the workforce. Not all the people in Scruggs' program have been incarcerated.
Mississippi does not often make it easy for returning citizens to become a part of the American mainstream, as Scruggs puts it. There is a list of 22 disenfranchising crimes that permanently prevent Mississippians from voting if convicted.
Matthew Riley, a state re-entry coordinator, recently told the Jackson Free Press that some mid-level employment positions are closed to ex-offenders per state law such as the casinos. Even restaurants or hotels attached to the casinos will deny formerly incarcerated people's job applications.
Riley spoke at the re-entry symposium this afternoon about his 82 counties in 82 days tour across the state in search of employment opportunities for returning citizens leaving the state's corrections system. Some had zero-tolerance policies, refusing to hire formerly incarcerated people. He asks those employers to follow up if they ever have a change of heart. He learned that most supervisors he talked to are willing to give people a second chance.
"The goal was to reach out to the employers ... to develop partnerships to let them know we have individuals that have been released that have credentials," Riley said "... As we talk to these individual employers, we had good response for the most part ... but in some cases I was thrown out the door."
Email city reporter Ko Bragg at [email protected] and follow her on Twitter at @keaux_. Also see jfp.ms/preventingviolence.