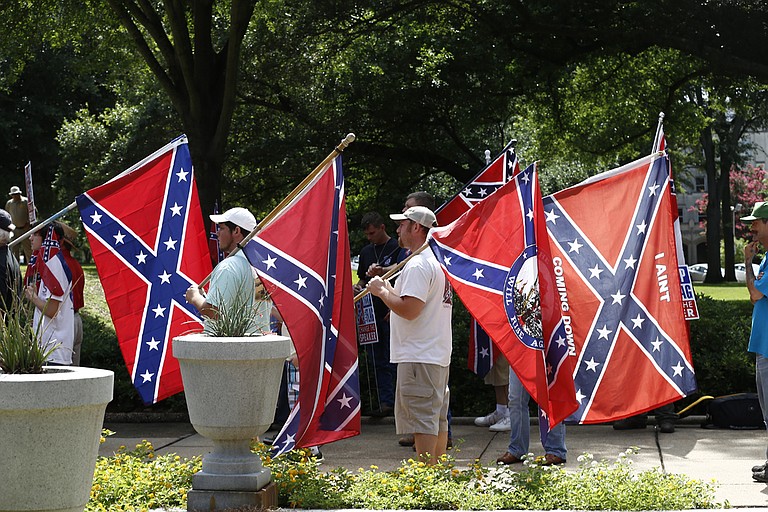 JACKSON, Miss. (AP) — A federal judge is dismissing a lawsuit that sought to block a Mississippi Gulf Coast city from flying the state flag that features the Confederate battle emblem.
U.S. District Judge Louis Guirola Jr. ruled Tuesday that the plaintiffs suing Ocean Springs didn't have standing to bring the lawsuit.
Guirola says the plaintiffs haven't proved they suffered unequal treatment by the government.
"None of the plaintiffs here have alleged or articulated any facts tantamount to a denial of equal treatment," citing a 5th U.S. Circuit Court of Appeals case challenging the Mississippi flag that the same lawyer handling the Ocean Springs case lost.
Guirola also dismissed a separate claim that the flag violated housing anti-discrimination law. Guirola wrote that the plaintiffs don't claim "any 'discriminatory housing practice' or any actions related to the sale or rental of a dwelling" finding they didn't have standing to sue under that law either.
Ocean Springs officials had asked that the case be dismissed.
Plaintiffs said the Confederate emblem is "racially demeaning and hostile" and that flying the flag sent the message that black people are not welcome.
Ocean Springs City Hall didn't fly the flag for several years under a previous mayor. After a new mayor took office last July, the flag went back up, prompting protests. The mayor took the flag down, but alderman voted 6-1 in November to require it fly at other city buildings with a flagpole.
Confederate symbols have been the subject of widespread debate across the South, particularly since the 2015 killing of nine black worshippers at a church in Charleston, South Carolina, and violence last August when a white nationalist rally took place in Charlottesville, Virginia.
Mississippi has used the same flag since 1894, and residents who voted in a 2001 statewide election chose to keep the Confederate emblem on it.
A number of city and county governments and all eight of Mississippi's public universities have stopped flying the state flag in recent years amid critics' concerns that it does not properly represent a state where 38 percent of residents are African-American. Supporters of the flag say it represents history.
Ocean Springs is a coastal city with a population of more than 17,000, of whom about 10 percent are black.