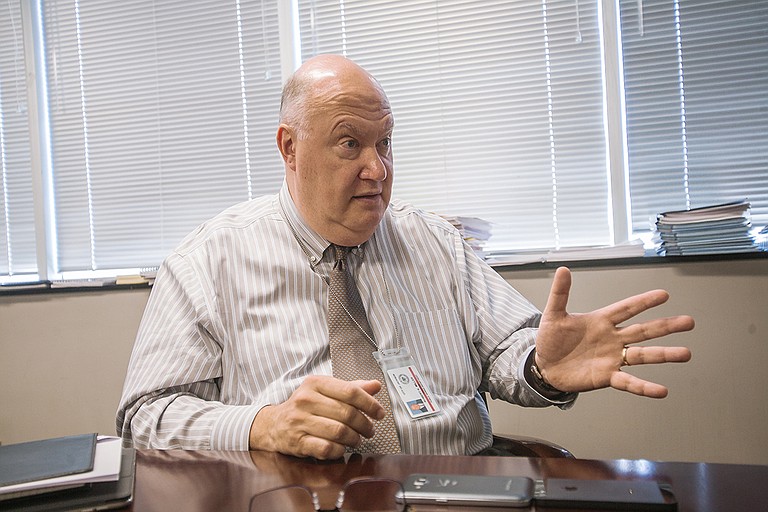 JACKSON — For the last month and a half, City of Jackson officials have been trying to fix the Siemens, Inc. billing system that left 20,000 customers "stranded" in the system, many getting water without paying for it. In the last year, the City had been missing out on $10 million to $20 million in revenue from water bills that were either not going out to customers or were in some instances grossly inaccurate.
The Jackson City Council voted at the end of April to amend the Siemens contract to bring in a subcontractor to fulfill "necessary services" to resolve issues with the water-billing system by Sept. 30, after which billing will be handled in-house.
At a June 4 press briefing, Miller told reporters that subcontractors from Origin Consultants have come on board to tackle the largest and oldest accounts in the system first. As of Monday, they had resolved 3,007 of the stranded accounts, leaving 17,127 left to be done. The City has billed customers a total of $2,587,448 so far.
"Basically, they are about 15 percent of the way through," Miller said earlier this week.
Three weeks into the work, Miller said he asked the consultants to "bifurcate" their efforts to start working on the easy and quick accounts to pick up their pace as they examine accounts for leaks and ensure bills are accurate before mailing them out along with the new automatic payment plan. It was clear back in April that Miller was serious about getting this work done in a timely fashion.
"Frankly, I told the folks from Siemens that in six months, I never want to see you again," Miller said before the council during a work session in April.
Customers will have the same number of months to repay their bills as the number of months they did not receive billing from Siemens. Miller believes the process is working reasonably well, and pledged to help people with their payments as much as possible.
"We're going to work with customers, the standard payment plan ... [I]f we have to work with them to extend that out further, that's certainly something we'll consider," Miller said. "We want to make this affordable. We want to keep our customers in service for water."
Miller, who often speaks fondly of Jacksonians, hopes people will stay patient through this process.
"We're making progress, we've got a long way to go—we're asking for folks' patience on this," Miller said. "Because some folks we're going to knock out here in the month of June, but some folks we won't be able to get their issue resolved until August or September thereabout."
Vacancies in Miller's department are another issue with fulfilling the Siemens contract. As of April 30, the metering department had six open positions, seven in billing and five in collections. This week, Miller said that only five vacancies remain.
"I'm very pleased and satisfied with the work that our personnel department has done to get these people on board," Miller said this week. "[A]ll of the people who handle meters are (now) all under one supervisor and under one manager so that I've got nice, singular accountability."
Miller said that when he arrived in Jackson, the metering group had been working in two sections: one responsible for installing meters and the other responsible for getting the readings. But neither group worked in the same department or under the same chain of command.
"Frankly, they didn't much like each other, so with that they didn't cooperate with one another, and they would blame each other," Miller said before the council on during a work session on April 23.
Lumumba said at an April 30 press conference that the City takes full responsibility for the Siemens "failure," adding that vacancies in the public-works department were an important factor in the problem, but not the "sum total" of the problem.
Email city reporter Ko Bragg at [email protected] and read more at jfp.ms/siemens.