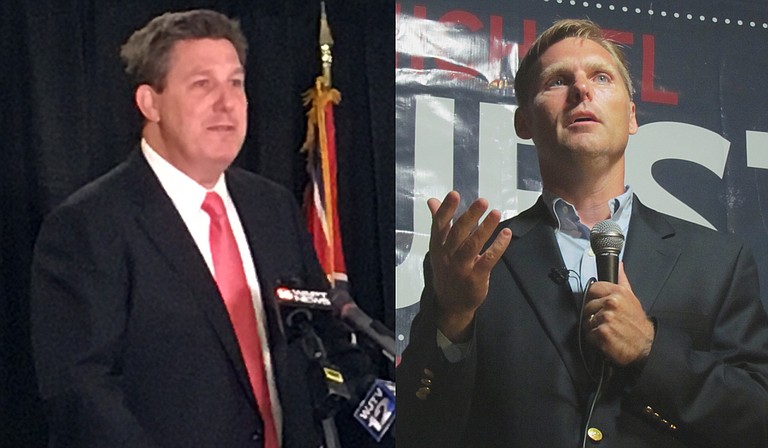 Supporters wearing red, white and blue "Michael Guest for Congress" shirts filled Mudbugs in Brandon Tuesday night as supporters gathered for primary election results. The long-time district attorney for Hinds and Rankin counties was mingling with the crowd of about 70 people, young and old, some drinking beer out of plastic Bud Lite cups, as results began to roll in. The room was alive with conversations and excitement, and Michael Guest seemed happy to be among friends and family.
Guest had a comfortable lead as results for the Republican race to replace U.S. Rep. Gregg Harper in Congress came in on Tuesday night. The question was whether he would reach the 50 percent-plus-one threshold to avoid a run-off. Ultimately, he did not. He faces Whit Hughes in a June 26 run-off.
About 20 miles northeast in a side ballroom at the Embassy Suites in Ridgeland, about 30 supporters, family members and close friends of Whit Hughes quietly visited, some with drinks from a catered bar that closed before 9:15 p.m. Save a few children, the crowd was mainly adults, most dawning slacks or dresses and heels. Hughes' family members worked the room and chatted with supporters, but the candidate would not appear until 10:15 p.m.
Hughes held a solid second-place spot as election results continued to poor in, but for a time, it looked like Guest could win the race without a runoff.


'Who's Ready for Runoff Mode'
At about 9:30 p.m., most Hughes supporters were either chatting or watching the television at the back of the room with election results. One woman seemed confident as Guest's numbers began to fall.
"Who's ready for runoff mode? Let's get it," she said, clapping in encouragement and hope.
Hughes finally appeared and addressed the audience around 10:15 p.m., before the Associated Press had called the runoff. As he thanked his family and campaign team, he noted that he has always been an "underdog." AP called the race as he finished his speech.
"As I said earlier, I relish this role. I've always been an underdog, whether you're talking about sports at the SEC level and business or in life," Hughes told reporters after learning about the runoff news. "I'm reminded that 10 years ago in this race, there was a multi-person primary that was competitive, and the person that came up second ended up winning this seat and has been serving in Congress the past 10 years, so I'm very encouraged by where we are."
In 2008, Harper barely eked out a second-place finish to state Sen. Charlie Ross, the Mississippi Business Journal reported, but then went on to beat him and take the seat in a run-off.

'
We Start Over Again 0-0'
Guest spoke to some reporters before AP called the runoff and then got up to address the crowd at 10:30 p.m. He said he is not worried about extending the campaign. He had nearly 45 percent of the votes, while Hughes had 22 percent.
Guest said they had people standing out in the rain Tuesday, working the campaign on the ground to get as many votes as possible.
"We are going to ask you to please—we're going to need you one more time. I know y'all are tired. I know y'all are ready to start enjoying summer vacation but we're going to need you for these next three weeks," Guest said.
"This isn't over. I don't want anybody to go leave out of here thinking that we've done anything except make the run off because guess what? We start over again 0-0. It's just like overtime in a sporting event. So we've got to work extra hard."
Hughes said his campaign would do the same things they had been doing, after re-grouping.
"I'm going to do everything I can to go after every vote in this district," he said, noting how low turnout was on Tuesday. "Part of what I want to do is just generate some awareness and make sure people understand the importance of this process: to get out and exercise their right to vote. This is an important election."
Guest said his campaign has taken the full efforts of his family and friends, and he could not have done it without them.
"When we get to the end of this journey, we want to say we have run a journey, we've run a campaign that's brought honor and glory to God—but we've run a campaign that's been successful," Guest said. "I promise you that we are going to work extremely hard for the next three weeks and hope that you will be right back here with us in three weeks and hopefully we'll be victorious," Guest said.
Guest has $60,659.20 of campaign money left to spend in the next 20 days, while Hughes has $67,409.88. To date Guest has spent more than $335,000, while Hughes has spent slightly more than $363,000. Hughes raised more than $34,000 than Guest did the primary election, but the Guest campaign's ground game proved effective. The last campaign-finance filing for both candidates was May 16, according to data from the Federal Election Commission.
The winner of the run-off will be on the November ballot against new Democratic nominee Michael Ted Evans, of Preston, and Reform Party candidate Matthew Holland.
Email reporting intern Marie Weidmayer at [email protected].