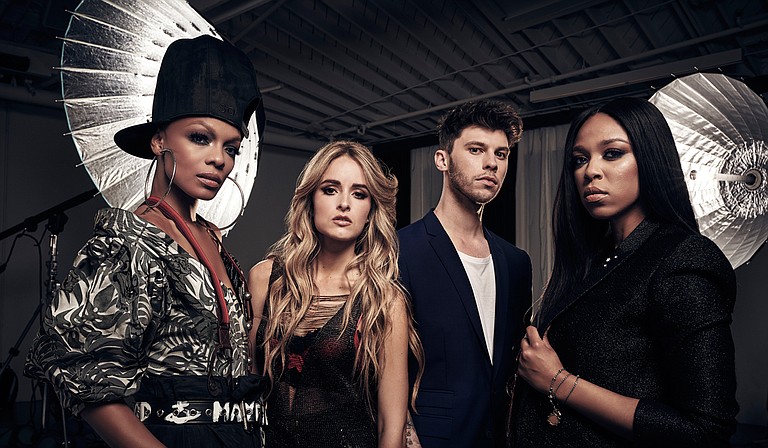 The reality-TV singing competition has long been an entertainment staple, but not every entry in the genre has stood above the crowd. In January of this year, FOX, the network originally behind "American Idol," launched its next foray into the format with "The Four: Battle for Stardom."
Over the course of the show's six-episode debut, an average of about 3.64 million viewers tuned in to see vocalists vie for a chance to face off against members of "The Four," taking their spot in the competition. The last woman standing, Memphis singer Evvie McKinney, received a contract with Republic Records and a spot on iHeartRadio's "On the Verge" artist list.
One of the show's selling points was its celebrity bonafides, with host Fergie and judges Sean "Diddy" Combs, DJ Khaled and Meghan Trainor. Charlie Walk, former president of Republic, was the fourth judge but dropped out due to sexual assault allegations.
When "The Four" returns for 10 episodes on June 7, fans will find a new set of singers in the titular hot seats, and among the competitors will be Jackson native Carvena Jones. The Jackson Free Press recently spoke with her over the phone to find out more about her "battle for stardom."
What brought you to audition for "The Four"?
Well, I had a couple casting directors reach out to me through social media, specifically Instagram, and one in particular was really pushing like, "Please audition online, and you know, get all of that stuff together." So I did, and he took my videos to one of the executive producers, and they loved me. They flew me out to L.A. to audition for all of the producers of the show, and like a week later, they called me back with good news that I am one of "the Four." So that was really exciting.
What was it like to have someone reach out to you personally for that opportunity?
I was like, "Are you kidding me?" I couldn't believe it, you know, because I'm from Mississippi. A lot of opportunities don't really happen for people here, so I just felt really blessed like, "Wow. This is what I'm supposed to be doing." I got chills then, you know?
How did your friends and family react when you told them you made it on the show?
So I told them, and I told my grandma, and ever since I was little, my grandma would always get on me about my teeth for some reason. Like, "Brush your teeth right. Make sure you keep your teeth together and their white." And the first thing she (said) when I told her was, "Oh my gosh. Here's some toothpaste. You have to use it so your teeth will stay white." [Laughs] I was like, "Really? That's the first thing you have to say?" But no, everybody was just really excited and couldn't believe it. They were like, "We're so proud of you; wow, we're rooting for you; you've got this," and just very supportive overall.
What songs did you sing during the auditions?
To be honest—what songs did I sing? [Laughs] I felt like I had to sing so much. I mean, obviously, my go-to songs for anything are "I Will Always Love You" by Whitney Houston and "Crazy" by CeeLo Green.
How did you first get involved with music?
To start off, I come from a musically inclined family, so literally all of my family sings. I grew up in church and have uncles who are pastors, and just everybody sings, you know what I mean? But I never really had the desire to sing growing up. I could always sing but was really, really shy, and I never liked attention on me until one day, I think I was 12, and I had a random vision of me on a huge stage, an arena type of setting. I was like, "What the heck? Are you serious?"
At 13, I tried out for a talent show—my first talent show ever—and that was the first time my family ever heard me sing, period. Everybody was like, "Oh my gosh." And I won it, and I was like, "Wow. This is what I'm supposed to do." So at 13, I picked up the guitar and just started to evolve, I guess, as an artist, as a singer, knowing who I am, writing my own music—you know what I mean?—and just trying to process being an artist and really developing and strengthening my love for music as a whole.
Who would you compare yourself to stylistically?
Let's see. How can I put this? All right, let's just say Whitney Houston and Prince had a baby. I would be their child. And Tina Turner would be my grandma. [Laughs]
Had you considered auditioning for TV singing competitions before?
I mean, yes definitely. I had one other show personally reach out to me to be on it, but I felt like for me, at the time, it wasn't the right situation. It just didn't make sense from a business aspect, but "The Four" was just something different. I like the whole concept of the show and how they really pinpoint you as an artist. You don't have to be "the new whatever." It's like, "You're who you are, and we're going to help you develop who you are." I thought that was really dope, and that stood out to me and made me more intrigued with the show.
What would you like to see happen as a result of you being on "The Four"?
I mean, obviously I want to win. [Laughs] I want to win for sure, but if not, I'm definitely looking forward to the exposure and just broadening my audience a little more, and just to honestly see myself evolve. I know this is about to be a challenge for me, in the sense that I know it's going to push me out of my comfort zone. But I'm ready for that because I feel like I'm going to become the artist I always see myself as, you know? Be super confident, free onstage, and really break out of my shell even more.
Any words for people in Jackson who may tune in to see you each week?
I just want to say that I really want all your support and just the energy and positive vibes, you know what I mean? I feel like it's really important. If you don't have anybody else supporting you, your hometown should support you, so I'd just really appreciate the love and support. And I've already gotten so much that it's been really overwhelming. I've been really blessed.
"The Four: Battle for Stardom" season two premiers Thursday, June 7, at 7 p.m. on FOX. For more information, visit fox.com/thefour.