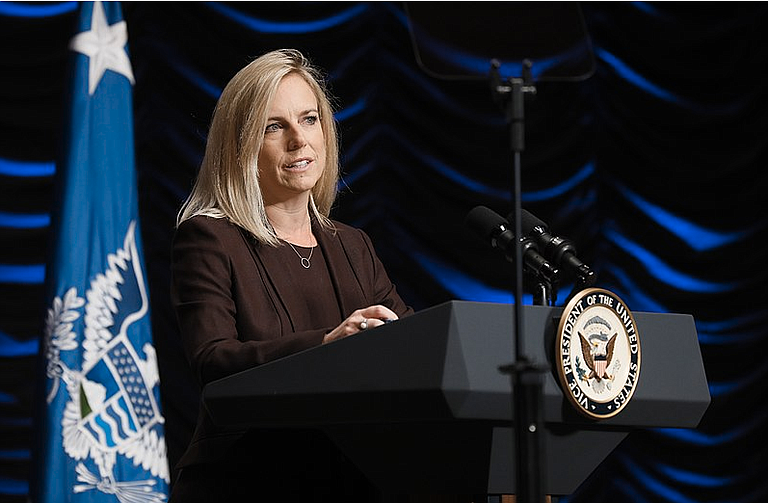 WASHINGTON (AP) — Top federal immigration officials went before Congress Tuesday to defend their handling of President Donald Trump's now-abandoned policy of separating migrant children from their families, saying they keep records of children in their custody. They also said they can document decisions by hundreds of detained parents to willingly leave the U.S. without their children, an assertion that has drawn skepticism from lawmakers.
"We do not leave our humanity behind when we report for duty," Carla L. Provost, acting chief of the U.S. border patrol told members of the Senate Judiciary Committee.
But the officials ran into bipartisan criticism from lawmakers appalled at the hundreds of migrant children who remain apart from their parents, more than a month after Trump dropped his family separation policy under fire from Democrats and Republicans alike.
The Judiciary panel's top Democrat, Dianne Feinstein of California, called the separations "immoral and haphazard." No. 2 Senate Democrat Richard Durbin of Illinois said he wanted Homeland Security Secretary Kirstjen Nielsen to resign, saying the policy shows "the extremes this administration will go to to punish families fleeing" horrible conditions, adding, "Someone in this administration has to accept responsibility."
Committee Chairman Charles Grassley, R-Iowa, said Trump's crackdown on people illegally crossing the border from Mexico was well-intentioned but has had unintended consequences.
He said the administration has "mishandled" family separations. He also cited reports that immigrants have experienced sexual and other abuse at some government detention facilities and said those held must be treated humanely.
Late Monday, Grassley and Feinstein sent a letter asking the inspectors general of the Homeland Security and Health and Human Services departments to investigate news organization's reports of abuse of immigrants at detention centers.
"No one, no matter what their immigration status, should have to suffer such abuse," Grassley said at Tuesday's hearing.
Matthew Albence, an executive associate director for U.S. Immigration and Customs Enforcement, or ICE, described recreational and health care opportunities available at detention facilities and said he is "very comfortable" with the service they provide.
Trump's "zero tolerance" policy of prosecuting migrants entering the U.S. without authorization, his separation of more than 2,500 children from their parents, and botched efforts to reunite many of them has drawn election-year criticism from both parties. More than 700 children remain separated, including more than 400 whose families have already left the U.S. without them.
Officials from ICE and Health and Human Services said they keep records of migrants who have been detained and have documentation of parents who left the U.S. without their children.
Commander Jonathan D. White of the U.S. Public Health Service Commissioned Corps, who is coordinating efforts to reunite divided families, called a family's decision to leave children behind "a desperate last act of a parent" that he said is "unfathomable until you've walked in those parents' shoes."
Albence said ICE uses a court-approved form that documents decisions by some parents to leave the U.S. without their children. For the public health service, parents leaving without their children undergo an interview and then sign a form designating who will care for the children, White said.
Some migrants separated from their children have said they did not understand what they were signing.
Sen. John Cornyn, R-Texas, defended the officials and said Congress was also to blame for the administration's problems with handling the separated families. He said congressional critics "offer no plausible or workable solution at all."
Trump began his policy of "zero tolerance" this spring, prosecuting all migrants caught entering the U.S. without authorization. To help discourage border crossing, his administration also began separating children from their detained parents, rather than following the policy used by previous administrations, which generally released the entire family pending court action.
U.S. District Judge Dana Sabraw in San Diego set a deadline of last Thursday to reunite the families. While he commended administration officials for reuniting many parents in its custody with their children, it faulted them for leaving hundreds of families still apart and warning that a better system must be in place.
The senators' letter, based on articles by The Associated Press and other news organizations, says the allegations suggest "a long-term pattern" of mistreatment. Those reports describe claims of abuse from this year dating back to before Trump took office and include accusations of sexual and other forms of assault at some facilities.
The AP reported last month that children held at an immigration detention facility in Staunton, Virginia, said they were beaten while handcuffed, locked in solitary confinement and left nude and cold in concrete cells.
A civil rights lawsuit has been filed alleging mistreatment at the Shenandoah Valley Juvenile Center from 2015 to 2018. The alleged victims, Hispanic youths held for months or years, have submitted sworn statements in the case. Lawyers for the facility have denied the alleged abuse.