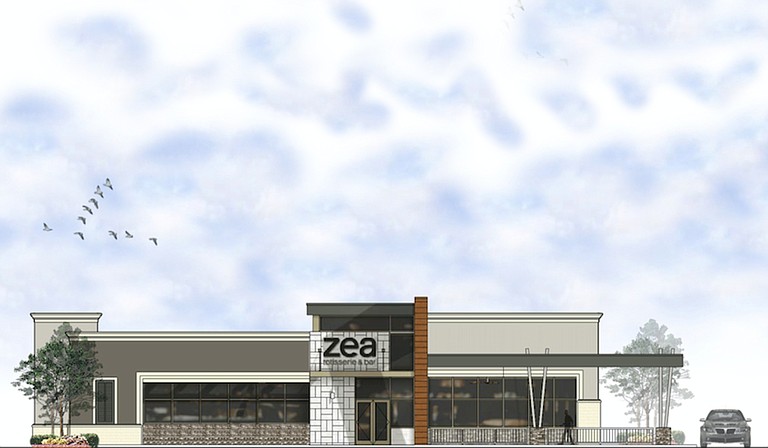 Zea Rotisserie & Bar, a New Orleans-based restaurant chain specializing in Southern cuisine as well as rotisserie and grilled food, plans to open its first location outside of Louisiana in Renaissance at Colony Park in Ridgeland around July 2019.
Zea is part of Taste Buds Management, a restaurant group that Hans Limburg, Gary Darling and Greg Reggio founded in New Orleans in 1997. Taste Buds operates nine Zea locations in Louisiana, as well as a pasta restaurant in Metairie, La., called Semolina.
Zea in Renaissance will have a larger bar compared to the restaurant's locations in Louisiana, communal seating near the bar for large groups, outdoor seating and an exposed kitchen allowing diners to watch chefs prepare their food. Zea will hire about 75 people after it opens.
The menu includes rotisserie-cooked meats, such as barbecue or garlic-herb chicken, beef or lamb sirloin, pork roast and Thai ribs. The restaurant also has crab cakes, red beans and rice, shrimp and grits, and fried catfish, among other items.
For more information, visit zearestaurants.com or find the restaurant on Facebook.
Rainbow Hosting Open Meeting on Closure and Move
Rainbow Co-op (2807 Old Canton Road) will host a meeting at 6 p.m. today, Tuesday, July 17, in light of the announcement of its impending closure last week. The board of directors will discuss the closure and get community input on what customers want for Rainbow's future. The board will also discuss potential new locations for the store. The one-hour meeting will be open for anyone to attend.
"We've gotten a lot of questions pertaining to where the store is moving to," Nathan Smith, Rainbow's grocery manager, said. "This is something our customers want to know, and we're looking to address that."
The Rainbow Co-op has been open in Fondren since 1980. The store will close by the end of July, due to ongoing problems with flood damage, broken city pipes and congestion from the city's construction.
"A lot of people are sad about us closing down, and we may not be able to open at the beginning of next year like we hope, but I want people to focus on the fact that we can come back as something better," General Manager Bryan Carrero said. "This is a chance to shed our skin and come back in a whole new incarnation. I want people to be able to see this as something positive rather than negative."
Rainbow is holding a liquidation sale with all merchandise until the store closes. For more information, call 601- 366-1602 or visit rainbowcoop.org.
Hollywood Feed Moves to Larger Location in Flowood
Hollywood Feed, a specialty pet supplies store, recently relocated its Flowood store from 376 Ridge Way to 314 Ridge Way. At 4,000 square feet, the new space, located between Kohl's and Results Physiotherapy, is more than twice the size of the former location, which was 1,500 square feet.
The original Hollywood Feed opened as a local feed store on Hollywood Street in Memphis, Tenn., in 1950. The store has locations in 11 states across the South, including two other Mississippi locations in Ridgeland and at Highland Village.
Hollywood Feed is open Monday through Saturday from 9 a.m. to 7 p.m. and Sunday from noon to 6 p.m. For information, call 601-398-4230 or visit hollywoodfeed.com.