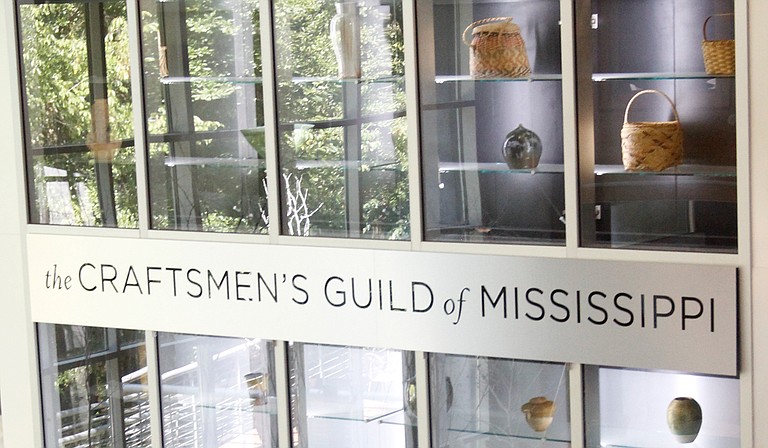 Off part of the Natchez Trace Parkway in Ridgeland, a wooden boardwalk trails over a patch of woods. In the middle are two wide trails, a hill of trees and plants sitting between them. In the 1800s, this marked the north and south lanes of the old Natchez Trace, and was once where Brashear's Stand (back then, a stand was a hotel) was located.
At the end of the raised boardwalk, a sign reads "Mississippi Craft Center," while the other side says "Natchez Trace Parkway." The walkway, which the Craftsmen's Guild of Mississippi built in 2016 and the Mississippi Wildlife, Fisheries and Parks funded, connects the Ridgeland Multi-Use Trail, part of which crosses the Trace, to what Executive Director Nancy Perkins says is the real front entrance to the craft center. Unlike the entrance on Rice Road, the boardwalk entrance provides direct access from Natchez Trace.
"We're trying to get word out about that," Perkins says, and the guild is also trying to improve the entrance, such as adding an awning over the door.
Prior to the guild's founding, Gov. William Waller and then-Delta State University graduate student and craftsman Dan Overly had come to the same conclusion: Mississippi needed an organization of craftspeople. The two connected and started the guild in 1973.
Over the 40 years since its founding, the guild has grown from just a few craftspeople to 359 members, 80 percent of which reside in Mississippi, and the members specialize in everything from wood turning to clay pottery to iron works.
Since 2007, the guild has been in its current location, the Mississippi Craft Center, a gray modern-style building with large glass windows and folk art dotting the landscape. This fall, the Mississippi Craft Center will be rededicated as the William Lowe (Bill) Waller, Sr. Craft Center.
Perkins has been the executive director since July 1, 2012. She was born in Jackson, but grew up in Gulfport and has lived in cities such as Los Angeles and Atlanta, and moved back to Mississippi in 2001. She was the executive producer of on-air fundraising for Mississippi Public Broadcasting from April 2002 to April 2009, then worked for MPB in marketing and development from October 2010 to June 2012. She became executive director for the Craftsmen's Guild in 2012.
"I like jobs that promote positivity of Mississippi," she says. "Craft art is something that Mississippians really excel in, so I love having the opportunity to help promote this platform for others to see just how talented we are. Mississippi's creative spirit is almost unmatched."
The guild holds a juried selection for potential members in March and August. Artists must apply for a specific medium and category, and submit three pieces completed in the last two years and five photos of works over the last five years, along with a bio and artist statement. Once craftspeople make it into the guild, they must re-jury every three years, until their ninth year, when they become a fellow.
"Once you make it in at the nine-year point, they figure that you probably know what you're doing," Jackson artist and Craftsmen's Guild member Elaine Maisel says.
Maisel, whom most may know for her paintings on feathers, has been a member of the guild for six years. This August, she will undergo her six-year review.
"The very first time I applied, I wasn't sure if I get in because I paint on feathers, and I wasn't sure if they'd consider that painting or a craft," she says. "... Now that I've been in six years, I feel pretty confident that I won't have any trouble because I've improved each time. One nice thing about the review process is that it ... pushes you to improve your craft because people are watching."
Some of Maisel's work is currently in the center's George Berry Gallery in an exhibit titled "Backyard Beasts," with paintings of foxes, insects and more. Her work will be on display in the gallery through the end of July.
"The (Craftsmen's Guild) is a good bunch of people," she says.
The Mississippi Craft Center (950 Rice Road, Ridgeland, 601-856-7546) is open Monday through Saturday from 9 a.m. to 5 p.m., and Sunday from noon to 5 p.m. For more information, visit craftsmensguildofms.org. View a gallery of images from the Mississippi Craft Center here.