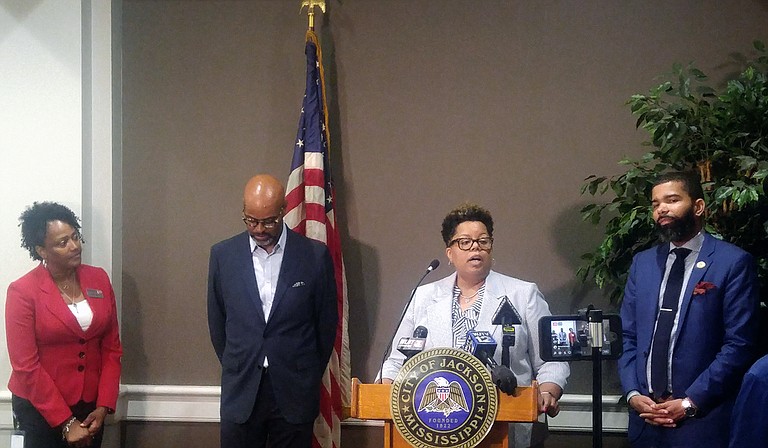 JACKSON — Reduced tuition to Strayer University is now available for City of Jackson employees and immediate family members with a new partnership.
Through the new program, City employees and immediate family members will pay $750 per course. Strayer University's website says that the average undergraduate course is $1,455, while graduate programs start at $1,655 per course.
"If you see a city that provides this rich opportunity to you, that encourages individuals that may be seeking gainful employment to join the city's ranks, and know that they not only have an opportunity to earn a wage—a living wage at that, and that's what we're moving to, is giving a living wage in the city—but also an opportunity to improve their standing in whatever capacity they choose to do so," Mayor Chokwe A. Lumumba said at a July 2 press conference.
To take advantage of the discount at the for-profit university, City employees only need to show proof of employment. There is no time stipulation where employees must work for the City for a certain amount of time, Director of Communications Candice Cole told the Jackson Free Press.
While the City employees have not received the raises they deserve, this program is a way to provide another form of compensation, Lumumba said.
"If we really want individuals to commit themselves, sacrifice for their families on behalf of the city, then we need to compensate them as they should," Lumumba said. "As we move along, we cannot hold people back from improving themselves. If we can offer better education, then we hope that it works to the City's benefit. We hope that we can benefit from their increased knowledge, but it they're able to find employment that improves their quality of life for them and their families personally, then we shouldn't stand in their way."
University classes are available online or in person at the Jackson campus, 100 E. Capitol St., Strayer President Brian Jones said.
"We're just excited for this opportunity, as it's been a long time coming," Jackson campus Director Angela Miller said. "We know that the city has so much to give the citizens and with this step, we can definitely help move the city in a new direction, a positive direction, and help change peoples' lives."
The partnership also offers a full scholarship each year to a citizen of Jackson, although there is no finalized timeline as to when applications will open, Cole said.
"I'm grateful because you allow us to offer an opportunity to a group of individuals who really, truly mean a lot to us," Lumumba said. "I encourage the City employees to sign up, do your homework and succeed."
Email Marie Weidmayer at [email protected].