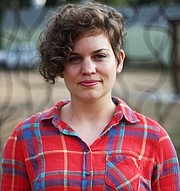 On a humid Sunday afternoon, my husband and I set off on the quintessential summer activity: berry picking at a U-Pick farm, Cooper Farm & Vineyards. With directions from Google Maps, we drove toward Morton, Miss., and turned onto a winding country road, cutting through lush forest, the trees parting every so often to reveal a cow grazing on a pasture, a small home surrounded by gardens of blooming lilies or a trailer in disrepair.
We arrived at the U-Pick farm and emerged from the air-conditioned vehicle into the full blast of Mississippi's summer heat and sun.
The owner of the farm pulled up on his four-wheeler and handed us a tower of yellow plastic buckets, each bucket representing a gallon of potential berries picked.
We decided to start in the blackberry patch and work our way to the blueberries. The air vibrated with buzzing insects, our first clue that we humans were not the only creatures lured by the promise of delicious fruit. I soon discovered spiders, ants, bees, wasps, beetles and fruit flies.
Although blackberries are native to Mississippi, the U-Pick blackberries were clearly a cultivated variety, their enormous dark purple fruits tucked in among a jumble of thorny branches. The berries were incredibly juicy and sweet. Thornless varieties do exist, but the thorny cultivars produce a greater yield and larger berries. In the case of blackberries, more pain is more gain. By the time I had picked a gallon, my hands were embedded with thorns, and the fire ant bites on my feet were already swelling.
Blueberry picking, by comparison, is mostly pain-free. For one, there are no thorns. At Cooper's Farm, the bushes were huge, more than 8 feet tall, their branches sagging from the weight of ripe fruit.
Blueberries, like blackberries, are native to Mississippi. They are also one of our state's most prolific fruit crops, with 5,800 pounds produced annually, data from the U.S. Department of Agriculture shows. Judging by their height, the blueberry bushes at this farm were of the Southern Highbush variety, a commonly grown cultivar that produces prolific, fat berries, much larger and sweeter than native blueberry plants.
Moving slowly down the rows, my husband and I plucked berries by the handful, plopping them into our yellow buckets. By then, the afternoon sun had lost some of its intensity. A light breeze provided relief. I felt purely in the moment, my running mental to-do list put on hold by the repetition of berries dropping into buckets. It was a meditative experience, one that appealed to my inner primordial gatherer.
We rounded out the day with three gallons of blueberries and two gallons of blackberries, most of which I later packed into Ziploc bags and froze. These berries are destined for smoothies, pancakes and desserts, enough to last until next year—maybe.
This summer, instead of buying your berries from the market or store, opt for a more memorable outing at a U-Pick farm. If you're unsure where to go, check out pickyourown.org or ask around at the farmers market. Invite some friends, pick a few gallons of berries, and please, please pack water, sunscreen and a pair of close-toed shoes.
Lauren Rhoades wants everybody to love sauerkraut as much as she does. She is a fermenter, writer, lowbrow foodie and the founder of Jackson-based business Sweet & Sauer.