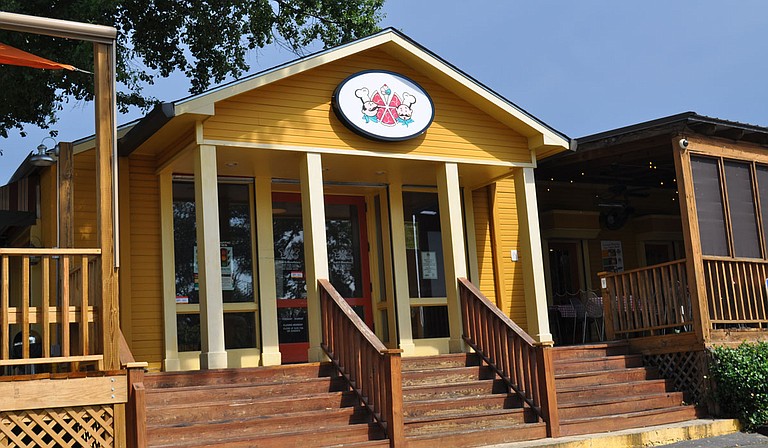 Tuesday, January 30, 2018
Sal & Mookie's New York Pizza & Ice Cream Joint is partnering with Mantle. City Club to launch a series of meetings and networking opportunities for local entrepreneurs titled Entrepreneur Quarterly.
Susan Farris, marketing manager for Sal & Mookie's parent company Mangia Bene, and Mantle. founder Christopher Lomax came up with the idea for EQ early this month. A press release about EQ lists its mission statement as, "find your niche; grow your reach."
"Anybody from any special-interest business group, such as Jackson Area Web and App Developers, ... come to EQ to meet and network with each other and establish collaboration for future business ventures," Farris told the Jackson Free Press. "EQ will give current entrepreneurs the chance to meet new people and branch out and help new ones to get started and find a group that's right for them."
The first EQ event will begin with an opportunity for visitors to mingle and network, and a series of panels in which representatives of local entrepreneurial groups will introduce their business before opening the floor for questions. Topics of future meetings will vary between speakers and panels based on participants' interests and needs.
All EQ events will take place at Sal & Mookie's (565 Taylor St.) from 6:30 p.m. to 8:30 p.m. and will be free to attend. Each event will feature free pizza and drink discounts for visitors. This year's events will take place on March 1, June 7, Sept. 6 and Dec. 6.
"We chose to make this quarterly because many Jackson entrepreneurs are already involved in groups, and we wanted this to be for those looking to branch out," Farris said. "This way, it's something that's not necessarily going to be on their schedule all the time, and by having events like this with advance notice, we make it so that large numbers of entrepreneurs can work it in and more can come and be part of it."
The speakers for the March EQ event will include Lomax; Midtown Partners Executive Director Kristi Hendrix representing The Hub; David Lewis of the Greater Jackson Arts Council and Todd Stauffer of the Jackson Free Press representing Coalesce Jackson; Roderick Red of Red Squared Productions representing creative collaborative FLEET; Dawn Dugle of Dugle Media representing Lean In Mississippi; J.C. Hiatt of Hiatt Consulting and rafl; and Nader Dabit representing Jackson Area Web and App Developers.
For more information, visit mantlesandbox.com/eq-jxn or contact Susan Farris at 601-982-4443, ext. 17 or by email at [email protected].
Metrocenter Mall Closing This Year
16 WAPT News recently reported that the management of Jackson's Metrocenter Mall will not renew the monthly leases of many of the mall's tenants by Jan. 31, and that most of the retail portion of the facility will close later this year.
On Jan. 19, Metrocenter released a letter stating that all month-to-month tenants will receive lease terminations effective Feb. 28, though mall management will still honor leases for tenants with expiration dates beyond Feb. 28. The letter also states that as of Jan. 22, Metrocenter has altered its operating hours to 8 a.m. through 6 p.m. Monday through Saturday and 1 p.m. to 6 p.m. on Sundays.
Leroy Walker of Retro Metro owns the section of the mall that houses the Jackson Water Department and other city offices, which will remain open. Walker is reportedly negotiating with the owners to buy the rest of the mall. Burlington, whose lease is not connected to that of the Metrocenter's owners, will also remain open.
Metrocenter managing partner Tyler Oliver told WAPT that mall management is considering options such as selling the building and converting it to residential or office use, or using it as an educational or industrial facility. The mall could also be torn down and rebuilt as residential or mixed-use property.
The mall has lost several of its major department stores in recent years, including Sears, Belk and Dillard's.
Shipley Do-Nuts to Open New Location in Jackson Metro
Longtime Best of Jackson contender Shipley Do-Nuts recently announced that it will soon add 15 new locations in and around the Jackson metro area.
The donut shop got its start in Houston, Texas, in 1936, when founder Lawrence Shipley Sr. created his own donut recipe and started selling them for 5 cents a dozen. Today, Shipley is under the ownership of Lawrence Shipley III and has more than 300 locations across the South, including nine in Mississippi.
Wesley McGaugh, who first brought Shipley to Mississippi when he opened a shop in Greenville in 1953, is leading the expansion, which will include new shops in Madison, Brandon, Pearl and Ridgeland.
Shipley has more than 60 varieties of donuts, including traditional glazed, cinnamon, cherry-filled or apple-filled, Bavarian cream, cake donuts, donuts topped with nuts, sugar or coconut and more. Shipley also sells coffee, beignets, cinnamon rolls, fruit pastries and kolaches.
For more information, visit shipleydonuts.com or follow Shipley Do-Nuts on Facebook.