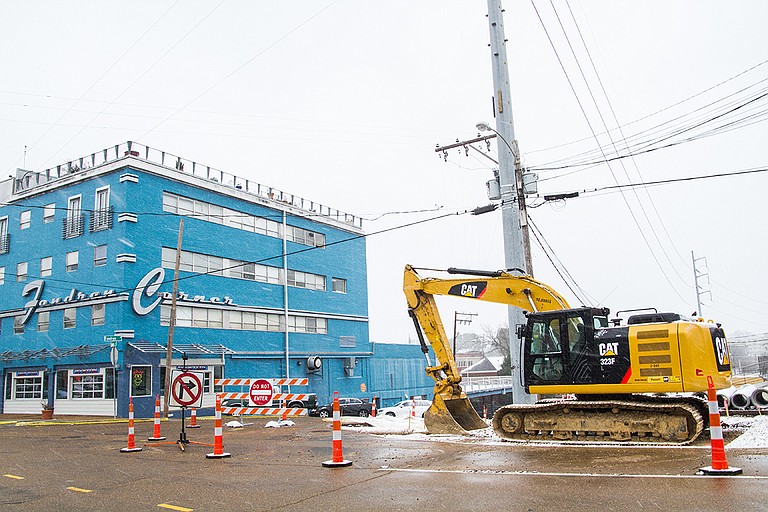 Tuesday, January 23, 2018
A previous version of this story identified George Ewing as president of Atlanta-based Ewing-Dyess Engineering. He is Landscape Architect for City of Jackson. We apologize for the error.
Jackson's Fondren neighborhood recently began an overhaul as part of the Fondren Streetscape Project, which will reconstruct sidewalks throughout the Fondren Business District. The district includes parts of Old Canton Road, North State Street, Fondren Place and Duling Avenue.
Among the renovations will be new sidewalks with curb ramps that meet current requirements in the Americans with Disabilities Act, and changes to traffic signals at intersections to improve pedestrian safety and accessibility. During the project, the district will also receive new landscaping and signage, bicycle racks, sidewalk accents, a new transit shelter and changes to the neighborhood's drainage system.
George Ewing, Landscape Architect for City of Jackson, is the project manager for the renovations, and Jackson-based firm Neel-Schaffer, Inc. is the design consultant.
Cantina Laredo Introduces "Skinny Sips"
Cantina Laredo recently added a trio of low-calorie cocktails, dubbed "Skinny Sips," to its menu in celebration of the New Year.
The Skinny Sips include the strawberry blood orange smash, featuring blood-orange vodka with fresh strawberries, basil and lemon juice topped with soda; the Hornitos skinny 'rita, made from white tequila with fresh lime juice and agave nectar topped with soda; and the skinny raspberry 'rita, a variation of the Hornitos margarita with raspberry and triple sec in place of agave nectar.
Each cocktail is 124 calories or less, and is available for a limited time for about $9 each.
Cantina Laredo (200 District Blvd.) is open Monday through Thursday from 11 a.m. to 10 p.m., Friday through Saturday from 11 a.m. to 11 p.m., and Sundays from 11 a.m. to 9 p.m. For more information, visit cantinalaredo.com.
1 Million Cups Starts New Season
The Jackson branch of 1 Million Cups, a national program that helps educate and connect local entrepreneurs with local investors, will host its first event of 2018 at collaborative co-working space Coalesce (109 N. State St.) on Wednesday, Jan. 24, at 9 a.m.
Each weekly 1 Million Cups meeting gives two local entrepreneurs the chance to present their startups to an audience of local experts, advisers and investors, and receive feedback. Participants can enjoy free coffee, along with free doughnuts at the Jan. 24 meeting.
This week's presenters are LifeVersation and Torrus Capture. LifeVersation is an employee-engagement and performance-training company that hosts motivational talks and training sessions on building harmony in the workplace. Torrus Capture develops customizable apps to help kindergarten- through 12th-grade educators and administrators integrate modern business practices in their school districts and improve outcomes for students.
Entrepreneurs interested in presenting at a meeting can register at http://jackson.sites.1millioncups.com. Mentors, advisers and business owners can register as audience members on the same site.
For more information on LifeVersation, call 601-879-4625 or visit https://www.lifeversation.com/. For more information on Torrus Capture, call 769-241-0591 or visit http://www.torrused.com.