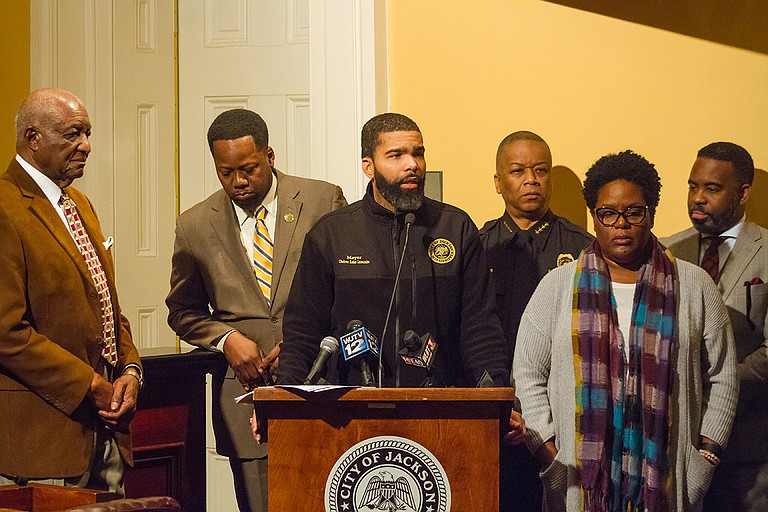 JACKSON — The City of Jackson is somewhere between praising its public-works department for its hard work this year and quickly patching the aging infrastructure and pipes so that all citizens and businesses can have water and children can go back to school.
Director of Public Works Bob Miller said at a press conference at City Hall this afternoon that 210 water mains have broken since the beginning of the year—54 of those happened this week alone. For now, the water is drinkable system-wide, however, he said.
"The most beneficial thing that citizens can do for the Jackson water system, as we've noted before, (is) if you see something, say something," Miller said. He encourages anyone who sees leaks bubbling up in the streets to call 311 to report the specific issue and find out what is happening at that spot. The 311 call center will be open over the weekend from 7 a.m. until 11 p.m. Jacksonians can also call if they are in need of water.
A combination of customer demand plus the water-main breaks pulls more water out of the system than it can handle, hence the breaks, Miller says. Today he confirmed 16 breaks, and anticipates that we are in the "peak of the worst of it," currently.
Jackson Public Schools called for a district-wide early dismissal today when they realized after school began this morning that several water-main breaks left 60 percent of schools with low or inadequate water pressure. Gov. Phil Bryant declared a state of emergency for school districts affected by winter weather beginning Jan. 15. The Mississippi Board of Education has the authority to decide if schools will make up missed days this week. This does not cover the days JPS missed before Jan. 15.
Miller is hopeful because in the thick of the emergency in the beginning of January, the peak number of water-main breaks in a single day was 22, and we are not only below that daily number to date, but he says the City and the water treatment plants are "better positioned" during this run of main breaks.
Mayor Chokwe A. Lumumba asked for continued patience as his administration works as hard as possible, although he understands parents' and business owners' frustrations. He added that Jackson's issues fit in with a national trend of crumbling infrastructure in major cities that are coming to light as the weather plummets and rises. "We have 100-year-old pipes, and they don't consult with us before they decide to break," the mayor said. Lumumba re-characterized the pipes as equivalent to "peanut brittle," as Miller called them previously in an interview with the Jackson Free Press.
The mayor also likened the situation of the pipes in "deplorable condition" to what happens when you heat a coffee mug in a microwave and then immediately put it in the refrigerator—the mug will likely crack because of the stark temperature differences. It is the same for pipes.
"Big transitions in temperatures for pipes cause issues—that's why they break," Lumumba said. "As we dealt with the cold wave, that caused the initial surge of pipe breaks. As we deal with temperatures heating back up now we expect that there may be additional breaks that will occur."
Lumumba thanked the Madison County School District for donating water to south Jackson schools. South Jackson is farthest away from the treatment facilities, so residents there will likely have lower pressure, as pressure decreases the longer it travels away from the plants. The mayor also thanked businesses that choose to stay in the City despite the infrastructure issues.
Ward 6 Councilman Aaron Banks said he rode to check on Forest Hill High School, which opened Thursday despite not having water, and saw public-works crews working in the ground and mud to fix pipes. Banks encouraged citizens to pull together with hope and in support of the workers out fixing the pipes.
"Our workers are committed to getting this done," he said. "This is not a time to panic this is not the titanic—Jackson's not going down, alright?"
The mayor said he's prioritizing the "urgency of now," but also made time for CAO Robert Blaine to speak about long-term plans for infrastructure to survive fluctuating temperatures.
"We are in the process of developing an integrated infrastructure plan," Blaine said. "We have developed relationships in order to be able to seek funding from the state and federal level, and we are looking to be aggressive in how we look forward so we can mitigate against future challenges that we might have with our infrastructure."
Lumumba added that the City would not turn away federal or state funding to help with financing the response to water-main fractures.
Three city crews and five contractor crews are out working today, and Miller said he will add more over the weekend.
Email city reporter Ko Bragg at [email protected].