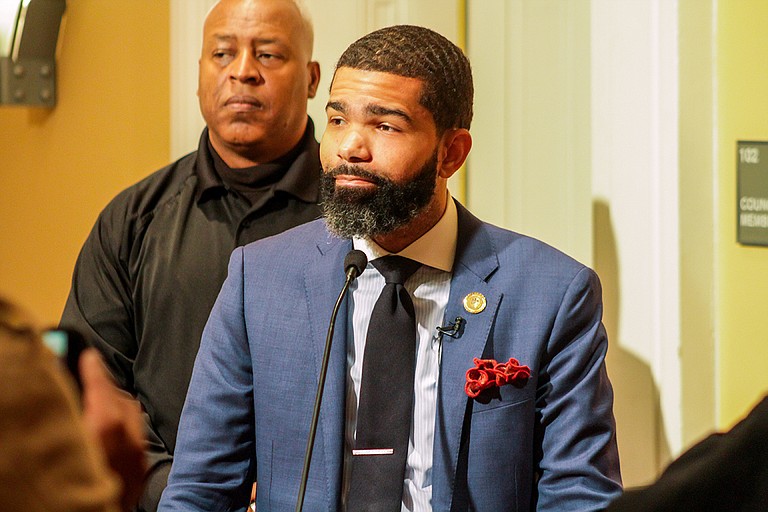 Thursday, January 18, 2018
JACKSON — The City of Jackson and Jackson Public Schools reopened today after being closed this week in the face of the wintry weather in Jackson and beyond. At a press conference in a vacant and dark City Hall, city officials gathered Wednesday to share updates on how the City has been handling the freezing temperatures and pipe repairs.
"The water issues that were created two to three weeks ago have been resolved," Mayor Chokwe A. Lumumba said. "Everyone should be receiving water outside of the new circumstances that may have taken place. But, that crisis is now in the rearview mirror for our City, and we stand prepared in the event that the weather we are experiencing to date causes new issues."
Those "new issues" the mayor referred to were 19 main breaks that have happened since Monday, Jan. 15, when the City was closed for the Martin Luther King Jr. holiday. Three city crews and two contract crews were out working to repair those breaks as of Wednesday, Director of Public Works Bob Miller said, adding that the water system is in good shape because the City came out of the previous emergency immediately preparing for this current one.
As of Friday, Jan. 12, the City had reported 143 confirmed breaks since the Jan. 1, with 101 repairs completed at that time. The mayor spoke of surviving that crisis successfully and also the reality that Jackson has to make huge investments to repair infrastructure.
"We all have to take stock of the fact that we have inherited an aging infrastructure—and I'm not just speaking of my administration," Lumumba said. "I'm talking about several administrations to date. There is going to have to be a significant investment in our infrastructure."
The mayor estimated that "it would not be a stretch to say" it would take hundreds of millions of dollars to fix the City's pipes, which Miller has previously characterized as "peanut brittle."
Since Jan. 1, the water system incurred between $600,000 to $750,000 of additional costs, Miller estimated, but the City has not done an official tally to date.
Constituent Services Manager Keyshia Sanders said that the City is still delivering water to residents with low water pressure, and citizens who need water should call 311 to arrange delivery. Elderly and disabled citizens are their main priority, Sanders added.
The Jackson City Council rescheduled its meeting from the Tuesday to today at 1:30 p.m.
JPS students went back to school for the first time in 2018, as the water main breaks throughout the City had left many schools with little to no water pressure, which also made heating the schools uncertain.
The majority of JPS schools have water pressure, however, Forest Hill High School is still without water so the district will provide water tanks, hand sanitizer, sack lunches, and portable restrooms at Forest Hill and any other schools needing such services, the district said in a statement.
While students may have enjoyed the extended winter break, they will have to make up those days this year. Given that JPS students missed seven scheduled days of school, and only two will be accounted for through built-in inclement weather makeup days, the district has a full school week to add back into the schedule. March 30 and April 2, previously days off for the Easter Holiday, will be used as two of the makeup days, but the school district will consult with the Mississippi Department of Education and seek input from parents, students, and employees before making its final decision about the other five days.
Notably, JPS is on probation with the state Commission on School Accreditation, after an investigative audit last year found the district to be out of compliance with 24 standards. The JPS board has spoken of extending the school days, holding Saturday classes, and giving up holidays as different strategies to make the days up.
Email city reporter Ko Bragg at [email protected].