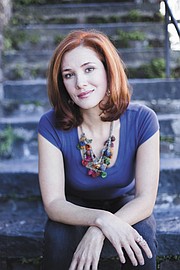 I hardly slept at all on the night of the Golden Globes.
I didn't get to watch the show, but I did get to see some great moments from it later. I saw beautiful, accomplished actresses linking arms together, all dressed in black, praising one another in solidarity for the #TIMESUP movement. Some were aspiring actresses with their star on the rise, and some were veterans who have been on film and television for decades. I saw Oprah's amazing speech and then Natalie Portman's well-pointed jab when she called out the "all male nominees" for Best Director.
I don't think I fell asleep until almost 3 a.m., reading coverage of the show and getting wrapped up in my thoughts and reflecting on past experiences. The images of all of those women on the red carpet, beaming together proudly, kept appearing in my mind.
I reflected on the journey I've had over the past decade and the things I've accomplished: some with a man's help, and some completely on my own. I got to study at the Royal Academy of Dramatic Art. I got cast in small parts for big films and big parts for smaller films, and one time I gave up a small part that would have had me working with two A-list actors to perform in a lead role for a small project my former partner was working on. They'd already had my costume designed, and my plane ticket purchased. And it did get some visibility and was a lot of fun.
A few years after that, I was able to work opposite one of my personal acting heroes, Academy Award winner Kevin Kline, as English literary heroine, Jane Eyre, on the biopic film "The Last of Robin Hood." It went on to premiere at the Toronto International Film Festival 2013. Instead of going to Toronto to appear on the red carpet at TIFF that year, I focused my time and attention on getting prepared to get my license to become an aviation pilot, my other lifelong passion.
I also reflected on the time I was cast in my first relatively big feature film in the supporting role of a strong-minded young woman who would be brutally killed. I remember being asked to do things that were uncomfortable for the performance, both physically and emotionally, but I went along with it on the assurances from the director that my scenes would be handled in a certain way to preserve my dignity. When the film premiered in Hollywood the next year at Mann's Chinese Theater, I saw that the scene had not been treated in the way we agreed. I felt mortified. I felt exploited. I felt fooled. And I was very angry. But still … I went outside afterward and posed on the red carpet with the director and the rest of the cast with a big smile on my face.
While my family went on vacations together, I spent my time working so that I could have money, and then I split my money between living expenses, helping my partner at the time get to be where he needed to be, and the rest I used where I could toward auditions, training and headshots.
I never felt like anything was enough. Something was always missing. I felt like a hungry wolf waiting for any scrap. Sometimes the wolf inside would feed off desperation due to what often felt like an oppressive circumstance.
Over time, I felt like people in that creative circle looked the other way for the sake of their own opportunistic gain. While my former partner frequently developed projects with a female playwright and an aspiring female filmmaker, becoming something of a mentor to them, I would drive to New Orleans or fly to L.A., seeking my own opportunities. The playwright politely tolerated my occasional presence during creative development sessions, but it never felt sincerely inclusive. However, the filmmaker and I cultivated a friendship over the years, and she was interested in my ideas, too.
This isn't to say that my partner wasn't also my mentor or that I didn't learn from him. I did. I watched over his shoulder as he developed screenplays, worked on edits, and was able to watch how charismatically he could pull a team together to work on a film project for very little money. He broke my heart, and I broke his, but we also helped each other break ground and accomplish big things together. I helped him get into a place where he could finally direct his first feature film, and he helped me with some tough love so that I was finally cast as Jane Eyre. At the time, I hardly believed in myself enough to even get out of the bed to do that audition. But at his insistence, I did so. He made sure my homemade costume and style looked just right. He had me practice my English accent over and over to make sure it sounded accurate.
I got the callback, and then I booked the role out of hundreds of other actresses, one of them being from England herself and with a much more established resume than the one I had at the time. For that, I will always be grateful to him.
I often think about that concept of the "bad wolf" inside people and how it can feed off the feeling of disenfranchisement that can lead to rivalry and desperation. I wonder how much it corrupts powerful men who started out good, at least in some visible ways—men like Harvey Weinstein, the man who was the subject of this watershed moment that has caused the #metoo movement to pick up so much momentum. This man who had built and ended careers as he pleased had also pretty much pioneered the independent film movement of the 1990s and brought a lot of glamour back to Hollywood. It's like Hollywood went through a new sort of Golden Age, similar to the kind during the '40s and the '50s.
I've been aware of Weinstein's reputation for a while now, and just last year during a film-development internship I had in Los Angeles, my mentor was a female studio executive who had previously partnered with a man who used to work for Weinstein a couple of decades ago when his company was called Miramax.
I remember being at this internship and reflecting how I was only one to two degrees away from Weinstein and thinking to myself that it could lead to my dream of talking to him about the scripts I wanted to develop and the career I'd always hoped to have as an actress. I had read stories about him seducing young actresses and models, but also that they would go to him willingly at the encouragement of their agencies because of the opportunities he represented.
I was aware that he had a brutish, pushy personality, but isn't that somewhat expected of a Hollywood power player? Especially one from New York? What would you do if you had a chance to meet with a man like this, who could make a few phone calls and put things into motion that would make everything you worked for—sacrificed for—come true? Especially when everyone around him always praised what he accomplished, and you weren't around to hear the whispers?
I figured I could handle the New Yorker pushiness—my mother's from Brooklyn, so I was raised around that—and I felt confident enough that I could probably navigate the potential sexual innuendos and propositions, too. I knew those kind of things possibly still existed in Hollywood, even if no one openly talked about them, but I wouldn't have to do anything I didn't want to, right? I could simply walk away from anything, whether it cost me an opportunity or not.
I never heard rumors that he was a rapist. Not even when I had lunch with the female executive, a woman who has worked in Hollywood for decades and produced films that have won Oscars. But the next year, the New York Times exposé came out. My heart felt very heavy for days. My biggest dream could've turned into my worst nightmare. And a man I had admired for his innovations in film and for how he campaigned to get smaller films based on inspiring human stories on the big market had been revealed as a monster.
Some things have changed in me over the recent few years, but especially in these most recent months. I'm more determined than ever to make my own opportunities happen rather than wait for them. I'm still interested in acting eventually, but right now I'm focusing my efforts on finding and developing stories that I can produce and nurturing the connections I've made over the years.
I've found new mentors: the producers I worked with during my internship and a TV show runner I got to meet two summers ago at CBS Studios whom I keep in touch with a few times a year, even as recently as this week. Incidentally, two women made both of these opportunities possible: a female producer at NBC Universal and a woman who is cousins with the show runner.
As of August 2017, the show runner has inked a mega-deal with ABC to produce original content. He has a reputation for grooming and mentoring future show runners, and he's one of the good guys. I had never had a personal meeting behind a closed door with someone that powerful and influential, but I never felt uncomfortable for a moment. He gave me advice and insights, and listened to my experiences. His casting department walked me around the lot of his new show, and I made a few more connections from it. I also have mentors at my university, men and women, who encourage my creative writing and who inspire me to be engaged with the world all around me so I can make causal connections.
If I have one thing to say to other women—and men—especially in this industry, it is this: Stop looking at the man in your community who's at the center of your orbit, and letting him manipulate and influence you into complying with what he wants and then dangling what you have to lose or gain in front of you. Don't look at another successful woman as your rival; she could be your biggest ally. Don't squeeze her out; support her. And most importantly, don't stand by if you are aware that another woman is going through abuse and oppression, whatever form it's in. If you build your successes on the back of another broken woman by looking the other way when she is going through pain, it is not a true a win for you. It doesn't matter if you are getting into films, publishing books or walking runways. You will still have a history of being complicit. #TIMESUP for that.
In the spirit of this movement, the female filmmaker friend and I have not only cultivated our bond with each other through the years, but we encourage each other's professional aspirations as well. She is my filmmaking partner, my creative collaborator and my friend. To show my gratitude for the opportunities other women presented to me, I forwarded her portfolio to the show runner this week so that she could be considered for directing episodes of his television shows. She has since gotten an invitation from his production company to have a meeting at the ABC studio in Los Angeles. We have plans to produce a film together, and we have agreed to form a production company under the tentative name, Little Water Bear Productions. I chose the name for personally sentimental reasons and also for symbolic ones. The water bear is resilient. It is adaptable. And it is a survivor.
Just like many women.
Hannah Bryan is an actress, writer, aspiring filmmaker, and licensed pilot.