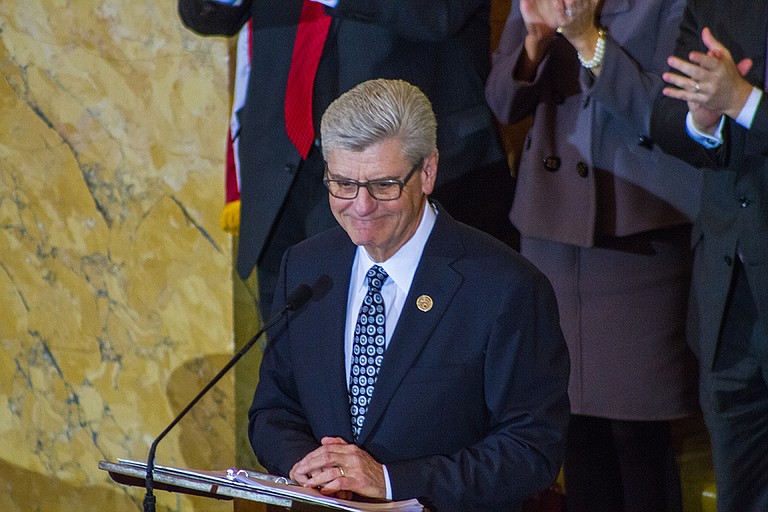 Thursday, January 11, 2018
The governor made sure to mention President Donald Trump's visit to Jackson in his "State of the State" address on Tuesday, Jan. 9. "I am thankful to the president of the United States of America who came to Jackson, Mississippi, to honor the opening of our great two museums," Bryant said in the House of Representatives chamber to some of the state's most powerful leaders.
Republicans stood to applaud, while Democrats throughout the chamber, including Attorney General Jim Hood and Jackson Mayor Chokwe A. Lumumba, stayed seated.
"(Millions of) people watched the president's tour and remarks that day at the civil-rights museum. It seemed the entire world was watching as Mississippi told our own story," Bryant said.
The governor recalled a "feeling of mutual reconciliation and joy" during the opening of the two new museums on Dec. 9. In reality, one of Mississippi's own congressmen, Democratic Rep. Bennie Thompson, refused to attend the ceremony, along with civil-rights veteran and fellow Rep. John Lewis, D-Georgia. Lumumba also boycotted the ceremony after Trump announced he would attend the event. Trump never appeared publicly at the 2 Museums event, instead speaking to a small, select group inside the Mississippi Civil Rights Museum.
Bryant's "State of the State" address recapped Mississippi's achievements in 2017, such as its lowest unemployment rate to date, and outlined his wish list for the new legislative session. Bryant applauded economic development, and said he would call for cutting more government regulations in 2018.
"This session I will have some other recommendations to reduce more government regulations, and unleash the independent spirit and make Mississippi the most job-friendly state in America," he said.
The governor also supports expanding what supporters call "school choice" in the form of vouchers for students with special needs this session. Mississippi already has "education-scholarship accounts" that go to approximately 400 families for students with special needs, but the Senate is already in talks to expand the legislation this year. So far, Bryant says he wants more families with special needs to get vouchers, while legislators such as Senate Education Chairman Gray Tollison, R-Oxford, wants to extend vouchers to families living in poverty, not just for children with special needs.
Bryant also announced his intentions to move the Department of Public Safety headquarters, currently on Woodrow Wilson Avenue in Jackson, to Rankin County near the crime lab. The current building is in deplorable condition, he said, but could be turned into a new medical conference center to become the "gateway of the medical corridor" in Jackson.
The governor, who controls both the Division of Medicaid and the Mississippi Department of Human Services, announced that he will not move eligibility verification for Medicaid recipients to MDHS, despite considering the move.
"I contemplated moving Medicaid eligibility to the Department of Human Services, something that is done in 46 other states," he said. "However, (with) the change in leadership at the division of Medicaid, I now believe it would be prudent to delay such a transfer until a complete review of its benefits to providers and beneficiaries can be completed."
Lawmakers have to re-authorize the Division of Medicaid this session with legislation, and Gov. Bryant encouraged them to focus on a preventive approach to health care while putting the responsibility of the state's poor health on Medicaid recipients.
"The health of our population continues to lag behind most of the nation. Unfortunately, many of these problems are of our own making. We have an overwhelming tendency to be our own worst enemy when it comes to obesity and substance abuse and sexually transmitted diseases," Bryant said. "If we are to solve these problems, we must face the uncomfortable facts and take the necessary steps to assist those suffering while encouraging them to be more responsible for their own preventative health care."
Eliminating waste, fraud and abuse in Medicaid eligibility would help the state care for those "truly in need," he said.
In the last session, Republicans pushed through House Bill 1090, based on model legislation from other states, which tightens the state's eligibility system for benefits. Critics say the measure means fewer Mississippians will enroll in Medicaid and the Supplemental Nutrition and Assistance Program, or those enrolled will be kicked off the rolls at higher rates. A 2017 report found that many Jackson mothers do not even bother applying for benefits due to the stringent requirements.
Email state reporter Arielle Dreher at [email protected] and follow her on Twitter @arielle_amara.