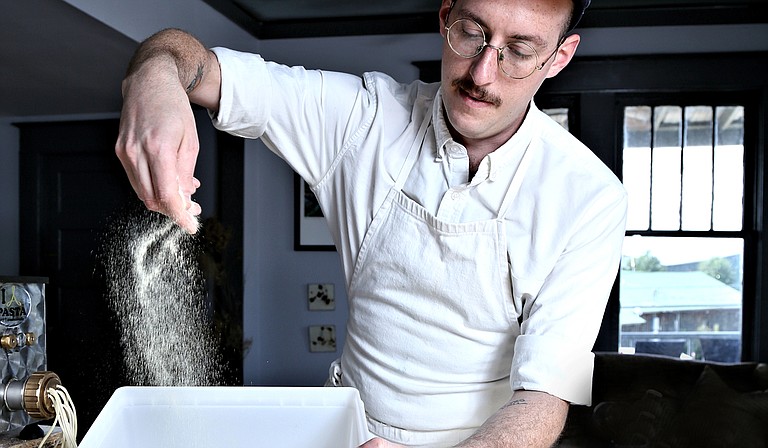 Wednesday, January 10, 2018
Chaz Lindsay is making his favorite dish, amatriciana. Lindsay crushes tomatoes until they have the consistency of a sauce. Then, he heats olive oil over medium-high heat in a large skillet. Once the pan is hot, he adds pancetta and sautes the meat for about five to seven minutes, or until it is golden brown. He then adds red pepper flakes and sautes it for one minute. From there, he adds the now-crushed tomatoes, basil, and salt and pepper to taste. He reduces the heat and stirs the dish well. He cooks it uncovered for 15 minutes until the sauce is dark and thick. Then, he tosses it with pasta and adds cheese and a drizzle of olive oil.
Lindsay was born and raised in Jackson. After graduating from the Culinary Institute of America in Hyde Park, N.Y., in 2011, he continued to work in New York for a few years before moving to Italy. After spending about six months there, he decided to move back home, bringing his passion for pasta with him.
In February 2017, Lindsay began a business he thought was much needed in his hometown: the Belhaven Pasta Company.
"I saw it as filling a void for Jackson," he says. "I found that not a lot of people really know what fresh pasta is because there aren't a lot of people really making it in town. It's a really beautiful thing when you have fresh pasta, and being able to share that with people 
was important for me."
In his company, he worked part-time to supply pasta to local restaurants such as Barrelhouse and customers, and also did pop-ups at events such as Fondren After 5.
Basing the company in the Belhaven area was important for Lindsay because no matter where he lived, he says he has always considered the area his home.
"I was born and raised in Belhaven," he says. "When I moved back to Jackson after being gone for eight years, I decided that I wanted to be back in the neighborhood I grew up in. My family has been heavily involved with Belhaven, so it has always held a special place in my heart."
Lindsay, who recently became the executive chef at the Parlor Market in downtown Jackson, says that at the restaurant, you can find his favorite dish, just under a different name: pasta Romano.
Lindsay credits the Belhaven Pasta Company for part of his success as a chef in the Jackson metro area and for the relationships he has been able to form with individuals in his community.
"I think what's important now is that Belhaven Pasta Company has been a stepping stone for me," he says. "... What it was able to do is get me involved with Derek Emerson and everyone with Parlor Market downtown."
Lindsay has now shifted most of his focus to creating a fresh pasta menu for the Parlor Market, where he will also be making all pasta in-house.
"The Belhaven Pasta Company has always been something I love to do on the side, but it has been very well received in the Jackson area," he says. "People definitely enjoy my pasta when they can get their hands on it."
For more information on the Belhaven Pasta Company, find the business on Instagram at @belhavenpastaco. For more food coverage, visit jfp.ms/food.