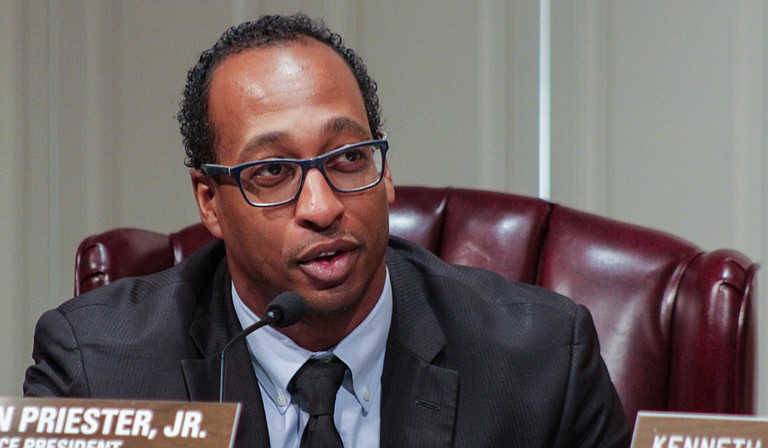 Wednesday, January 10, 2018
JACKSON — A $7-million debt to the Department of Housing and Urban Development caused contention at the first Jackson City Council meeting of the new year, bringing recurring HUD headaches back to the forefront.
Mayor Chokwe Antar Lumumba sought permission from the council to execute a contract for a Chicago-based firm to conduct a market feasibility analysis of the city's downtown central business district. The study satisfies re-negotiated terms for the City to repay its $7-million debt to HUD.
The council's deliberation underscored a desperate and seemingly unanimous desire to not only put Jackson first, but also to develop the capital city beyond downtown and Ward 7, which covers Belhaven and parts of Fondren.
'Baptized in the Fire'
In 2008, the City entered an agreement with HUD to receive a loan up to $10 million to develop two hotels, parking facilities, office space and a mixed-use residential/retail component next to the then-new Jackson Convention Complex. The City drew $7 million, and principal payments on the loan were set to begin this August to HUD.
However, through a "workout plan" between the City and HUD, the City is now required to conduct a feasibility and market analysis of the downtown area, develop a concept plan, hire a private developer, and construct the selected project by April 2022. "Once the project is completed, the City will continue repaying the loan by using revenue generated from rents and increased tax collections from the developed project," Director of Planning and Development Mukesh Kumar wrote in the workout plan.
The mayor alluded to a rocky relationship between HUD and the City that Ward 4 Councilman De'Keither Stamps refers to as being "baptized in the fire." The mayor believes that through talks last year, HUD left pleased enough with Kumar to enter this workout plan.
In November 2017, the City put out two request-for-proposals for that study and received four in early December. Kumar said he and a review committee selected Chicago-based Hunden Strategic Partners as its first choice.
Kumar said the committee liked the Hunden plan's clarity. Hunden would help the City host public "kick-off" meetings with the Greater Jackson Chamber of Commerce and other entities for people to voice concerns and desires about the downtown area.
Documents show that the City would pay up to $72,000 to Hunden Strategic Partners from Community Development Block Grant funds. To meet the CDBG's funding requirements, the City promises to benefit low to moderate income persons through job creation, the workout plan reads.
Before the year ends, the City must conduct the market analysis, develop the concept plan of a project, and select a master developer. The mayor pointed out that if the council voted against this item, the city would have to repay the debt anyway, perhaps without getting much out of it.
"If we don't do this agreement, we're faced with having to pay the piper with HUD," Lumumba said. "Which we may be faced with doing anyway, but at the sacrifice of our development ideas."
The Council's Qualms
The proposed market study item barely made it onto the floor at the Jan. 3 meeting. No one initially seconded it for it even to be discussed, so it died until the mayor petitioned the council to revisit it. Council members had concerns about paying a contractor from Chicago, as well as supporting more downtown development instead of projects in south or west Jackson.
"What are they going to tell us about Jackson that we don't already know?" Ward 1 Councilman Ashby Foote asked early in the meeting. He voted against the item because he believes business schools in Jackson could enjoy the opportunity to do the market analysis and also because nobody was there from Hunden Strategic Partners to speak on the company's behalf.
Ward 7 Councilwoman Virgi Lindsay suggested tabling the item so they could find a local provider, but she also said the council should "pause and do this right and find out what we need to do (downtown) and stop throwing money at it." Lindsay voted in support of conducting the study.
Ward 6 Councilman Aaron Banks voted against the study and consistently opposes any project that hires companies outside Jackson. He also expressed concern with the fact that this would only help downtown. "It's problematic for me to keep supporting things just to be downtown and feasibility stuff downtown, when we've asked for consideration of doing a study in south and west Jackson," Banks said.
The Ward 6 representative wanted to know if those areas could be included in this market study, but Kumar said it would not be possible, although he too wants to see development in "historically forgotten" areas of Jackson, as the mayor characterized them, he said.
Kumar told the council that in his 13 years as a Jackson resident, he has never seen a feasibility study done for the downtown area, meaning this one would be long overdue so that they could make decisions based on facts.
"So it's really important that we do understand what is happening in our downtown," Kumar said. "It is good for us to have a study that is publicly available and everyone can make better decisions with it."
The mayor "cautioned" the council against using this particular item as a springboard for other issues because the City has to fix its relationship with HUD so it can continue to receive money in the future—and HUD wants an effective study of downtown.
Ward 2 Councilman Melvin Priester Jr. offered a student-debt analogy that brought the debate full circle and encouraged some laughs.
"I majored in social studies, I've got $40,000 worth of student-loan debt still," Priester said. "I sure wish I could go back and major in computer science, but I majored in social studies, and I still have those student loans.
"We majored in convention-center building; we still have convention-center loans."
Comment on this story at jfp.ms/city. Email story ideas to city 
reporter Ko Bragg at [email protected].