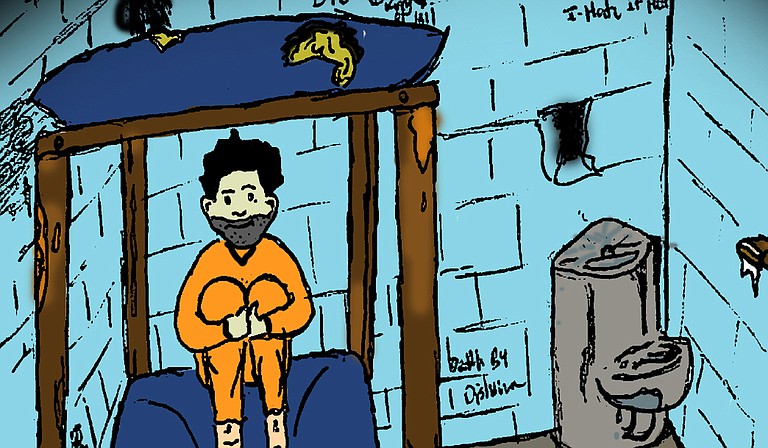 Wednesday, January 10, 2018
JACKSON — Corinth police officers arrested Sammy Brown on Dec. 1, 2017, and charged him with public drunkenness. Brown sat in jail for several days because he could not afford the $600 bond the Corinth Municipal Court required. Brown does not have a job; in fact, his only source of income is his disability checks he has received since he was a kid.
The Southern Poverty Law Center and the MacArthur Justice Center filed a class-action lawsuit to get Brown and fellow inmate Brian Keith Howell out from behind bars. They sued the Corinth Municipal Court and Municipal Court Judge John Ross for operating a "debtors' prison" that violates the state's new rules of criminal procedure, the complaint says.
Jail officials and Judge Ross told both men that they had to pay the court fees or else sit in jail until they could, even as the fee would build each day they were there, the complaint says.
The Corinth Municipal Court forces those charged with crimes (even before they receive a hearing) to pay their bond fees or else sit in jail at a rate of $25 per day until they pay the fine in full, the complaint filed in federal court on Dec. 5 says.
Other Corinth residents with fines have also received notices that say, "100 Today or Jail," the complaint shows.
Home for Christmas
The City of Corinth and attorneys representing the plaintiffs came to a joint interim agreement three days before Christmas Eve. The agreement says that the Alcorn County Correctional Facility, where Corinth Municipal Court sends men and women to be incarcerated, would release all people who are jailed for the failure to pay fines and fees before Christmas. Brown and Howell were released on Dec. 6, the day after SPLC and MacArthur attorneys filed the lawsuit.
The municipal court cannot incarcerate any more individuals who are not able to pay their fees, and under the agreement, it must offer a payment program to those with outstanding fines and fees or allow them to perform community service instead of sitting in jail.
The agreement also says the Corinth Municipal Court will not arrest any person who has an outstanding warrant. The joint interim agreement lasts for two months.
The court has stayed proceedings in the case, and the parties are discussing the possibility of a settlement agreement instead of further litigation. The interim agreement does not mean that the Corinth Municipal Court or Judge Ross have admitted liability in the case, however.
Howell, one of the lead plaintiffs in the case, sat in jail for about a month, and without the lawsuit would have missed Christmas, New Year's Day and several of his kids' birthdays. Corinth police officers pulled Howell over for not having a taillight, then arrested him for having no driver's license or insurance. Howell was at Walmart buying bread and peanut butter for his family, the lawsuit says.
A week later, Howell pleaded guilty to the three traffic tickets, and Judge Ross assessed his fees at more than $1,000. Howell, who does not have steady employment, was in a terrible motorcycle accident two years ago. His leg had to be amputated, and he was in the process of applying for disability insurance when he was arrested.
Howell could not afford his tickets, so he had to sit in jail and would still be there without the joint agreement.
Changing Licensing Rules
The State of Mississippi will stop suspending Mississippians' driver licenses due to the nonpayment of fines and fees this year. Sam Brooke, the deputy legal director of SPLC, said when a person fails to pay court fines or fees in Mississippi the court sends a note to the Department of Public Safety and then DPS suspends a person's license. There is no process in place for asking why a person did not pay the fees or fines.
"(We had) decided to file a lawsuit about it, but we sat down and talked to the Department of Public Safety and the attorney general's office, and that led to a very positive conversation that resulted in them making changes in policy," Brooke told the Jackson Free Press.
All other reasons that DPS can suspend licenses, from non-compliance with a child-support order to multiple DUIs or reckless-driving charges will remain in place. DPS hired staff to restore the licenses affected by the new rule change, however, and letters will go out early this year. There are approximately 100,000 drivers whose licenses are suspended in part or in whole because they could not afford their fees, Brooke said. The reinstatement does not relieve Mississippians of their obligation to pay back the fees, however.
Mississippians with suspended licenses due to unpaid court fines or fees can expect one of three letters. Some will have their licenses reinstated outright. Others will be reinstated, but if their license is expired, they will have to go in to get a new one. DPS will waive the $100 reinstatement fee for those drivers whose licenses are expired under the new rule. Others, whose licenses are suspended for multiple reasons, will still have to clear the other charges before their licenses are reinstated.
"The process of discontinuing suspension of licenses due solely to the nonpayment of fines, fees or assessments will remain in place until future significant developments occur," DPS Commissioner Marshall Fisher said in a press release announcing the rule change.
Reform This Session?
Both Brown and Howell might have avoided jail if Gov. Phil Bryant had not vetoed bipartisan criminal-justice reform legislation in 2017. House Bill 1033 would have made incarceration not automatic following the nonpayment of a fine, restitution or court costs.
House Judiciary B Committee Chairman Andy Gipson, R-Braxton, has already revived the bill, which Bryant vetoed due to the measure that would have allowed certain habitual offenders early release. Gipson changed that part of the bill and brought it to his committee early on Friday, Jan. 5. The committee passed House Bill 387, which will become effective on passage, if it makes it out of the Legislature and clears the governor's scrutiny.
"The bottom line is these individuals are coming back into society, and we want them to become productive members of society, get a job, become taxpayers, and it's important for them to be able to take care of their families," Gipson said.
The bill will force courts to consider a person's financial ability to pay fines or court costs before throwing them in jail as well as allow parole earlier for certain non-violent offenders.
House Bill 387 also creates the Sentencing Disparity Taskforce.
Email state reporter Arielle Dreher at [email protected].