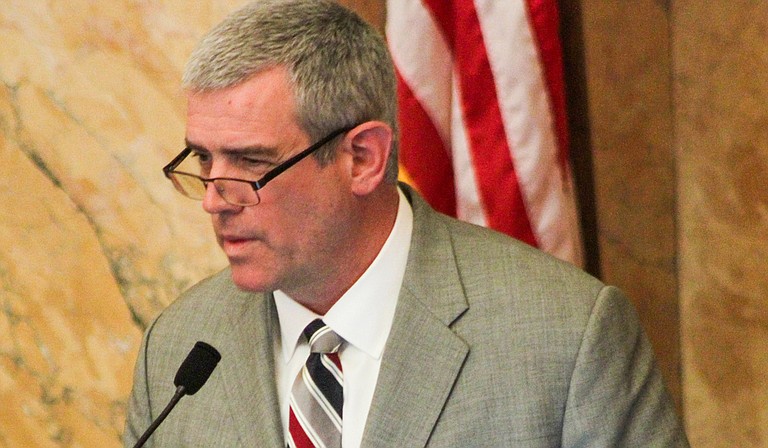 Wednesday, January 10, 2018
It's hard to prosecute someone for a violent crime if you do not know how the victim died. The Mississippi Legislature is grappling over that question in the new session; the Mississippi crime lab is in crisis.
Crime Lab Director Sam Howell told senators last week that he will be down to just one medical examiner in a few months. The state would need seven to meet national standards. In the most recent fiscal year, the medical examiner's office performed just over 1,400 autopsies with just three doctors. In 2018, the lead medical examiner might face that caseload alone.
Sen. Hob Bryan, D-Amory, invited Howell to speak with senators about the lab at a Judiciary B Committee meeting last week. Medical examiners are leaving the crime lab, Howell said, because of the workload.
"They all could make more money and do less work somewhere else," Howell told senators.
The result is delayed trials, prosecutions and closure in cases across the state. Sen. Brice Wiggins, R-Pascagoula, reminded the committee that lawmakers voted to build a crime-lab facility on the Gulf Coast that is sitting empty.
For now, every autopsy needed in the state, for car accidents, homicides or suicides, is done at the Pearl facility.
"Instead, the bodies are shipped up here—I can only imagine how that is—instead of going to this state-of-the-art facility that the State has already paid money for," Wiggins said.
Howell said three of the four candidates who interviewed for a Gulf Coast coroner job decided to look for jobs elsewhere with lighter caseloads. The majority of backlogged autopsies run between six months to a year old, Howell told senators, although coroners can finish limited autopsies—and get the bodies back out—within 24 hours. Medical examiners conduct autopsies all day, so they often do not have enough time to finish reports, Howell said. On more complicated cases, they are forced to send material out-of-state to Texas for additional study and opinion. The delay on autopsy reports can mean a delay in issuing a death certificate—and a delay in paid life insurance as a consequence. It can also mean delayed prosecutions and trials.
"They (prosecutors) usually can't get an indictment, much less prosecution, until they get that final autopsy report," Howell said. Wiggins pointed out that this also means victim's families are waiting months or years to know the cause of death of their loved one.
Howell requested about $11 million for the crime lab this year, but the Joint Legislative Budget Committee has recommended a cut to the agency in the upcoming fiscal year instead, proposing an $8.6 million budget instead of the little over $9 million budget the lab received this year.
Supporting Tax Cuts?
On Thursday, Jan. 4, the Mississippi Economic Council held its annual "Capital Day" event to outline priorities. The state chamber of commerce's top two legislative priorities are infrastructure and workforce development.
"If we can't get the right workforce, our businesses will die, so it's a survival sort of position," William Yates, CEO of Yates Construction and the chairman of MEC, said. "We have to figure out how to be innovative."
Top Republican lawmakers asked MEC to support them in the upcoming session on not only their infrastructure funding initiatives but also on an education formula funding re-write.
House Speaker Pro Tempore Greg Snowden, R-Meridian, also asked MEC to drum up support for the tax cuts lawmakers have taken since 2012.
"(I want to talk about this) accusation, if you will, that Republicans are bankrupting this state because of the corporate tax cuts, corporate giveaways to cronies and fat cats, and that sort of thing," Snowden told Mississippi business leaders at the Capitol last week. "And I want to remind you that MEC was very much engaged on these issues and properly so. We didn't do this because MEC asked us to; we did it because we're convinced that it's good policy."
MEC supported the Legislature's biggest efforts to re-write state tax policy to benefit businesses, including the Taxpayer Pay Raise Act, passed in 2016 only after Republicans had a supermajority in the statehouse.
"We want you to remember that; we want you to preach that," Snowden said.
The State's projected budget outlook is slim, and the majority of agencies are looking at budget cuts again in the coming fiscal year, as Republicans designed. The Taxpayer Pay Raise Act will divert more than $33 million from the general fund in fiscal-year 2019. That number will nearly triple in 2020 and grow to $416 million annually in a decade. Lawmakers will have to make difficult budget choices with less revenue this session as a result, and even the governor acknowledged that last week.
"The challenges that the Mississippi Legislature has now are large," Gov. Phil Bryant told business leaders after discussing the Division of Medicaid's budget deficit and public education funding.
Infrastructure Crisis
Despite questions of the legislation's actual impact, the House passed three of five transportation-funding bills in the first week of the session. The legislation included one bill to set aside 50 percent of general-fund revenue that exceeds 2 percent growth for the state's roads and bridges.
Another bill would enable the state and localities to issue bonds to help fund infrastructure in cities, counties and statewide. The third of the three bills that survived its first vote on the House floor, House Bill 359, was heavily debated in the House Transportation Committee.
The legislation would create a moratorium on any new construction projects, essentially stopping the Mississippi Department of Transportation from starting construction on any projects for which it has not purchased the right-of-way.
The group had to wait 20 minutes for the 100-page bill to be printed, and then Transportation Chairman Rep. Charles Busby, R-Pascagoula, and Vice Chairman Rep. Steve Massengill, R-Hickory Flat, asked the committee to support the measure. Busby said he was not expecting the meeting and was also not wearing a tie. He let Massengill take the lead in the meeting.
Members of the committee were concerned about the bill, and they made several amendments.
"If there was a desire to build new roads, they (MDOT) don't have the money to do it," Rep. Robert Johnson, D-Natchez, said. "So what we're doing here sounds good and looks good, and puts lipstick on a pig, so to speak, and we're the pigs. So it makes us look good, but as a matter of fact, we don't have any money to build roads—it's a red herring."
Even Chairman Busby agreed, saying that all five of the measures the committees passed on Wednesday do not fix Mississippi's infrastructure problem.
"Is it going to fix our roads and bridges? Is it going to provide additional funding for our roads and bridges that is desperately needed? It's not," Busby told reporters after the meeting. "But does that mean that this is the only swing at the ball that we're going to get? Absolutely not. The session is brand new; we've got lots of things in the hopper."
By press time, two of the five transportation bills had passed to the Senate.
Email tips to state reporter Arielle Dreher at arielle@
jacksonfreepress.com and follow her on Twitter @arielle_amara for #msleg updates.