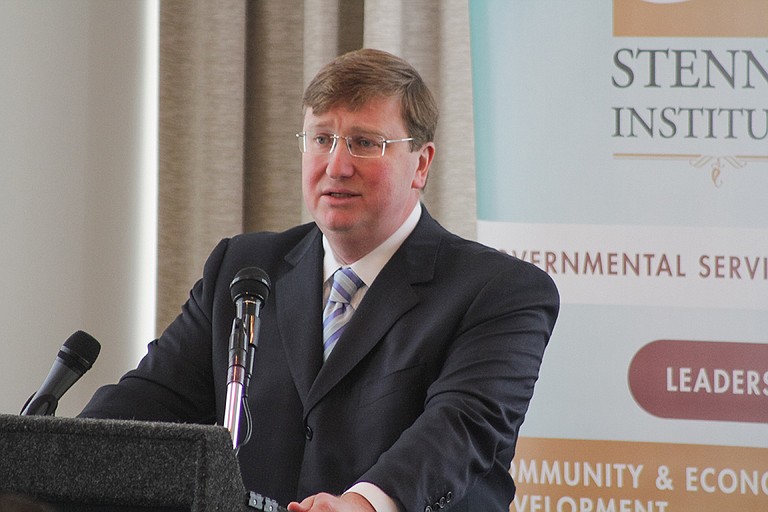 JACKSON — Lt. Gov. Tate Reeves will not budge on the state's massive tax cuts, and he wants more school vouchers enabling families to use public funds to send their children to private schools.
The Republican leader of the Mississippi Senate told the Stennis Capitol Press Forum Monday that the state needs "economic freedom" in order to create an environment for capital investment.
 "Any attempt to repeal the tax cuts or to delay them is to the extent that I have any influence in the Mississippi Senate, (is) dead on arrival in that chamber," Reeves said Monday.
Democrats plan to introduce legislation to delay or repeal the Taxpayer Pay Raise Act again in 2018. House minority whip Rep. David Baria, D-Bay St. Louis, said that Democrats in the House introduced measures in 2017 to repeal and postpone the tax cuts.
"I think you'll see us do that again," he told the Jackson Free Press before the legislative session began.
Reeves emphasized that the tax cuts were intended to attract businesses to the state, but could actually increase the State's revenue over time.
"The tax cuts were never about increasing our revenue, although I will tell you I believe in the long term they will, in fact, have that effect," he said. "The tax cuts were more about improving Mississippi's competitiveness in recruiting new business and industry for our state and in growing our existing businesses."
The Taxpayer Pay Raise Act of 2016, made possible largely because of the Republican supermajority, phased out the state's franchise tax. Reeves said this tax essentially equates to "a cost of doing business" in the state, putting Mississippi at a competitive disadvantage, when neighboring states like Arkansas, Alabama and Tennessee do not levy such taxes.
Republicans not only want to create an environment for job creation in the state, Reeves said, but also focus on education policy that helps meet that goal. The lieutenant governor used Madison County Public Schools as an example of a school district where every child has an opportunity for success but noted that not all children have access to similar school districts.
"Every kid in Mississippi doesn't have the fortune of growing up in the Madison County Public School District. That's the reason I have continued to work to support educational freedom and give more parents more options to do what's best for their kids," he said. "All of our education policy initiatives have been derived from one simple belief, and that belief is it should not matter what a kid's ZIP code is, nor should it matter what a kids' mom and dad do."
Senate Education Chairman Gray Tollison, R-Oxford, plans to introduce legislation to expand education savings accounts—often called vouchers—in the state. Currently, students with dyslexia can access these vouchers in Mississippi. Reeves supports the expansion of the program as well as the re-write of the education funding formula. Reeves said "school choice"—a vague political label that typically means redirecting public funds into charter schools or private-school vouchers—should be a bi-partisan issue.
"For some reason ... Democrats have decided to make it a partisan issue, and because of that it creates challenges in areas where school choice is needed the most," Reeves said. "I do think that school choice, public charter schools, education savings accounts and other options are better positioned now to be successful."
Email state reporter Arielle Dreher at [email protected].