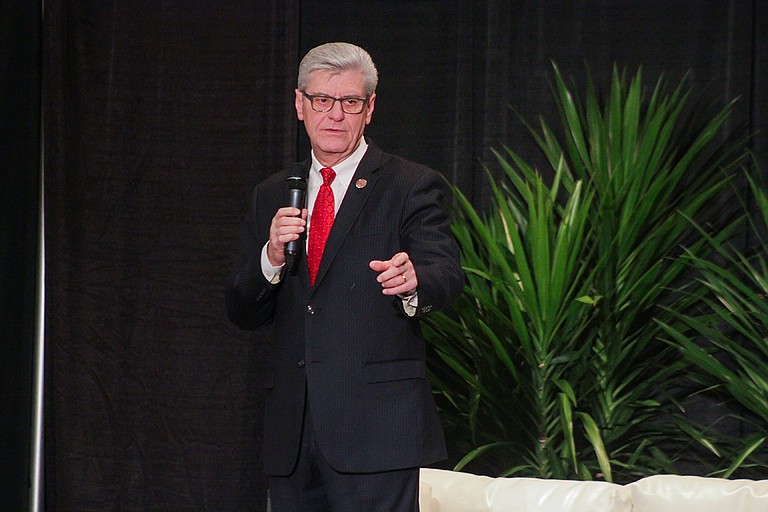 JACKSON — Infrastructure funding and workforce development are the two primary legislative goals for the state's business community, Mississippi Economic Council Chairman William Yates said at the organization's "Capital Day" on Thursday, Jan. 4.
State business leaders had the annual meet-up with lawmakers and legislative leaders at the Jackson Marriott and the Mississippi Capitol.
"We asked the leaders in our MEC (listening) tour if they would be willing to spend money to help preserve and improve our infrastructure, and 95.4 percent said they would," Yates, the chief executive officer of Yates Construction, said at the Jackson Marriott on Thursday.
MEC also supports workforce development initiatives. Many businesses struggle to find qualified people with education or training necessary for the jobs they need to fill. A new survey from the Mississippi secretary of state's office shows that about 75 percent of the businesses that responded find it moderately to significantly difficult to assemble an educated workforce.
"If we can't get the right workforce, our businesses will die, so it's a survival sort of position," Yates said. "We have to figure out how to be innovative."
Gov. Phil Bryant emphasized the state's low unemployment rate (currently at 4.8 percent) and graduation rate (82 percent, the highest in state history, he said) in his remarks to the group. Bryant, whose term on the national board of Jobs for American Graduates just ended, said the Legislature should put more money into that group to increase the state's graduation rate. The program helps at-risk students stay in school and graduate. Bryant said 95 percent of students in the program graduate from high school.
"As we look at what our priorities are this year in the Legislature, we will talk more about workforce training and talk more about how we can increase the number of students who are graduating from high school," Bryant told business leaders.
Bryant cited research showing that young kids develop, or do not develop, soft skills before they reach kindergarten age.
"You cannot put 95 percent of your children, from 6 months old (to) 4 years of age, into a daycare and not have a learning component, and expect them to come out ready for kindergarten," Bryant said.
At the Capitol, House Speaker Philip Gunn, R-Clinton, asked business leaders to support his chamber's efforts on roads and bridges, which so far includes a five-bill legislative package. At this point, three of the five transportation-funding bills have passed the House of Representatives, although Rep. Adrienne Wooten, D-Jackson, held those bills on a motion to reconsider this morning.
The House has not yet considered proposed legislation to divert additional voluntarily collected online sales-tax revenue, such as that collected from Amazon (above the first $50 million), to a special transportation fund. Bryant told reporters that he supported the measure, saying he was in conversations with Gunn about the plan two years ago.
"I think if you've got additional revenue that can be generated for roads and bridges without new taxes, that's the first step you ought to take, ... (to) use the money that you currently have, and we have not done that," Bryant told reporters Thursday.
Another House bill, which passed, would allow half the general-fund revenue growth above 2 percent in any fiscal year to go toward roads and bridges.
Beyond transportation funding, Gunn asked the state business leaders to get behind legislative efforts to re-write the state's current school-funding formula, the Mississippi Adequate Education Program. He said the formula re-write is, in part, about preparing an educated workforce.
"Our goal in this formula is to come forward with a student-centered formula—one that is focused on the needs of the students, the makeup of the students. It focuses on what their abilities are and their backgrounds. I think that is a much better way to fund schools," Gunn said.
Follow state reporter Arielle Dreher on Twitter @arielle_amara for live legislative updates and email her at [email protected].