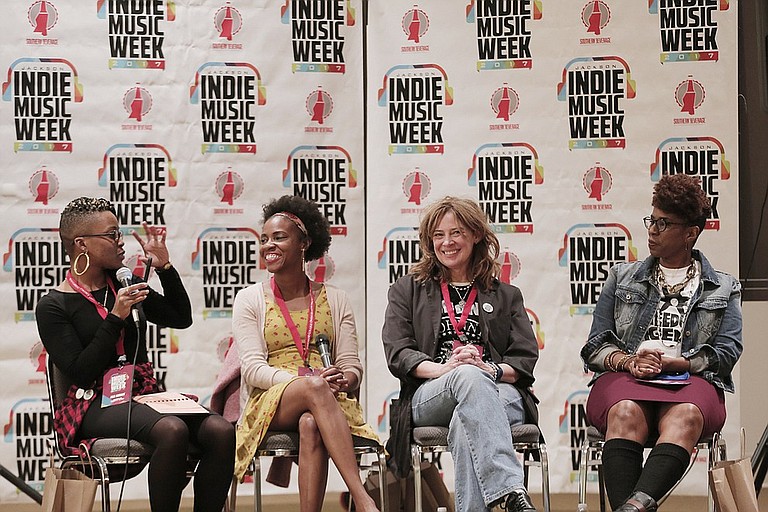 Wednesday, January 3, 2018
In November 2015, Brad "Kamikaze" Franklin gathered many of his comrades in the local music scene to discuss how to further the city's creative arts. With festivals such as South by Southwest in Austin, Texas, and the A3C festivals in Atlanta, Ga., operating in the region, Franklin says he began asking himself, "Why don't we have a premier festival for artists? These organizers in Austin and Atlanta aren't any smarter than us. Why can't this be done in Jackson?"
Now, in its third year, the week-long Jackson Indie Music Week festival is held across Jackson in various venues. It features showcases, industry panels, award shows and other events, and as transitioned into a staple for many in the community.
Jackson natives Franklin Garrad Lee, and Thabi Moyo, along with Detroit native Donyale Walls, have been the driving forces behind the event since its inception. Lee, Franklin and Walls are returning for what they call JIM Week 2018, which takes place from Jan. 7 through Jan. 14 and features more than 50 performers.
"The first year, I'll never forget the feeling of seeing so many people at Lucky Town (Brewing Company) for the kick-off party," Lee says. "I knew that first night that we were providing something that people wanted, and that the city was going to show love."
Lee and Cody Cox, founders of record labels Elegant Trainwreck and Homework Town, devised one of the centerpieces of JIM Week by expanding on their multi-genre concert series, "The Blender." This year, "The Blender" is Wednesday, Jan. 10, at Hal & Mal's, Martin's Restaurant & Bar and One Block East.
A number of events are returning in 2018, including educational panels "Do the Knowledge" and "Many Moons," which features women in the entertainment industry sharing their experiences. JIM Week organizers are also expanding its repertoire and support system.
The festival has added sponsors such as radio station Y101 and Guitar Center to the roster, as well as new participating venues, including Spacecamp, CS's Restaurant, Underground 119, the Kundi Compound, The Flamingo and Podastery Studios, to name a few.
This year will also be the first to feature a gospel brunch on Sunday, Jan. 14, at The Iron Horse Grill and "The Beat Sale" at Offbeat on Saturday, Jan. 13, where beat producers will show off their latest work for audiences and artists looking to buy new backing tracks.
"I want slow, steady, consistent growth—not the 'popular' growth that comes with having big names or flavor-of-the-month type of events," Franklin says. "We wanted to grow this using (the city's) talent first and get folks used to seeing us before we took that next step. ... Platforms like SXSW are becoming more corporate, and the true indie artist has gotten frozen out. That's where JIM Week comes in."
Franklin says that he also hopes the festival will continue to be an economic driver for the city of Jackson, bringing guests that spend time and money at local venues, hotels, restaurants and retailers. And as for what's coming next, he already has a few ideas.
"Bigger events, newer events, bigger sponsors, and hopefully, bigger names in the indie music scene that we can bring in," Franklin says.
Jackson Indie Music Week is Jan. 7-14 throughout Jackson. Single-day passes are $25 each, and all-event passes are $50. For a schedule of events, visit jxnindiemusic.com.