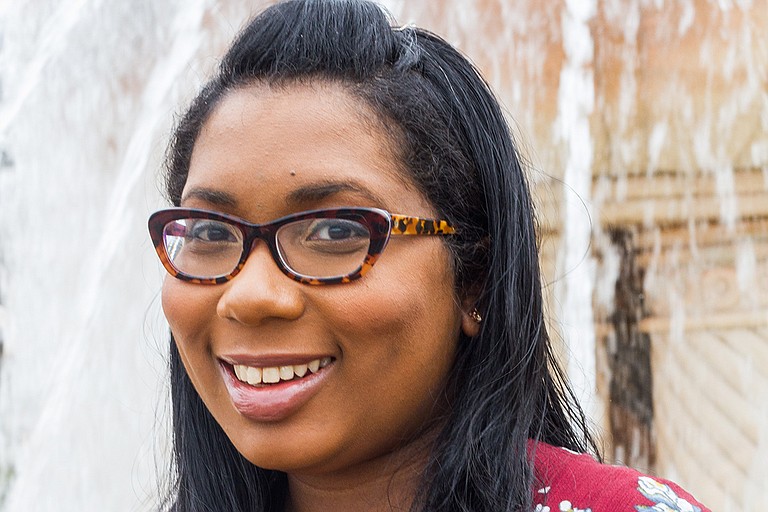 Wednesday, February 28, 2018
It was at Murrah High School where Sumati Thomas, the coordinator of institutional research at Phi Theta Kappa International Honor Society's headquarters in Jackson, first discovered her love of science and technology. She then decided to attend the University of Southern Mississippi to study computer science.
Soon after starting, though, a virtual-reality course made her switch majors to software engineering with an emphasis in design computing.
"It merged my love for art and technology," she says.
Thomas received a bachelor's degree in software engineering in 2004 from USM and a master's degree in business administration from Walden University in 2009.
She served as an instructional technologist and the director of academic information technology at Tougaloo College from 2004 to 2011. She then heard of an opening for staff support trainer at Phi Theta Kappa.
"I love Phi Theta Kappa's mission, and applied for the position," she says. "... I moved from doing technology training to data analysis to my current position as coordinator of institutional research."
After graduating from Walden, Thomas learned that people were forming a roller-derby team, the Magnolia Roller Vixens, and decided to get involved.
Thomas, who was a founding member, left the team in 2012. The Vixens merged with Capital City Roller Girls in 2016.
"I miss the sisterhood, which was the fun part," she says. "Derby helped me find my voice and brought out my leadership skills."
In 2014, Thomas and her husband, Brian Thomas, welcomed their now-3-year-old daughter, Zoe, to their family. They are expecting a second child in July.
"It's been a long journey for my husband and I to become parents," Thomas says. "We wouldn't trade any of it for the world. Our daughter has brought so much to our lives. You get lost in how monotonous life and work can be, but a 3-year-old makes you stop sometimes and just appreciate life and its little wonders."
Her husband works for educational nonprofit Get2College. The couple has been married for almost 12 years and lives in Madison.
In her spare time, she enjoys sewing and other arts and crafts.
"I have a craft closet that resembles a craft store," she says.