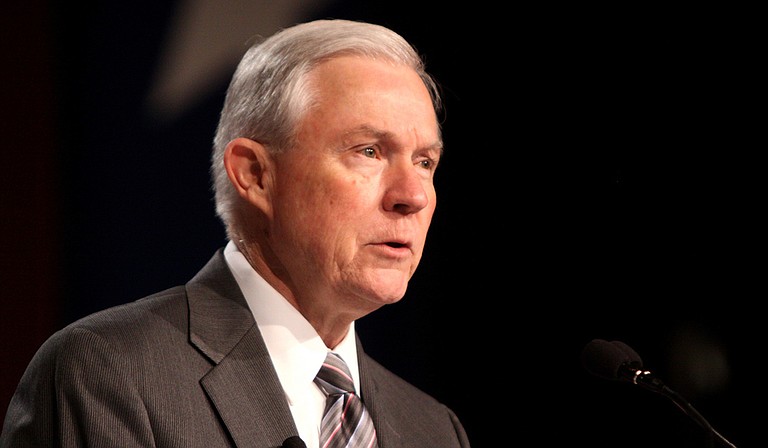 Tuesday, February 27, 2018
WASHINGTON (AP) — Justice Department officials are forging ahead with plans to ban rapid-fire bump stocks, Attorney General Jeff Sessions said Tuesday—a move that would likely set the stage for long legal battles with gun manufacturers while the devices remain on the market.
Sessions said top officials within the department believe gun accessories like the ones used in last year's Las Vegas massacre can be banned through the regulatory process. The federal Bureau of Alcohol, Tobacco, Firearms and Explosives previously said it was powerless to restrict the devices without action from Congress.
The devices allow semi-automatic rifles to resemble a fully automatic weapon. The ATF approved them in 2010, finding they don't amount to machine guns, which are prohibited under federal firearms law.
"We've had to deal with previous ATF legal opinions, but our top people in the Department of Justice have believed for some time that we can, through regulatory process, not allow the bump stock to convert a weapon from semiautomatic to fully automatic," Sessions told a gathering of state attorney generals.
The comment comes as the Justice Department faces pressure from President Donald Trump to take action on bump stocks. The department was already reviewing whether it had the authority to regulate the devices when Trump last week ordered it to work toward banning them, spurred by the Valentine's Day killings of 17 people at a Florida high school. Bump stocks weren't used in that shooting, but it renewed a national dialogue about far-ranging solutions to gun violence.
Bump stocks have been a focal point of that debate, but outlawing them is not simple. Gun manufacturers and owners are likely to sue if ATF bans them ahead of new legislation from Congress. But any congressional effort to create new gun control laws would need support from the pro-gun Republican majority. A bid to ban the accessory fizzled last year, even as lawmakers expressed openness to the idea after nearly 60 people were killed in Las Vegas.
Despite the obvious hurdles, Trump this week insisted something would be done. And quickly.
"I'm writing that out myself. I don't care if Congress does it or not," he said Monday. "You put it into the machine gun category, which is what it is, it becomes, essentially, a machine gun, and nobody is going to be able to -- it's going to very hard to get them."