Tuesday, February 27, 2018
JACKSON — Monday marked six years since Trayvon Martin lost his life in his own neighborhood when George Zimmerman identified him as a threat, shot him and got off because a jury believed he was acting in self-defense against the unarmed boy.
Monday was also the day Mayor Chokwe Antar Lumumba signed an executive order to stop the Jackson Police Department from disseminating mugshots of those involved in officer-involved shootings, such as a young woman local police killed by firing into her car in late January. The Jackson Police Department sent out what appeared to be a mugshot of Crystalline Barnes, who died after a traffic-stop altercation with officers who fired shots into her vehicle at the end of January. JPD still has not released the name of the officer who shot and killed her, however.
Lumumba also confirmed that JPD would no longer release mugshots of juveniles.
"Mugshots and sensationalized news narratives create lasting impressions that adversely impact communities and widen the historic divide between police and community," Lumumba said at the press conference at City Hall.
While JPD will not send out mugshots, the mayor said other images of those involved in officer-involved shootings may be used instead, perhaps at the advisement of family members.
"The last image of any person should not be on the worst day of their life or the worst image that we could possibly provide of them," Lumumba said Monday. "In a day and age, when we have accessibility to images of individuals through social media and everything else, we can go the extra mile to find an image that gives respect to those individuals that are no longer living on this earth."
Officers Who Fired Still Not Identified
Narrowly implemented, the mayor's executive order only addresses mugshots going out after officer-involved shootings and will have no effect on JPD releasing the names of officers involved. Since July 2017, at least seven officer-involved shootings have occurred in Jackson. For three of those shootings, JPD sent out apparent mugshots to the media, and no public statement followed about the identities of the officers who pulled the trigger.
JPD puts the officers on paid leave pending investigations that they conduct internally.
Meantime, JPD remains tight-lipped, refusing to release the officers' names in the Barnes shooting and the more recent one on Deer Park Road that took place on Feb. 21. Interim Police Chief Anthony Moore said Monday that this policy of withholding names is designed to protect officers.
"Typically, releasing names is a personnel matter," Moore said at the press conference. "But, it's also a situation which concerns officer safety. We don't think it's the best policy to release an officer's name because that could really trigger a lot of different problems."
In 2015, the U.S. Department of Justice advised police departments to release names of officers involved in critical events, including shootings, within 72 hours of the incident.
"[T]he longer the law enforcement agency withholds this information, the greater the appearance that the agency is protecting its own personnel at the expense of transparency within the community," the DOJ report says on page 19.
It also addresses the concern about officer safety. "Some departments have come under serious criticism for failure to release the names of officers in OIS incidents. Other agencies have implemented standard release policies, such as 48 hours following the incident—sufficient time to notify the shooting subject's next of kin, and allow officers enough time to notify their families and make arrangements for secure accommodations if they fear threats or retaliation."
The DOJ warns that a speedy release of the identity of officers involved in shootings is vital to build trust and lower criticism and dissent. "[T]timely release of an officer's name following an OIS incident serves to enhance public trust in the investigative process, and adds to the transparency and perceived integrity of the investigation," the report said.
Mayor Lumumba said Monday that he does not have a particular stance on releasing officers' names in a timely fashion, but that he is concerned with what Chief Moore said about officer safety.
'If They Gunned Me Down'
The Ferguson Police Department took six days to release the name of the officer who killed Brown. During the press conference in August 2014, the police chief discussed a robbery at a local convenience store that happened just before Darren Wilson shot unarmed Brown, named Brown as a suspect, and released police documents to reporters.
Mayor Lumumba brought his friend, attorney C.J. Lawrence, to speak about his 2014 "If They Gunned Me Down" social-media campaign he started after then-police officer Darren Wilson pursued and killed Brown in Ferguson.
Social-media users posted side-by-side images of a polished and happy snapshot of themselves and one that made them look more rugged to make the point that if police were to kill them, the media would latch onto the image that made them seem worse. Lawrence said running mugshots leads to character assassination and implications that these deaths are justified.
"There is nothing that can be released in a snapshot that would justify the death of anyone in the streets," Lawrence said.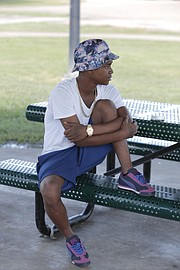 A full archive of the JFP's "Preventing Violence" series, supported by grants from the Solutions Journalism Network. Photo of Zeakyy Harrington by Imani Khayyam.
Asked by the Jackson Free Press at the press conference, Lumumba said his administration's policy going forward is to not release mugshots of juveniles, which is a common practice for the JPD, but his executive order does not drill it into effect. As recently as Feb. 16, the JPD sent reporters a mugshot of a 14-year-old girl being charged with capital murder who was in custody by the time her photo went out. Lumumba said Monday that the ban on juvenile mugshots would include children charged as adults, which is a major policy shift.
The mayor said that Jackson does not mirror other instances of officer-involved shootings around the nation. He acknowledged the complexities communities of color have always had with law enforcement. But, he said, with the majority-black police force here, the national trends around violence do not reflect what happens here, despite the seven officer-involved shootings since July 2017, and no release of their identities or details of the investigations, which the JPD itself is conducting.
"Jackson's people and its police force have a unique relationship that is underscored by our connection to each other as human beings and our commitment to making Jackson a better place," Lumumba said.
"We owe it to ourselves to shift the paradigm around violence and crime while simultaneously engaging and building relationships, examining updating and creating policies that allow us to humanize individuals and foster systemic transformation."
Washington Post's Fatal Force counter denoted that 146 people have been shot and killed by police so far in 2018, and 987 people in 2017.
Email city reporter Ko Bragg at [email protected].
NOTE: This story has been updated to reflect a new count of officer-involved shootings from July 2017 through March 1. You can read more about them here.