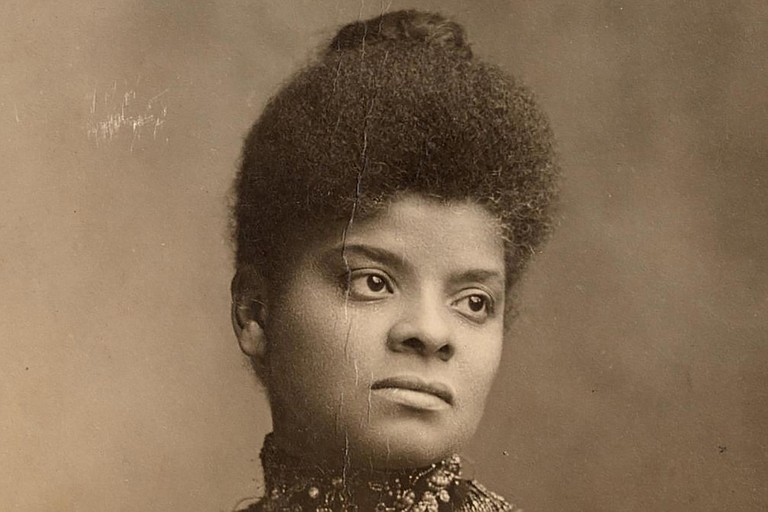 Tuesday, February 27, 2018
The Old Capitol Museum (100 S. State St.) will host a reception and book signing for author Paula J. Giddings' "Ida, A Sword Among Lions: Ida B. Wells and the Campaign Against Lynching" on Tuesday, Feb. 27, from 5 p.m. to 7:30 p.m. The book details the life of civil-rights activist Ida B. Wells.
Wells was born a slave in Holly Springs, Miss., in 1862 a few months before Abraham Lincoln issued the Emancipation Proclamation. She became the primary caregiver for her six siblings at age 16 after her parents and baby brother died of yellow fever in 1878. She moved the family to Memphis, Tenn., in 1883, where she became a teacher in the Shelby County school system. Wells also took summer lessons at two historically black colleges—Fisk University in Nashville and Lemoyne-Owen College in Memphis.
She first became a civil-rights activist following an incident in May 1884 in which Wells refused a train conductor's order to move to the smoking car, stating that she had purchased a first-class ticket. The conductor and other passengers tried to physically force her off the train.
Wells filed and won a $500 lawsuit against the Chesapeake and Ohio Railroad Company after the incident, but the company appealed to the Tennessee Supreme Court, which reversed the decision and ordered Wells to pay court fees in 1887. Afterward she began writing articles against the South's Jim Crow laws under the pen name "Iola," and in 1889 bought a share of a Memphis anti-segregation newspaper called Free Speech and Headlight.
Wells' campaign against lynching began after three of her friends, Calvin McDowell, Thomas Moss and Henry Stewart, opened a grocery store in Memphis called People's Grocery in 1889. The store took business away from a white-owned grocery store across the street, so a white mob attacked the store in 1892. McDowell, Moss and Stewart defended themselves, and shot and injured three of the mob members during the attack. Police arrested the men and placed them in jail. A white mob later broke into the jail and lynched them.
After the lynching Wells began independently researching and writing about the subject. She published her findings in a pamphlet called "Southern Horrors" in 1892, gave lectures and published a book titled "A Red Record" in 1895. Wells used her research to challenge the myth that lynchings occurred because white women were sexually at risk of attacks by black men, and showed that they instead happened when black people challenged white authority or social structure, or competed with white businesses or politicians. A white mob destroyed the offices of Free Speech and Headlight in May 1892, and Wells moved to England and established the British Anti-Lynching Society. She moved to Chicago in 1895.
Wells continued her activism after leaving Memphis, protesting the exclusion of African Americans from the 1893 World's Columbian Exposition in Chicago. She helped launch the National Association of Colored Women in 1896. She also became a founding member of the National Association for the Advancement of Colored People in 1909. She died in Chicago in 1931 at age 69.
The reception and signing for "Ida B. Wells and the Campaign Against Lynching" will begin in the Old Capitol rotunda at 5 p.m. and a program on the book will begin in the House of Representatives Chamber at 6 p.m. The program is free and open to the public. For more information, call 601-576-6920 or email [email protected].