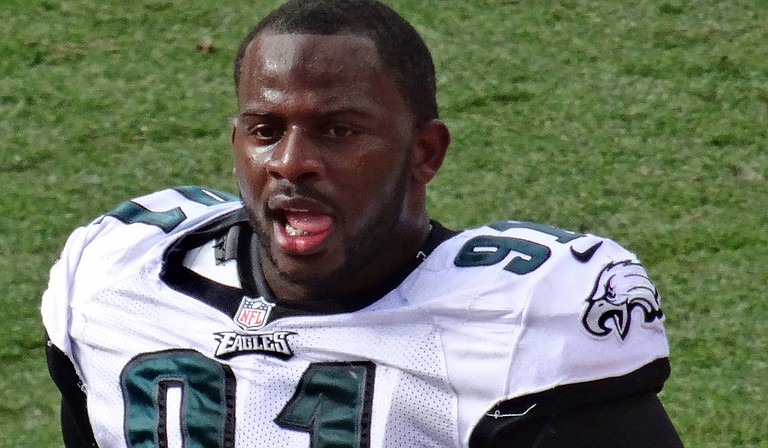 Friday, February 23, 2018
JACKSON, Miss. (AP) — Super Bowl champion Fletcher Cox says he credits his Mississippi upbringing and schooling for his successful football career.
The Philadelphia Eagles defensive tackle appeared Friday at the Mississippi Capitol, where he signed autographs, posed for photos and spoke to lawmakers.
In a speech periodically interrupted by cheers, the 27-year-old told state House members that his football coaches at Yazoo City High School and Mississippi State University helped to pave his way toward an award-winning career.
"The coaches at Mississippi State, those guys say, 'Hey, not only do we want you to be a great football player, but we want you to be a great young man,'" Cox said. "Things like that helped me throughout my career."
He also said residents of his 12,000-person hometown of Yazoo City inspired him to push forward.
"When I was growing up, I used to hang around the park and just listen to older guys that were probably not doing so great," Cox said. "They said, 'Man, when I was your age, I should have done this, or I could have done that.'"
He continued, "I used to think about that and I used to tell myself that I don't want to be that guy. I wanted to be that guy to go back and tell kids, 'Hey, I did this.'"
Cox began playing football when he was 13 and played three seasons at Mississippi State University. He was drafted to the NFL at 20 and has played six seasons with the Eagles.
The Eagles won their first Super Bowl championship 41-33 against the New England Patriots on Feb. 4.
When asked about his most memorable moment of the game, Cox said his mother, who raised him and his three siblings on her own in Yazoo City, was able to come on the field after the win.
"Her tears of joy were the most memorable part," Cox said to the applause of legislators.
And being a world champion, Cox said, "feels great."
"Winning the Super Bowl, it's such a wonderful feeling because nobody can take that from you."