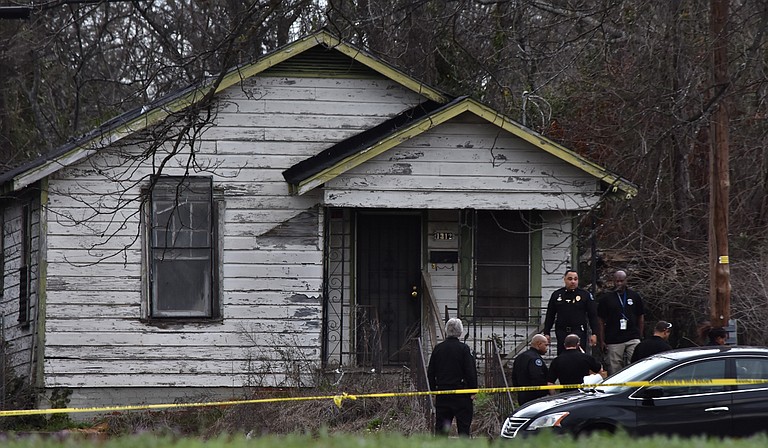 Thursday, February 22, 2018
JACKSON — Two unnamed male officers with the Jackson Police Department came into contact with two men at the 1300 block of Deer Park Street at about 3 p.m. Wednesday. A narcotics investigation resulted in an alleged shootout between officers and a man who's name has not yet been released.
JPD spokesman Sgt. Roderick Holmes said the two men immediately took off running from officers, inciting a foot chase where one of the men got away—officers have not identified or located him.
"One individual, they lost sight of him in a wooded area behind an abandoned house," Holmes told the media on Wednesday. "The second individual actually ran between the wooded area and the house. They later came in contact with him in the front of that location."
Holmes said narcotics officers noticed the second individual displayed a weapon and that there was a shot and officers returned fire.
"They gave him several commands to drop the weapon," Holmes said Wednesday. "He refused to comply. He fired a shot at the officers, at least one shot that we know of, and the officers then returned fire."
Police say the man was struck at least two times and is in critical condition at an area hospital. The weapon was recovered for evidence and identified as a stolen weapon. The suspect, whose identity is not yet released, is a convicted felon, police say, but did not provide details.
Ophelia Catchings, the aunt of the man who was shot, said on the scene that she does not know what happened. Catchings heard gunshots and received a call from other family members and said that she immediately threw on clothes and drove to the scene.
At the scene, Holmes did not reveal if officers uncovered narcotics. He also said officers were not in standard police uniform because they are detectives.
Holmes said JPD's standard procedure is to place officers on administrative leave pending an internal investigation and a criminal investigation to determine if any laws had been broken. Their names may be released later in the investigation, he said, but that is at JPD's discretion.
"When we have an internal investigation like that, it's just standard that we don't release the names until we obviously get to a certain point, and at that point we determine whether or not we release those names," he told the Jackson Free Press.
This marks the second JPD officer-involved shooting this year.
Early on Jan. 27, two Jackson police officers shot at 21-year-old Crystalline Barnes during a traffic stop in response to a report that Barnes may have forced another motorist off the roadway.
Holmes said the officer that made the stop in the 1400 block of Fernwood Drive called an additional unit for assistance. Barnes allegedly pulled away and did a U-turn "to evade the responding unit," Holmes said in a statement the same day as the incident.
"(Barnes) later stops and began driving in reverse toward that officer who had exited the patrol vehicle just prior," the statement reads. "The officer then discharged their weapon into the vehicle before safely jumping out of its path and the suspect's (sic) vehicle collided with the patrol vehicle."
Then Holmes said Barnes drove toward the other officer, who also discharged his or her weapon into the vehicle. That's when Barnes collided with a nearby utility pole just off the roadway.
JPD has been very tight-lipped in not releasing the names of the officers nor did they confirm whether Barnes died of a gunshot or from the collision soon afterward, saying only that she was "fatally wounded."
In 2015, the U.S. Department of Justice advised police departments to release names of officers involved in critical events, including shootings, within 72 hours of the incident.
More information is to come when received.
City reporter Ko Bragg also contributed reporting to the story. Email her at [email protected].