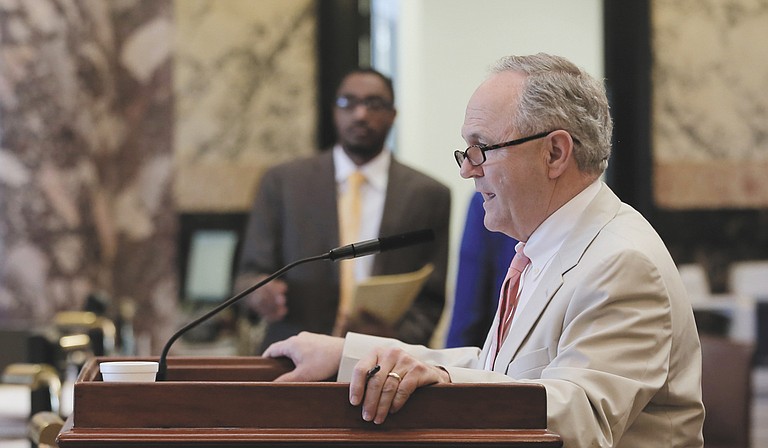 Wednesday, February 21, 2018
JACKSON — It's halftime in the Mississippi legislative session, and the heavy lifting for lawmakers trying to pass a balanced budget is just beginning. The House and Senate traditionally each take half the state agency budget bills up and then swap. So far, lawmakers are adhering to the recommendations of the Joint Legislative Budget Committee, meaning most agencies are seeing cuts, albeit minor ones in most cases.
Sen. Buck Clarke, R-Hollandale, noted that the cuts were mainly due to eliminating vacant positions at state agencies that have been vacant for half a year or longer.
"The main cuts in LBR (Legislative Budget Recommendation) were to cut for positions that have been vacant for more than six months," Clarke told the Senate last week. "They cut the position and the salary associated with it. In some cases, there might be some travel cuts or contractual things. Those would be the other cuts you see."
Lawmakers will likely hold some agencies, including the Mississippi Adequate Education Program and the Department of Child Protection Services, at the same funding levels as last year.
The Department of Mental Health is also looking at level funding, Clarke said, noting that the agency did not ask for an increase in funds this year. It plans to set aside 2 percent of state government funds into the rainy-day fund, valued at around $112 million. In past years, the Legislature voted to set aside 1 percent and then none due to a drain in revenue.
Clarke sounded more optimistic about revenue this year, however. "Going forward, it's pretty nuts and bolts right now. We're optimistic about our revenue growth," he told the Senate last week.
The revenue estimating committee will meet again in March to determine if the budget bills the House and the Senate have passed need to be tweaked in accordance with new or missing revenue.
Clarke acknowledged that it has been "real tough" the past two years after revenue estimates dropped, but he is optimistic about this year.
Infrastructure Fixes Ahead?
Lawmakers must address transportation funding and possibly re-write the education funding formula in the coming weeks. Senate leaders had not made any public moves to show their support or take on the House-proposed Mississippi Uniform per Student Funding Formula, passed by predominantly Republicans in the House last month, until this week. Senators had public hearings about the new funding formula proposal on Tuesday.
Democrats in both chambers held a press conference emphasizing that "everyone loses" under the new proposal last week. At full implementation and funding, the UPS formula will mean millions less in state support for public schools than the Mississippi Adequate Education Program provides at full funding.
MAEP has only been funded fully twice in its existence, however.
Sen. Gray Tollison, R-Oxford, has a week to consider House Bill 957 in his education committee and pass it to the Senate for a full vote.
After President Donald Trump announced his federal transportation funding plan on Feb. 12, Gov. Phil Bryant suggested that the Legislature put the brakes on major infrastructure legislation. Trump's plan calls for over a trillion dollars in spending, but most of those funds would come from states and local governments—not the federal government. Only $200 billion of the $1.5 trillion proposed plan would be federal funds, CNN Money reported.
Bryant, who attended the plan's unveiling in Washington, D.C. ,along with Vicksburg Mayor George Flaggs, believes it is wise to wait on the federal plan to act.
"Because it's still early, I believe it would be wise to wait for the federal plan to be finalized into law before we act on any of the proposals currently in the Legislature. We can easily address infrastructure in a special session if the need arises," Bryant said in a statement.
Lt. Gov. Tate Reeves was not interested in waiting, however, and pushed out a "billion-dollar" infrastructure bill on Monday at a press conference, and through the Senate Finance Committee by the end of the day. The Senate passed the "Building Roads, Improving Development and Growing the Economy" Act, called the BRIDGE Act for short, after three hours of debate on Tuesday.
The legislation includes some bonds for infrastructure needs as well as creates two new state funds to target road and bridge funding. If revenue meets certain triggers, specifically more than one percent increase in sales tax growth, the bill could mean $1 billion for infrastructure in the next five years.
Document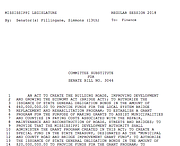 However, as some Democrats pointed out during debate, the bill includes about $240 million in new, immediate money for infrastructure needs. The rest of the funds come from car-tag sales, taxes on electric vehicles, transferring $25 million of MDOT's current budget into a new fund and diverting state general fund revenue usually used for the rainy day fund for infrastructure. Cities and counties would have to offer up their own funding in order to be eligible for state matches for some programs outlined in the nearly 300-page bill.
Sen. Joey Fillingane, R-Sumrall, said the Senate bill took Trump's proposal into consideration even though it has not passed Congress yet, noting that one reason the legislation creates new funds is to set up a match-system, much like Trump has suggested.
"[U]nder the new federal plan, states are required to match," Fillingane said Tuesday. "It hasn't been fully vetted, but we do know based on the plan that the federal government (has proposed) that there will be match requirements."
While Sen. Willie Simmons, D-Cleveland, who has called for more infrastructure funding for years, supported the legislation, other Democrats decried the measure.
"We should not be pledging 100 percent of existing revenue, and that's what you're doing with this bill in order for some people to claim it's a billion-dollar infrastructure (measure)," Sen. David Blount, D-Jackson, said speaking against the bill on Tuesday.
"... We are pledging $50 million," he said, pointing out that $150 million of new money in the proposal would be bonded.
Blount also pointed out that the Legislature has had to dip into rainy-day funds in recent budget years to simply balance the state budget, especially when the governor had to order cuts. Last week, the Senate passed a deficit budget bill for Medicaid and few other agencies that totaled about $50 million, he said, implying that rainy day funds would likely need to help cover those costs going forward.
Reeves' infrastructure proposal estimates that diverting the 2 percent rainy-day funds would mean about $112 million annually for roads and bridges. The main thrust of the proposal is that it does not increase taxes.
"The state can repair its infrastructure without raising taxes and by prioritizing spending on actual needs not administrative costs," Reeves said in a press release when the bill passed on Tuesday.
Follow state reporter Arielle Dreher on Twitter for updates @arielle_amara.