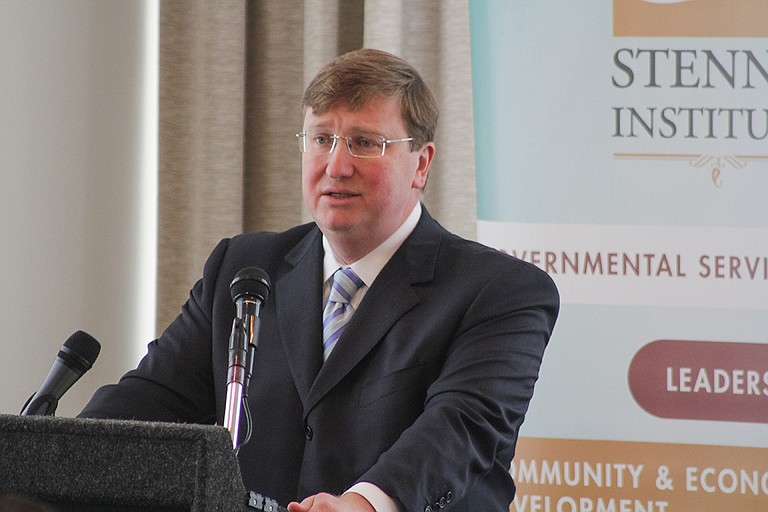 Tuesday, February 20, 2018
JACKSON, Miss. (AP) — State senators are moving ahead with a six-year plan to divert future revenue and borrow money to spend on Mississippi's roads and bridges.
The Senate voted 36-14 to advance Senate Bill 3046 , backed by Lt. Gov. Tate Reeves, sending it to the House for more debate.
"The state can repair its infrastructure without raising taxes and by prioritizing spending on actual needs, not administrative costs," Reeves said in a statement.
Gov. Phil Bryant had said last week that he wanted to wait for further federal action, but said after Tuesday's vote that he wants the House and Senate to work out a mutually acceptable plan.
"I don't want to be so disruptive as to stop what momentum may be present in the Senate and the House," Bryant said.
Bryant and other Republicans said they believe the bill will mesh with President Donald Trump's infrastructure plan.
With Republicans balking at fuel tax increases, the Senate plan, like most of what has been offered in the House this year, focuses on diverting revenue from existing sources in future years. The Senate plan, though, would create two large governor-controlled funds worth more than $750 million over six years. Those funds would shift much of the control over new road building from the elected three-member transportation commission. The Senate plan would also strip $25 million a year from the state Transportation Department to spend in a bridge repair fund.
Melinda McGrath, executive director of the Mississippi Department of Transportation, opposes the measure.
"This will have a negative impact on keeping Mississippi highways safe," McGrath tweeted from Senate balcony during debate. "The Mississippi Department of Transportation needs more money, not less."
The state road agency has said it needs hundreds of millions a year to keep pavement and bridges from deteriorating but would have to appeal to the governor for money. Funding would cease after the 2023 budget year, although transportation advocates have sought perpetual funding sources.
Senate Finance Committee Chairman Joey Fillingane, a Sumrall Republican, said the $25 million that bill would take yearly from the department is a "tiny piece" of the department's budget and that if it can't still manage "then there's something badly askew at the Department of Transportation."
Sen. Deborah Dawkins, a Pass Christian Democrat, said transferring power to governor through control of the special funds "is a really bad idea." The governor would also have to approve any right-of-way purchase.
Funding for a $600 million strategic investment fund, plus an additional $125 million in sales tax revenue to be shared with cities, would depend on state revenue. The strategic fund would use 2 percent of state General Fund money left in reserve at the end of each budget year if revenue meets estimates. The additional money for cities, which would have to matched dollar-for-dollar with the city's own money, would be available only if state sales tax revenues rise 1 percent or more.
"What's the real money in here, and what's just promised or imaginary?" asked Sen. David Blount, a Jackson Democrat. He said it was unrealistic to expect the General Fund to have leftover money with the increasing bite from previously approved tax cuts.
The measure would borrow $150 million this year, with $60 million going to local bridges. The state has customarily given $20 million a year for that purpose, but gave no money last year and hasn't yet approved any money this year.
About $42 million of that money would go to earmarked projects, with $22.8 million going to projects in Rankin and Madison counties.
The plan would also impose extra registration fees on electric and hybrid vehicles, and borrow small sums to repair water and sewer systems, railroads and dams.