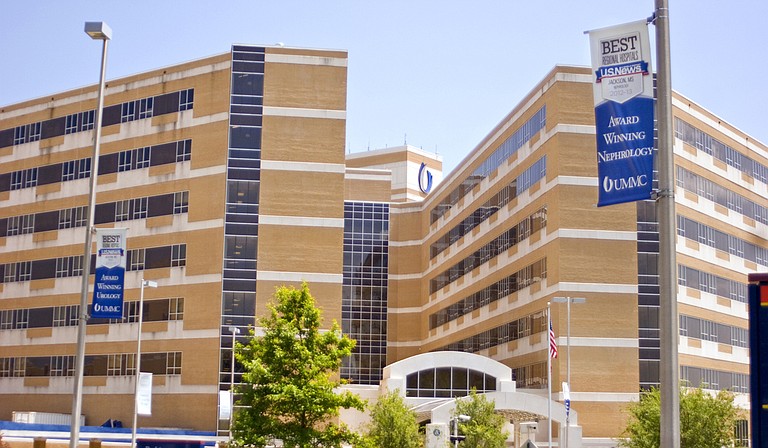 Friday, February 16, 2018
The University of Mississippi Medical Center has partnered with the Mississippi Department of Health to launch a project called UMMC Epic Connect, which will link electronic health records between the two organizations.
The joint project uses an advanced electronic health-care system called Epic that manages clinical information, registration, scheduling and billing functions. UMMC Epic Connect will allow the hospital to provide the system to other health-care organizations across the state, with the first being MDH. The Department of Health is transitioning to Epic from a combination of paper charts and an electronic scheduling system. UMMC has used Epic for its electronic health records since 2012 and will upgrade the system later this year.
If a Department of Health patient visits UMMC, Epic allows the health-care provider to access that patient's full MDH records. Health-department providers can also access the records of UMMC patients who visit their clinics.
UMMC's Division of Information Systems put out a pilot version of UMMC Epic Connect in nine Department of Health clinics in central Mississippi earlier this year, and the program went live in the remaining 77 health department clinics in the state on Feb. 12.
For more information, visit umc.edu.
Poetry Out Loud at JSU
Jackson State University hosted the ninth-annual Poetry Out Loud national recitation contest on Wednesday, Feb. 7, in the JSU Student Center. The university's Margaret Walker Center hosts Poetry Out Loud, a program that encourages high-school students to learn about poetry through memorization, performance and competition, as part of a collaboration with the National Endowment for the Arts, the Poetry Foundation and the Mississippi Arts Commission.
Of the 12 central Mississippi high-school students who participated in the competition, three winners advanced to the state finals in March. The winner of that event will go on to the national finals in Washington, D.C., for an opportunity to win $20,000.
Desiree Roby, a sophomore from home-schooling group Christian Home Educators Connection, took first place in the competition for her recitation of "Snow Day" by Billy Collins and "Thoughtless Cruelty" by Charles Lamb. Roby previously placed third in the 2017 Poetry Out Loud competition.
Taylor Mills, a sophomore at Northwest Rankin High School in Flowood, won second place for her recitations of "I go back to May 1937" by Sharon Olds and "Poor Angels" by Aaron Hersh.
Olivia Bond, a sophomore from Murrah High School in Jackson, took third place for her recitations of "El Olvido" by Judith Ortiz Confer and "The Properly Scholarly Attitude" by Adelaide Crapey.
For more information about Poetry Out Loud, visit poetryoutloud.org.
USM, Ezra Jack Keats Foundation Honor Best New Writer and Illustrator
Children's literacy group The Ezra Jack Keats Foundation recently announced the winners of the 32nd annual Ezra Jack Keats Book Award in partnership with the University of Southern Mississippi's de Grummond Children's Literature Collection, which is one of the nation's largest research centers in the field of children's literature. Each year the Ezra Jack Keats Book Award recognizes one new writer and one new illustrator who have had no more than three children's picture books published prior to the year under consideration.
The 2018 winner for New Writer is Jackson State University graduate Derrick Barnes, author of "Crown: An Ode to the Fresh Cut" (Agate Bolden, October 2017, $17.95), which celebrates the feelings of self-esteem and confidence young black boys receive after a visit to a barbershop. Book illustrator Gordon C. James won a New Illustrator Honor in this year's awards.
New York City illustrator Evan Turk won the 2018 New Illustrator award for his work on children's book author Michael Mahin's "Muddy: The Story of Blues Legend Muddy Waters" (Atheneum Books for Young Readers, September 2017, $17.99).
The 2018 award ceremony will be on April 12 during the Fay B. Kaigler Children's Book Festival at the USM Hattiesburg campus. The winners will each receive $3,000 and a bronze medallion. Author T.A. Barron, the 2018 de Grummond Lecturer, will present the award. Charlotte Jones Voiklis, author of Madeleine L'Engle biography "Becoming Madeleine" (Farrar, Straus and Giroux, February 2018, $19.99), will deliver a lecture at the event.
To see the honorable mentions for this year's awards or past winners, visit www.ezra-jack-keats.org/ezra-jack-keats-award-winners. For more information about the Ezra Jack Keats Foundation, visit www.ezra-jack-keats.org. For more about the de Grummond collection, visit www.degrummond.org.