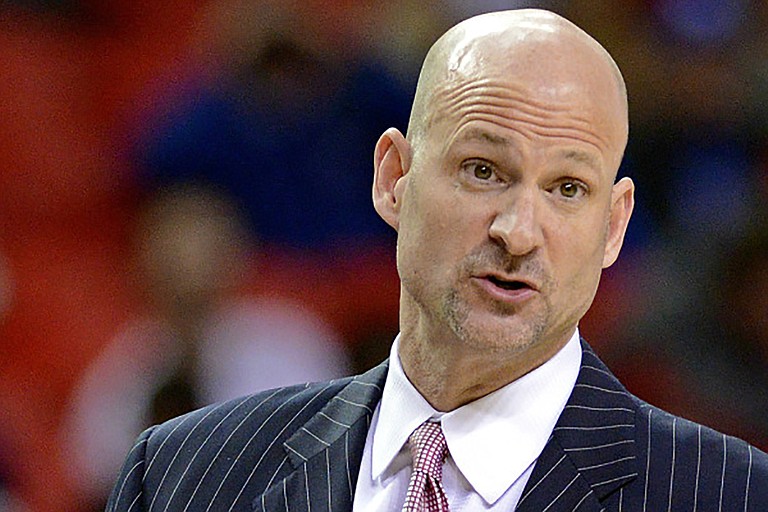 Friday, February 16, 2018
Andy Kennedy couldn't have picked a worse time to have what looks to be his first losing season as the University of Mississippi men's basketball coach. Before this season, his 12th with the Rebels, he has never posted a losing record.
That could change when this season ends. The Rebels are currently 11-15 overall with five games left to play in the regular season. UM will have to run the table to finish with a record above .500.
Kennedy is the most successful men's coach in school history with 245 wins. That is 101 more wins than runner-up B.L. "Country" Graham, who had a 144-168 record in 13 seasons, and 104 more wins than the next successful coach, Rod Barnes, who had a 141-109 record in eight seasons.
In the midst of Kennedy's horrendous season, he and the university have decided to part ways at the end of 2017-2018. Even with a trip to the NIT quarterfinals last year, Kennedy was forced to go into this season without much job security. He might have decided to move on when the university declined to give him a contract extension.
That led to a perfect storm of trouble for him this season. While the Southeastern Conference hasn't been one of the strongest of the Power Five in basketball, that is beginning to change, and the SEC could see as many as eight teams in the NCAA Tournament this season.
One of the biggest knocks against Kennedy during his time in Oxford has been his lack of NCAA Tournament appearances. The Rebels have reached the tournament just twice under his guidance.
Conversely, Kennedy has gotten his teams into the postseason National Invitational Tournament six times. While he has been successful, he is a victim of his own success, to an extent. Expectations are rising in SEC men's basketball, and he needed to get his team to rise with those expectations.
Another factor that didn't help him is the fact that things are starting to look up once again for UM's main rival, Mississippi State University. The Bulldogs have had more historical success than the Rebels.
MSU hasn't had a winning record since 2011-2012, but Kennedy couldn't out-recruit the Bulldogs for in-state talent like Rodney Hood, Malik Newman, and Nick and Quinndary Weatherspoon. All four players chose MSU out of high school, though Hood and Newman transferred out of the program.
Kennedy is currently 245-155 as head coach of the Rebels. He won one SEC Tournament title in 2013, led the Rebels to the Big Dance in 2013 and 2015, and earned SEC Coach of the Year in 2007 and 2013. He has led the team to 11 consecutive winning seasons, nine of those with 20 or more wins.
The wheels have come off this season as the Rebels have lost their last six games and eight of their last nine games. The Rebels haven't scored consecutive wins since Dec. 19, Dec. 22 and Dec. 31, 2017.
Since the public already knows that he is leaving, both Kennedy and UM can get a jump on the 2018-2019 season. Other schools will know he is available, and the Rebels can begin their coaching search.
The University of Mississippi plays Mississippi State at 7:30 p.m. on Saturday, Feb. 17, airing on the SEC Network. Kennedy will coach his last regular-season game on March 3 at home against Vanderbilt University.