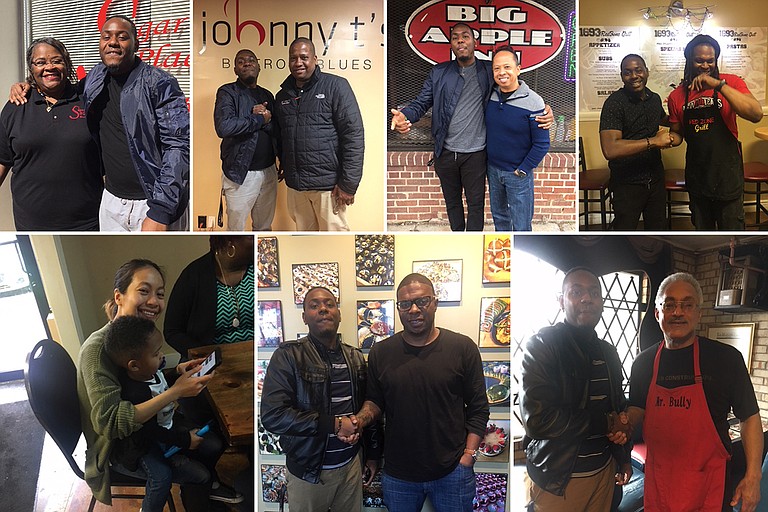 Wednesday, February 14, 2018
Kreskin Torres pulls up a photo of a dish at 1693 Red Zone Grill on his phone: grilled fish and shrimp in a crawfish sauce on a bed of Cajun rice. "You see what I had to deal with?" Torres jokes.
Red Zone chef Mike Mosley made the dish during a Tri-County Foodies Facebook group meetup that Torres attended with local chef Alivia Townsend on Sunday, Feb. 11.
Torres, who lives in Baltimore, has been in the Jackson metro area since Thursday, Feb. 8, as part of a long trek from his home city to California. The trip both allows him to promote his social app, Navalon, and experience the food scenes of cities around the country.
As an Ueber and Lyft driver, Torres says that he noticed that people who would travel to Baltimore would immediately go to tourist areas such as the harbor.
"They don't venture out," he says. "Especially if they don't know it, they're not going to venture outside. ... I (was) like, 'I've got to do something.'"
That thought turned into an app idea during a trip to London in March 2017.
"The best thing you can have is somebody who lives in the area, especially if you want to get shown around," he says.
Torres wanted to give people that experience with the help of an app that not only allowed users to post reviews about restaurants and entertainment options, but also to chat directly with locals to find the best places to go. Navalon also allows users to connect with people who have similar interests for suggestions.
Townsend, who owns Jackson Culinary Concierge, met Torres through a cooking group on Facebook. Since she is a chef, he consulted with her when he began developing the app, and during his stay in Jackson, Townsend has been his tour guide.
The two have met with chefs across the metro area and have eaten at restaurants such as Sugar's Place, 1693 Red Zone, Pho Huong and Big Apple Inn.
While at the Big Apple Inn, Torres said he was amazed to learn about the restaurant's history as a meeting place for activists during the Civil Rights Movement, and that Medgar Evers' office was upstairs.
"These are things people don't know," Townsend says. "... If you would have just been walking through the area and asked somebody, 'Hey, where can I eat at?', they would never holler Big Apple Inn."
For Torres, it was important to focus Navalon on mom-and-pop shops, as well as local food trucks and vendors.
"They care more about their food and things like that," he says.
He released the app on the Google Play store a couple of weeks ago and hopes to release it on the Apple app store by the summer. The ultimate goal with the app, Torres says, is to not only have people figure out the best places to eat in a given city, but to also learn why locals love those places, the history behind businesses and more.
"I want people to feel like they are a part of the community or a part of the area," Torres says. "Even though they've never been there, they can find out history, and the back story behind different places, historical elements, different things you don't know about."
For more information about Navalon, find the app on Facebook or visit navalon.us.
CORRECTION: Alivia Townsend actually owns Jackson Culinary Concierge, not Washington's Catering, as the Jackson Free Press previously stated. We apologize for this error.