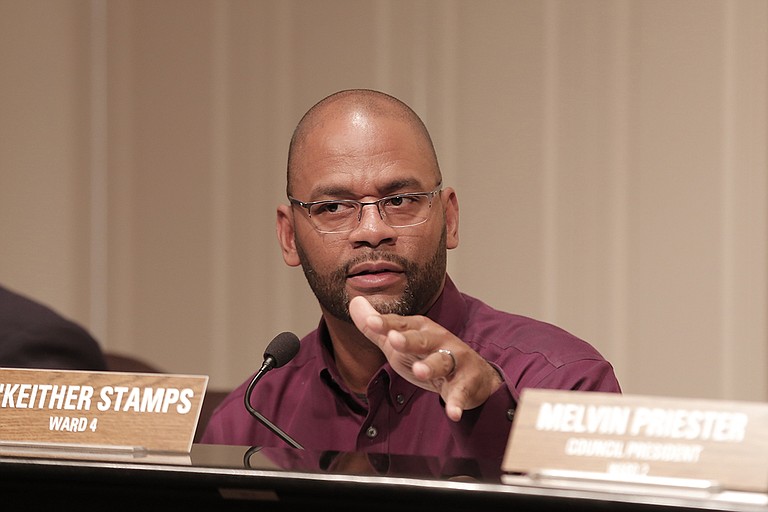 Wednesday, February 14, 2018
JACKSON — Jennifer Riley-Collins is a veteran of the U.S. Army, as well as the executive director of the American Civil Liberties Union of Mississippi. She has been on both active and reserve duty for more than 30 years. At a Feb. 5 public hearing, she shared that her life would torpedo, and she would lose her hard-earned benefits if she were caught with even 30 grams or less of marijuana.
"If I were impacted by being arrested for simple possession of marijuana, I may lose my veterans benefits," Riley-Collins said. "I worked 32 years for them—that's not something I want to lose.
"Someone who went to war should not be forced to risk losing their veterans benefits because they were arrested for an ounce of marijuana."
Jackson has become the latest city in the nation to propose legislation to decriminalize marijuana possession of 30 grams or less within city limits. The Jackson City Council passed Ward 4 Councilman De'Keither Stamps' ordinance to free up police resources to focus on other crimes and to offer relief to those who are thrown into the criminal-justice system for personal-use possession on Feb. 13.
Decriminalizing simple possession within Jackson's limits is not a panacea—possessing marijuana will still be illegal. If you are caught outside the city limits or by anyone who is not a Jackson police officer, state and federal laws can make the result more complicated. That is especially true under U.S. Attorney General Jeff Sessions.
'I Get It, Trust Me'
The new city ordinance says that those in possession of 30 grams of marijuana or less would pay a fine of no more than $100 and face no prison time. But, state law does not outline any jail time for the first time someone is caught with 30 grams of marijuana or less, rather a fine of $100 to $250. A second conviction for simple possession within two years yields a $250 fine, no more than 60 days in the county jail and mandatory enrollment in a drug-education program unless a court finds the sentence inappropriate. Any subsequent conviction within two years merits a fine between $250 and $1,000 and up to six months in county jail.
Stamps' ordinance says the Jackson Police Department may implement a mandatory training on how City ordinances differ with state law, but there are still gaps. What will happen to those charged more than once with simple possession? Will the $100 maximum fine apply to each conviction for simple possession? Ward 2 Councilman Melvin Priester Jr. spoke about the importance of nuance.
"Honestly, in my opinion, this is more of a political statement—it doesn't change the fact that this is still illegal at the state level," Priester said. "I have some real questions about what this practically means, though I support the political gesture."
Stamps did not outline what happens if someone is caught with 30 grams or less in a motor vehicle. State law says a driver with up to 30 grams of marijuana could face a maximum fine of $1,000, up to 90 days in county jail or both if convicted.
Local attorney Chuck Mullins doubts the City ordinance would stand up in court if the attorney general's office took issue.
"Forget about the marijuana," he told the Jackson Free Press on Feb. 5. "What if it was another law that is inconsistent or in conflict with state statute? It's the principle of the thing—you can't pass laws which are inconsistent with state laws."
Mullins suggests a standing order with city court judges saying that people will not go to jail for 30 grams or less regardless of how many convictions. Either way, he is sympathetic to the cause.
"I get it, trust me," Mullins said. "I get what they're trying to do. It makes sense because a lot of times you get folks out there, and they've got this personal possession, personal-use crime, and you know it's only going to be a fine, but you're going to have to take them down to the jail...."
State, Federal and Beyond
In 2014, Gov. Phil Bryant signed "Harper Grace's Law" to exempt certain uses of cannabidiol oil. The law also decriminalized marijuana for research purposes at the University of Mississippi. Attorney General Jim Hood recently spoke on C-SPAN's "Washington Journal" and addressed his views on marijuana as an "old, gray-haired drug warrior" and prosecutor.
"Eventually, our young people are going to change it—they're going to change the law in our state, probably legalize it, probably in my lifetime in the next 20 years," Hood said on Feb. 7.
Currently, at the federal level simple possession with no intent to distribute is punishable by up to one year in prison, a minimum fine of $1,000 or both. On Jan. 4, Sessions sent out a memo to all U.S. attorneys reversing President Barack Obama's policy of essentially non-interference at the federal level in states that passed decriminalization laws. Sessions also said recently that marijuana is a gateway drug to opioid addiction, which drug researchers dispute.
With differing, subjective statutes, it can be confusing to know where authorities stand. Atlanta is one recent example. Georgia state law prescribes imprisonment up to one year and a fine of up to $1,000 for possession of one ounce or less of marijuana. 
 However, the Atlanta City Council voted in October 2017 to lower fines to $75 for marijuana possession up to an ounce and eliminate jail time.
"If you get arrested by anybody but a city cop, you're toast," Atlanta City Councilwoman Yolanda Adrean said in April 2017.
Email city reporter Ko Bragg at [email protected].