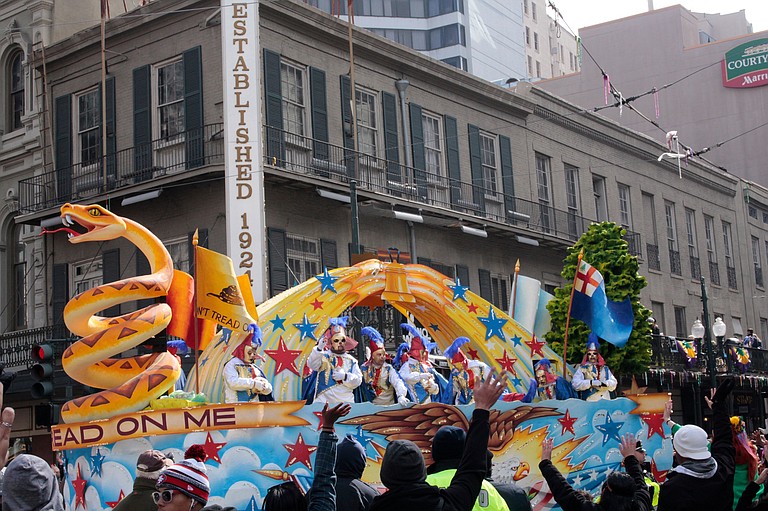 Tuesday, February 13, 2018
NEW ORLEANS (AP) — Tens of thousands of revelers are expected on New Orleans streets for parades and rowdy fun as Mardi Gras caps the Carnival season in a city with a celebration of its own, its 300th anniversary.
The anniversary of this Louisiana port city will feature prominently in Fat Tuesday's festivities.
Rex, New Orleans' oldest parading Carnival group, is celebrating the tricentennial with 21 of its 28 floats commemorating its history from those who lived in the area before Europeans settled it in 1718 to the Battle of New Orleans in 1815. Other floats in the Rex parade include one for St. Louis Cathedral, the descendant of a church built the year of the city's founding, and the yellow fever, which killed more than 41,000 people between 1815 and 1905.
Rex and Zulu are the two major parades in New Orleans on Fat Tuesday, which is a state holiday.
Families jam the sidewalks and camp out in the broad medians to watch with small children often perched in wooden seats atop ladders near the front.
Tuesday's forecast was for cloudy skies, temperatures in the 60s (15 Celsius), and a 20 percent chance of thunderstorms, which carry the threat of stopping parades.
The holiday climaxes a two-week Carnival season, which draws about 1 million visitors and pumps about $840 million into the city's economy, according to the New Orleans Convention and Visitors Bureau. It also means two weeks of 12-hour, no-vacation shifts for the city's police, who are reinforced by 165 state troopers and officers and deputies from half a dozen nearby areas.
Neighborhood organizations are among the first groups out on Mardi Gras. There's St. Anne's parade, an eclectic walking parade and the North Side Skull and Bone Gang, which wakes people up and tells children to behave.
The Half-Fast Walking Club, organized by the late clarinetist Pete Fountain, rolls and strolls to the Quarter from the Commander's Palace restaurant.
Then comes the Zulu Social Aid and Pleasure Club, a historically African-American group that parades in blackface and grass skirts. After Zulu comes Rex which is followed by two "truck parades" with floats built on flatbed trailers and decorated by the families, neighborhood groups and other organizations riding in them.
The family party along the parade routes generally ends after the parades, but the French Quarter's rowdier Mardi Gras continues until midnight, when a wedge of mounted New Orleans police officers clears the streets.