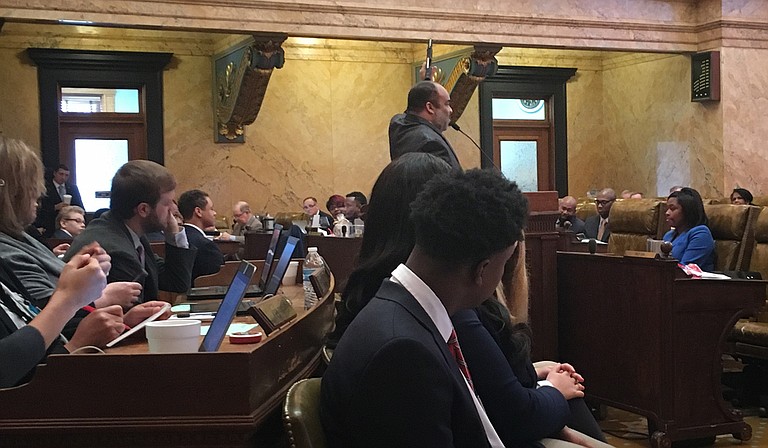 Monday, February 12, 2018
JACKSON — Mississippians with enhanced concealed-carry licenses, who are required to take an instructional course on firearms training before they receive their license, could file a lawsuit against public entities, like state agencies or universities, with policies limiting their right to carry a gun if House Bill 1083 becomes state law. The bill says a person can file a suit in circuit court for declarative and injunctive relief, meaning a court could permanently force an entity to get rid of their rules that violate the state's enhanced conceal-carry laws.
Current state law allows Mississippians with an enhanced concealed-carry license to carry their firearms into polling places, government meetings, college athletic events, bars, elementary schools, airport terminals and college campuses. State law does prohibit them from carrying their guns into courtrooms during judicial proceedings, however.
Rep. Charles Young, D-Meridian, stunned the House as he pulled out his unloaded gun and concealed-carry license to audible gasps throughout the chamber on Thursday, Feb. 8., as he spoke against the bill. He pointed out that even the Legislature technically has a rule, Joint Rule 37, which prohibits lawmakers from carrying weapons in the statehouse unless the Senate or the House grants them permission by a majority vote.
"I'm sure all of you know that the Legislature takes unprecedented authority over state law," he said. "... Let's grow up. If this is what we want, let's change the rules."
Young returned to his seat, and the House voted to send House Bill 1083 to the Senate by a vote of 80-33. Young asked House Speaker Philip Gunn, R-Clinton, about the joint rule again from his seat.
"I am very concerned about the safety and well-being of our sergeant of arms, our capitol police and members of this body," Young said.
"Are you asking to be escorted out, gentleman?" Gunn asked him.
"With all of the members that carry, if we enforce the rules...," Young responded.
Gunn turned off his microphone and said he needed time to look at the rule. He then asked the sergeant-at-arms to escort Young off the House floor.
"He (Young) just brought the rule to my attention, but I'll have to have time to look at it, but he's the only one I'm aware of that has one (a gun)," Gunn said.
The House reacted in an uproar, implying that other members also carried their guns in the statehouse without permission under Joint Rule 37.
Some Democrats raised concerns about guns on college campuses around the state.
"What we're trying to do is (let) universities have power to continue to enforce their regulations," Rep. Willie Perkins, D-Greenwood, said speaking against the bill last week.
The state's colleges and universities oppose House Bill 1083. Vaught-Hemingway Stadium at the University of Mississippi has a policy that prohibits weapons in the stadium. Mississippi State's Davis Wade Stadium prohibits pistols, revolvers and weapons inside.
"The safety of students, faculty, staff, and visitors on our university campuses is a top priority for the Board of Trustees and University leaders," Glenn Boyce, commissioner of higher education, said in a statement. "HB 1083 compromises our ability to protect and ensure the safety of those on our campuses because it nullifies and prohibits any policies and/or authority to designate sensitive areas of campus where weapons should not be allowed."
Rep. Andy Gipson, R-Braxton, introduced House Bill 1083, which would also make any public agency's policy about carrying concealed firearms "have no force and effect" for those with enhanced licenses. A person who wants to file a lawsuit against a public entity with a policy limiting their right to carry must notify the attorney general first, the bill says. If the agency has not corrected the violation in 30 days, a person can proceed with the lawsuit.
Some House Democrats expressed concerns about the measure, but Gipson pointed out that much of the bill is already state law and has been since 2011.
"The emphasis is on training. That's why it passed. ... That's why it's been the law for seven years, folks," Gipson said during debate on Wednesday, Feb. 7. "This recognizes people who care enough to take the class, to pay their fees, to spend an entire day of their lives to renew it, do the right thing and get trained. They should have the right to carry to protect themselves and their families."
The measure now goes to the Senate for consideration.
Email state reporter Arielle Dreher [email protected] and follow her on Twitter at @arielle_amara.