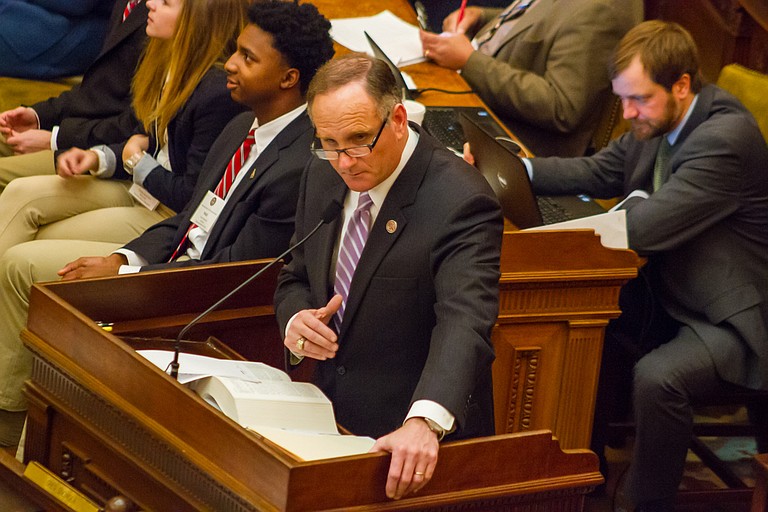 JACKSON — Rep. Mark Baker, R-Brandon, is consistent at least. His annual trip to the podium to limit Attorney General Jim Hood—the only Democrat in a statewide elected office—went well for him this week. Baker presented House Bill 1238 on Thursday, which would prevent the attorney general from bringing lawsuits under the Mississippi Consumer Protection Act.
The move is consistent with Republicans' desire to limit the attorney general's ability to sue corporations, which dates as far back to when Mississippi successfully sued the tobacco industry in the 1990s.
Baker said 25 other states have similar measures in place that require recourse under the Consumer Protection Act, which a regulating agency such as the Mississippi Public Service Commission or the Mississippi Department of Insurance would handle.
"This bill simply says the Legislature gives the agency the authority and responsibility of regulated activity," Baker said during debate on Thursday.
"[I]f the question is a matter of rates regulated by the insurance commissioner, shouldn't they go back to the insurance commissioner through rules and regulations? Twenty-five states say yes, and here's why: because attorney generals throughout the country have taken what was supposed to apply to a day-to-day purchase, a small consumer purchase... as alternate means to extort money out of businesses."
The attorney general brings claims under the Mississippi Consumer Protection Act regularly. Most recently, Hood recovered $33 million from pharmaceutical corporation Watson Inc., after it manipulated drug prices it charged to the state's Medicaid program.
Baker pointed out that his bill does not prevent Hood from filing a lawsuit altogether. "This change wouldn't stop a lawsuit; what this does is stop a lawsuit under the Consumer Protection Act," Baker said.
If House Bill 1238 had been law then, it would have prohibited Hood from bringing a claim against Watson Inc. under the state's Consumer Protection Act, missing out on more than $5.2 million in civil penalties, a press release from Hood's office says.
Hood, who visited the House floor earlier this week, adamantly opposes the measure.
"Should HB 1238 pass, it would be devastating to the protection of Mississippians," he said in a press release. "Much of the success in our office has been protecting consumers from corporate wrongdoers, and the people of Mississippi deserve more than their lawmakers stripping those protections."
Democrats decried the measure as another one of Baker's bills to limit the attorney general's powers.
"We elected an attorney general—that attorney general is bringing over $33 million because of wrongdoing that was exposed and being taken care of," Rep. Tommy Reynolds, D-Charleston, said while speaking against the bill. "It's not that we're getting settlements on account of people doing right, but people grossly abusing our citizens."
Rep. David Baria, D-Bay St. Louis, also spoke against the bill, saying it is a frontal assault on the state's Consumer Protection Act. Baria pointed out that the process to bring a claim under the act is about 15 paragraphs long in statute and takes work.
"You can't just throw a claim out there and win," he said.
The bill passed by a narrow margin on Thursday, by a vote of 57-52, with several Republicans voting against the measure. A handful of lawmakers chose not to vote; Speaker Philip Gunn voted in favor of the measure. After Baria held the bill on a motion to reconsider, the House voted to send it to the Senate on Friday morning by another close vote of 55-50, with nine Republicans not voting. Now the bill's fate is in the Senate's hands.
Email state reporter Arielle Dreher at [email protected] and follow her on Twitter at @arielle_amara.