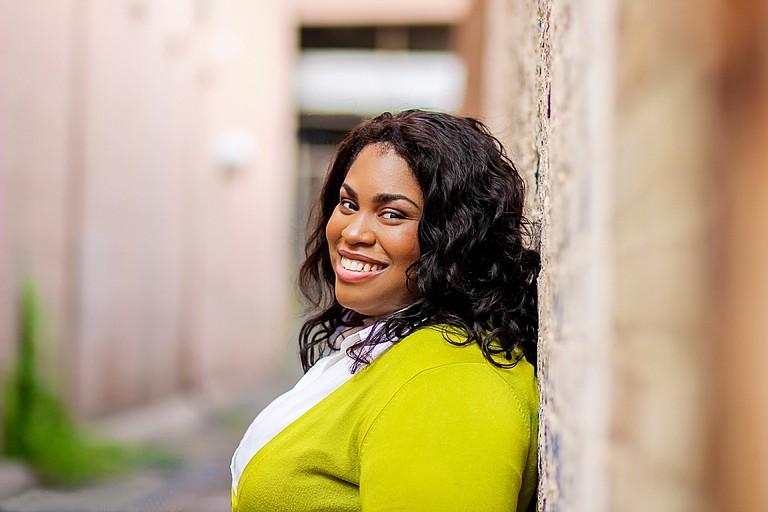 The Council for Christian Colleges & Universities presented Belhaven University alumnus Angie Thomas, author of New York Times best-selling book "The Hate U Give," with its 2018 Young Alumni Award on Feb. 1 during the annual CCCU International Forum in Dallas. CCCU presents the award to individuals it deems to have achieved uncommon leadership or success that reflects the values of Christian higher education.
Thomas, a 2011 Belhaven graduate, began writing "The Hate U Give" as a short story for her senior project following the shooting of an African American man named Oscar Grant in Oakland, Calif. The novel follows a black high-school student named Starr Carter who witnesses a police officer shoot and kill her unarmed friend, and addresses issues of racism and police violence to encourage conversations among young people about race, poverty and privilege. Thomas expanded the short story into a novel after her graduation following the shooting of Trayvon Martin in 2012.
Balzer + Bray, an imprint of HarperCollins Publishers, released the book on Feb. 28, 2017. The book debuted at the top of The New York Times young adult bestseller list and scored features in major publications such as New York Magazine, The Fader, Teen Vogue, Cosmopolitan and Entertainment Weekly, among others. 20th Century Fox, State Street Pictures and Temple Hill Entertainment are currently working on adapting the book into a movie, which began filming in Atlanta on Sept. 12, 2017.
Amandla Stenberg, Common, Issa Rae, Anthony Mackie and Regina Hall star in the adaption. YouTuber Kian Lawley was also attached to the movie, but the filmmakers dropped him from the adaptation earlier this month after a video resurfaced of Lawley making racist remarks.
USM Begins "Swipe Out Hunger" Program
The University of Southern Mississippi's Eagle Dining and the Eagle's Nest Food Pantry have started a program called "Swipe Out Hunger" that will allow residential students to donate up to two "swipes" for guest meals from their Eagle Dining meal plans to help feed people in need.
Around 3,000 students who live in USM's residence halls have meal plans, for which they get five guest meal "swipes" of their meal cards each semester, and can donate one or two this semester as the plan rolls out. Students donated more than 150 swipes in the first two days from Jan. 30 to Jan. 31. USM also began setting up donation tables at the Fresh Food Company and other Eagle Dining facilities today, Feb. 9.
Eagle Dining will match every donated student swipe, and all available meals will go into a pool that the Eagle's Nest will distribute by need. Eligible students can begin receiving donated swipes starting Feb. 21 by applying at the Eagle's Nest, which is located in the basement of The Hub on campus. The Eagle's Nest allows students using the program to choose what they need, including canned vegetables, bread or pet food. Normal hours are 11 a.m. to 3 p.m. on Mondays and Fridays, and 11 a.m. to 5:30 p.m. on Wednesdays.
To find which Eagle Dining location will be accepting donations each day, follow Eagle Dining on Facebook or Twitter, or the Eagle's Nest on Facebook. Students wishing to donate swipes starting Feb. 12 can also fill out an application at the Eagle Dining office on the ground floor of the Thad Cochran Center or at the Eagle's Nest. For more information, call Eagle Dining at 601-266-5376 or the Eagle's Nest at 601-520-9733.
JSU Linebacker Robert Brazile Named to Pro Football Hall of Fame
Robert "Dr. Doom" Brazile became the fourth Jackson State University Tiger to enter the Pro Football Hall of Fame on Saturday, Feb. 3, the day before Super Bowl LII. The other JSU players who have received the honor are Walter Payton, Lem Barney and Jackie Slater.
Brazile was one of two senior nominees in the 2018 Hall of Fame class, along with Green Bay Packers guard Jerry Kramer. The five modern-era nominees include Ray Lewis, Terrell Owens, Randy Moss, Brian Urlacher and Brian Dawkins.
JSU recruited Brazile as a tight end in his freshman year in 1971, and he switched to linebacker in his junior year. He was named to the First Team All-SWAC and First Team All-American and helped JSU win two SWAC Championships in 1972 and 1973.
The Houston Oilers drafted Brazile out of JSU with the sixth overall pick in 1975, and he played in the NFL for 10 seasons and started in 147 consecutive games. While with the Oilers, he was named as the NFL Defensive Rookie of the Year in 1975, was selected for the Pro Bowl for seven consecutive seasons and made the All-Pro team for six consecutive years. He was also named to the 1970s All-Decade Team.
In addition to his current honor in the Pro Football Hall of Fame, Brazile is also a member of the JSU Sports Hall of Fame, the Southwestern Athletic Conference Hall of Fame, the Mobile Sports Hall of Fame, the Alabama Sports Hall of Fame and the Mississippi Sports Hall of Fame.