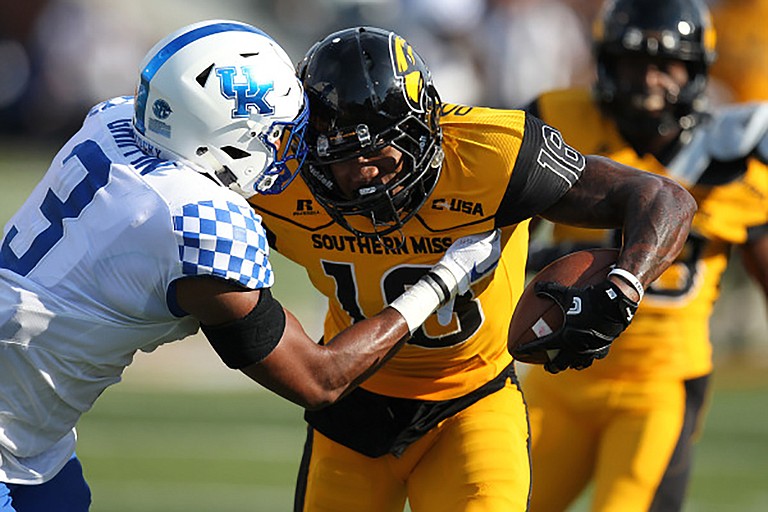 Thursday, February 8, 2018
While Philadelphia Eagles fans and players celebrate the team's 41-33 win over the New England Patriots, the rest of the NFL, including the coaches and front-office staff, are beginning to focus on next season. Thirty-one other teams want to be where the Eagles finished the season, and Philadelphia wants to stay on top of the league.
That means focusing on making the best moves possible this offseason in the draft and free agency. The first major event of the offseason is the NFL Combine, which takes place each year in Indianapolis. On Tuesday, Feb. 6, the league released the names of the 336 Combine invites.
Greenwood, Miss., native Korey Robertson is the lone player selected from the University of Southern Mississippi. Robertson decided to forgo his senior season after an outstanding redshirt junior season, where he led the Golden Eagles in receptions with 76, receiving yards with 1,106, and came in second place in touchdowns with 12.
The 6-foot, 2-inch, 210-pound receiver averaged 14.6 yards per catch and 85.1 receiving yards per game. He started all 13 games and made at least one catch in each matchup for the Golden Eagles. His performance on the field earned him First Team All-Conference USA honors.
Receiving a Combine invite shows how Robertson's hard work has paid off since joining USM after a standout career at Greenwood High School, where he finished with 2,340 yards on 147 total with 26 touchdowns.
As a high-school junior and senior, he was named First Team All-State, All-District, All-Area and All-Region. He was also selected to the 2013 Mississippi-Alabama All-Star Game, but 247sports.com only ranked him as a three-star recruit, and Scout.com and Rivals.com considered him a two-star recruit.
Robertson redshirted the 2014 season with the Golden Eagles. As a redshirt sophomore, he played in all 14 games with a single start, and made 14 catches for 200 yards and three touchdowns.
He improved more during the 2016 season, as he played in all 13 games with five starts. Robertson caught 37 passes for 437 yards with three touchdowns before his breakout season this past year.
Over the course of his career at Southern Miss, he made 127 receptions for 1,743 yards with 18 touchdowns. His invite to the Combine will allow him to work out in front of head coaches and scouts from all 32 NFL teams, and showcase his skills alongside the best receivers in the nation.
His USM teammates, including wide receiver Allenzae Staggers and running back Ito Smith, will have to wait until Southern Miss holds its Pro Day to work out in front of scouts. Robertson will get a second chance to impress scouts on that day.
NFL Network's Ian Rapoport has suggested that Robertson has the potential to be drafted in the second or third round, and the receiver has an opportunity to boost his draft stock with an outstanding performance at the Combine.
Four players from the University of Mississippi will make the trip to the Combine: running back Jordan Wilkins, offensive tackle Rod Taylor, defensive tackle Breeland Speaks, and linebacker and defensive end Marquis Haynes.
Mississippi State University had two players get an invite: offensive tackle Martinas Rankin and tight end Jordan Thomas. No players from other schools in our state received invites to take part in the Combine.
The 2018 NFL Combine is from Feb. 27 to March 5, and the 2018 NFL Draft will be April 26-28 at AT&T Stadium in Arlington, Texas.