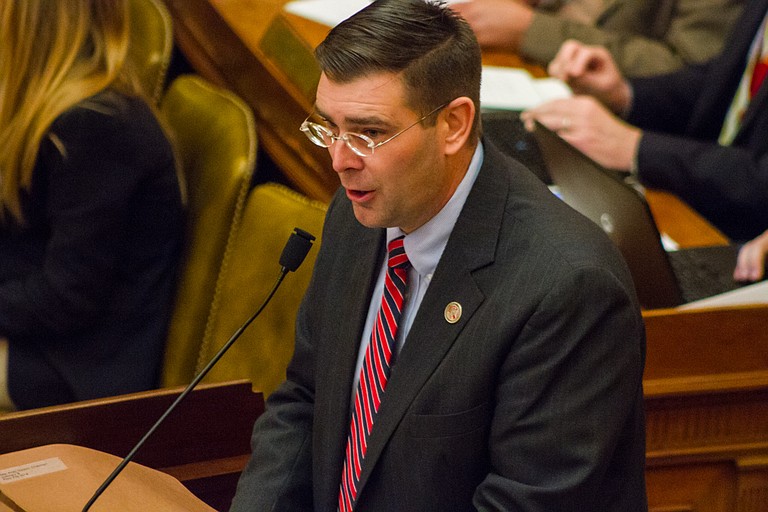 Thursday, February 8, 2018
JACKSON — Rep. Andy Gipson, R-Braxton, did not want to debate the "anti-gang" bill for long this morning, and after about half an hour, he tabled House Bill 541, noting that the Senate had already passed its version of the legislation. Gipson will likely take up that bill when it comes over to the House of Representatives.
His motivation for the legislation, Gipson said, comes from reading the State Gang Threat Assessment, which is based on gang data that 71 law-enforcement agencies submitted on questionnaires at the Mississippi Association of Gang Investigators Conference in 2017.
Some representatives requested to see the study, as they had not seen it before the bill came to the floor.
Policing Gang Membership Over Violence?
Brad Rowe was a lead researcher on the 2016 Botec Analysis study of Jackson crime, including a "Gang Violence Assessment" for Hinds County, for which the Mississippi Legislature paid $500,000. After reading the more recent gang assessment, which the Department of Homeland Security provided to the Jackson Free Press, Rowe warned that focusing too much on gang membership can be shortsighted.
"Reading the assessment," he said Wednesday in a phone interview from Los Angeles, "they're clearly going after this idea of 'gang.' One thing we've learned outside of Jackson is that it's much more helpful for authorities, whether law enforcement or government organizations doing mental health, to go after violence rather than gangs."
Adding that he is not a "hug-a-thug," Rowe, the former BOTEC CEO who now runs RPM Policy and Media in Los Angeles, continued, "The concept of criminalizing gang members ... is not all good. They do serve a function. A lot of kids don't have families that support them and don't feel that they're safe. Gangs are a way to have a group that protects you, stands by you. Yes, sometimes they ask you to do stuff outside of the law, and they're going to do it."
Other crime experts echo the advice of focusing on violence over criminalizing gang membership itself, which can take a lot of resources for a small yield over time, especially since marginal gang members can come out of prison as more hardened gangsters and criminals.
Sociologist and crime expert Andrew V. Papachristos, now of Northwestern University in Chicago and previously with Yale, authored a research report analyzing Chicago's version of "Operation Ceasefire," a popular violence intervention that focuses on violence over gang membership. In the 2015 report published by the American Society of Criminology, Papachristos along with David S. Kirk of Oxford University discussed the importance of focusing enforcement on the violence itself and who specifically is committing it. "The underlying principle is to reach those factions that are involved in shootings, rather than simply reaching out to gang members writ large," they wrote.
"Unlike general deterrence, which aims to dissuade the general population from engaging in particular criminal behaviors by increasing the severity, certainty and swiftness of punishments associated with said crime, focused deterrence posits that crime reduction is best achieved by concentrating deterrence efforts on those groups or individuals involved directly in the targeted type of crime. Rather than enact broad-sweeping policies that indiscriminately apply across populations and places, focused deterrence efforts honor traditional deterrence principles while leveraging existing policies and practices in innovative ways directly toward small offending populations."
Often, those violent offenders are a very small percentage of the people identifying in some way with a gang, crew or other group, the report explains.
The Mississippi Senate's legislation would expand the definition of a gang in state law, broadening the net rather than focusing it, and make "criminal gang activity" an additional penalty for felonies committed if a district attorney proves they are a part of a gang, in addition to whatever underlying offense a person committed.
That effort makes Rowe nervous, including for law enforcement trying to stop violence in communities. "The more that the establishment goes after this concept of 'gang' rather than going after violence, the more the gang members distrust the system," he said. That means that young people can be less likely to tell the cops when they are in danger or to report crimes they see. And that reticence can extend to community and family members who want the violence to stop, but do not want young people's future ruined by over-criminalization for simply showing an association to a gang at some point.
"They want appropriate policing in their neighborhoods," Rowe said of communities often targeted by gang sweeps, "but don't want neighborhoods to be over-policed. It's hard."
BOTEC researchers also warned that one of the top two precursors for a young person committing worse crime as an adult is being put into the criminal-system system as a juvenile.
The Potential for Profiling
House Democrats had a lot of questions about the measure, and brought up examples of sorority and fraternity members, or teammates on a sports team potentially being targeted as "gangs" if the legislation becomes law.
"Law enforcement would have to look at that and determine whether in fact this is a gang or a group of young people," Gipson told Rep. Chris Bell, D-Jackson, who asked about a group of kids with similar tattoos or wearing the same colors.
Bell brought up racial profiling in his questions.
"In today's climate with racial profiling, and individuals being shot and murdered by police officers, do you not understand my concern about this?" Bell asked Gipson.
"I don't agree that there's racial profiling going on, gentleman. I know that there have been instances ... ," Gipson said.
"Well, gentleman, be black for a day, and find out. It happens," Bell said.
Rowe also addressed the profiling potential of overly broad gang laws and enforcement strategies that give law enforcement and prosecutors the discretion to bring additional charges. "First of all, it's a PR nightmare for law enforcement. All these stories are going to come out," he said. Communities and the young people themselves will ask why police are targeting young people in neighborhoods, middle schools, high schools, even if some are involved in bad activity. "Criminalizing being poor black youth in Jackson. That's the story, and all people are going to hear." That, in turn, will be counter-productive to building trust and curbing the violence, he said.
When reminded that proponents of the gang bill would point out that it would also target the Simon City Royals, a white gang, Rowe said that fact does not change the underlying problem with such broad enforcement. "That's equal-opportunity suppression. Not just going after black boys, but white kids who are bad kids, too. (Law enforcement) can use the color of law to take down white kids as well," he said.
Gipson opted to table the bill, letting it die on today's deadline, noting that the Senate passed a version of the bill yesterday. The House will have to debate the "ant-gang" bill again later in the session.
On Wednesday, Feb. 7, the Senate passed the gang legislation from Sen. Brice Wiggins, R-Pascagoula, over significant resistance from Democrats.
Sen. John Horhn, D-Jackson, shared his reservations about the legislation, telling Wiggins that in some neighborhoods—or even in prison—a person might join a gang for self-protection.
"I'm concerned about some of the unintended consequences of doing this," Horhn told Wiggins on Wednesday during debate.
The BOTEC researchers found that self-protection was a factor for gangs in Jackson, as it is around the country. Rowe said that, under the extended gang laws, a young person might be a Facebook friend with someone who commits a violent act. That young person does not turn him in, perhaps because he is afraid of retaliation, and the law could justify charging him. "Are you then complicit in the crime? Involved in the cover-up? I don't know," he said.
Rowe emphasized that understanding and treating trauma is key to preventing youth violence, whether gang-related or not. "The violent kids have often been abused physically, mentally, sexually and neglected," he said. "Somewhere in there they didn't get the tools to deal with that trauma and anger. They are then sent to schools where, if they have discipline problems, they're treated like prisoners."
The BOTEC report on gangs endorsed a targeted "Operation Ceasefire" approach to gang enforcement as well and laid out a model for countering gang violence based on the Urban Peace Institute's Programs for Gang Intervention.
Sen. Derrick Simmons, D-Greenville, offered an amendment to putting a measure in the bill that would force it into conference between senators and representatives. His amendment failed, and the Senate passed Senate Bill 2868 by a vote of 35-14. The bill is held on a motion to reconsider, which the Senate must lift by Monday for the measure to advance.
Email state reporter Arielle Dreher at [email protected] and follow her Tweets at the Capitol @arielle_amara. Read the JFP's award-winning "Preventing Violence" series at jfp.ms/preventingviolence.