Wednesday, February 7, 2018
BRAVO! Italian Restaurant & Bar
(4500 Interstate 55 N., Suite 244, 601-982-8111, bravobuzz.com)
BRAVO! will offer a special three-course dinner menu with two entrees to choose from the weekend before Valentine's Day from Friday, Feb. 9, to Sunday, Feb. 11, and on Valentine's Day itself. The appetizer will be Murder Point oysters with strawberry chili mignonette. The first entree is ribeye steak with a lobster and blue cheese crust, topped with asparagus, black truffle compound butter and bowfin caviar, with a side of Lyonnaise potatoes (pan-fried potatoes and onions). The second entree is Louisiana crawfish and green onion agnolotti in Satsuma oyster broth, topped with house-smoked bacon, cherry heirloom tomatoes, arugula and grilled ciabatta. Dessert is devil's food cake with strawberry rhubarb gelato, Nutella ganache, pecan brittle and Kahlua whipped cream.
Cantina Laredo
(200 District Blvd., 601-982-7061)
Cantina Laredo will offer a $35 three-course prix fixe menu from Friday, Feb. 9, through Wednesday, Feb. 14.
The first course is ensalada de mango, or field greens with mango, mint, jicama, red grapes, spicy pepitas, queso fresco and honey vinaigrette, or sopa de pollo con vegetals (vegetable soup with chicken) topped with tortilla strips and queso fresco. Entree selections include camarons con pasina mango mole, or sauteed shrimp with spicy mango mole sauce, rice and whipped sweet potatoes; pollo asado, or roasted half chicken with grilled street corn and black beans; and more. Desserts are fresh mixed berries with Don Julio tequila cream, or churros with raspberry-chocolate sauce and a mango dipping sauce.
Cocktail pairings are also available. Cantina Laredo's regular dinner, lunch and brunch menus will also be available.
Table 100
(100 Ridge Way, Flowood, 601-420-4202, tableonehundred.com)
Table 100 will offer a three-course menu including oysters, steak, crab or lobster, and more. The restaurant plans to run the dinner special from Wednesday, Feb. 14, to Saturday, Feb. 17, to accommodate people who may not be able to have a Valentine's Day dinner during the work week. Further menu details and pricing are to be determined.
1908 Provisions
(734 Fairview St., 601-948-3429, fairviewinn.com)
1908 Provisions will have a three-course and a four-course meal. First-course options include seared sea scallops, mushroom flatbread and smoked wild boar sausage. The second course includes choices such as French onion soup. The main courses include braised short ribs, andouille crusted grouper, petite filet and crab cake, and seafood linguini. For dessert, visitors can choose dishes such as s'mores tarts, maple-butter creme brulee, and peaches and cream upside-down cake. Vegetarian options will also be available.
The Strawberry Cafe
(107 Depot Drive, Madison, 601-856-3822)
For Valentine's Day, Strawberry Cafe is offering a four-course dinner, featuring one appetizer, soup or salad each, two entrees and one dessert. Individual courses will also be available, along with wine pairings for $20 per person.
The starter is salmon cake with royal red shrimp and roasted red pepper sauce, and the soup or salad course is asparagus and lobster bisque, or palm heart and honey salad.
For the main course, customers can choose between sauteed grouper with lump crab meat, roasted peppers, gouda grits and seafood broth; or a 6-ounce steak filet with grilled shrimp with red-wine demi glace, and stewed mushrooms and carrots. Dessert is almond cream sponge cake with fresh strawberries and chocolate sauce.
Char Restaurant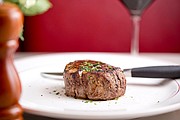 (4500 Interstate 55 N., Suite 142, 601-956-9562, charrestaurant.com)
Char is currently taking reservations for a steak dinner for two. The restaurant's regular menu will be available along with chef specials including lobster scampi over grilled redfish and roasted asparagus; surf and turf skewers with rice pilaf and horseradish cream; and crab meat quesadillas with avocado cream and a honey-chipotle drizzle.
Saltine Oyster Bar
(622 Duling Ave., 601-982-2899)
For Valentine's Day, Saltine will offer its full dinner menu in addition to an optional four-course prix fixe menu optional wine and cocktail pairings for an additional charge per course. The first course includes ginger 
carrot soup with mango topping, paired with a "Valentini" cocktail consisting of Cathead Distillery Honeysuckle vodka with St. Germaine, grenadine, lime, St. Elizabeth All Spice and mint. The second course is pickled tomato and corn salad over a garlic crouton, paired with Abita Brewing Company 30° 90° gold lager. The main course is a chili garlic sirloin served with lobster gratin and broccolini, paired with Josh Cellars cabernet sauvignon. Dessert is cinnamon-raisin bread pudding with whipped cream and caramel sauce, paired with Plantation Rums three-star white rum, Don Q coconut rum, grenadine and creme de cocoa. Saltine is accepting walk-ins only for the Valentine's dinner.
CAET Wine Bar
(3100 N. State St., Suite 102, 601-321-9169, caetwinebar.com)
CAET will offer a four-course set menu with optional wine pairings. The first course includes dishes such as oysters on the half shell, smoked salmon flatbread and Granny Smith apples with prosciutto; the second course includes ones like steamed mussels, pork belly and short rib gnocchi; the third course features dishes like a 6-ounce Hereford filet au poivre, seared scallops, red fish Anna with lump crab meat and lamb porterhouse. Dessert includes vanilla bean creme brulee, chocolate hazelnut tarts and lemon cake.
Nandy's Candy
(1220 E. Northside Dr., Suite 380, 601-362-9553, nandyscandy.com)
This Valentine's Day, Nandy's will have white-, milk- or dark-chocolate-dipped strawberries by the dozen in an edible chocolate basket; handmade chocolates in heart-shaped boxes; chocolate-covered cherries; Valentine caramel apples drizzled in white or dark chocolate with sprinkles; heart-shaped suckers; customized chocolate hearts with a person's name; handmade marshmallow hearts; truffles; chocolate nut clusters; Valentine's Day balloons and more.
Johnny T's Bistro & Blues
(538 N. Farish St., 601-954-1323)
On Tuesday, Feb. 13, Johnny T's will have a pre-Valentine's day date night featuring The Detectives Comedy Dinner Theatre. Cocktails will be served at 7 p.m., and the show starts at 8 p.m. The event will feature a three-course menu from chef Brian Myrick.
Broad Street Baking Company
(4465 Interstate 55 N., Suite 101, 601-362-2900, broadstbakery.com)
For Valentine's Day, Broad Street will have chocolate-covered strawberry king cake for two. The cake is available Friday, Feb. 9 through Feb. 14 and must be ordered at least 24 hours in advance. Broad Street will also offer Valentine's Day sugar cookies, brownies, Rice Krispies treats with heart sprinkles and other themed desserts.
Meme's Brick Street Bakery
(104 W. Leake St., Clinton, 601-278-0635)
This Valentine's Day, Meme's will have chocolate-covered strawberries, petit fours, truffles, themed iced cookies, Valentine's Day pacakges and more.
Campbell's Bakery
(3013 N. State St., 601-362-4628; 123 Jones St., Madison, 769-300-2790; campbellsbakery.ms)
Campbell's Valentine's Day treats include heart-shaped teacakes and petit fours, chocolate-dipped strawberries and more.
La Brioche
(2906 N. State St., 601-988-2299)
For Valentine's Day La Brioche will have an exclusive cake called the Eve, which is a chocolate cake dipped in Grand Marnier with buttercream icing, and layered with strawberries, macarons, chocolate pieces and gold dust. La Brioche also has white- and dark-chocolate strawberries by the dozen, macarons by the tube or box, chocolate truffles in seven flavors, an entremet with Valentine-themed marbled glazing; a raspberry cheesecake latte; and more.
Primos Cafe
(515 Lake Harbour Drive, Ridgeland, 601-898-3600; 2323 Lakeland Drive, Suite A, Flowood, 601-936-3398; primoscafe.com)
This Valentine's Day, Primos will have cakes in flavors such as strawberry and caramel, decorated petit fours and more.
Eslava's Grille
(2481 Lakeland Drive, Flowood, 601-932-4070)
Each Monday through Wednesday night from 5 p.m. to 10 p.m., Eslava's has a Date Night special that includes an appetizer, two entrees and a dessert to share.
Seafood R'evolution
(1000 Highland Colony Pkwy., Suite 9015, seafoodrevolution.com)
For Valentine's Day, Seafood R'evolution will have a four-course prix fixe menu with dishes such as Maine lobster bisque and seared filet of Gulf red fish. To make reservations, call 601-853-3474.
This is not a complete list. See and add more at jfp.ms/valentinesday2018.