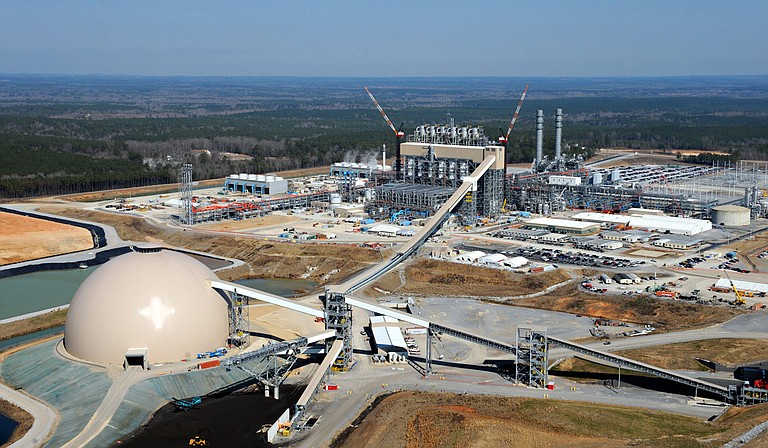 Wednesday, February 7, 2018
JACKSON, Miss. (AP) — Years of contention and threatened electric rate increases ended Tuesday as utility regulators approved a settlement declaring how much Mississippi Power Co. customers should pay for their share of a troubled $7.5 billion power plant.
Once touted as a model for the future of coal, the Mississippi Public Service Commission forced the unit of Atlanta-based Southern Co. to quit construction on the Kemper County plant in 2017, with shareholders absorbing about $6.4 billion in losses.
The move means residential customers could soon pay about $3 less per month than they're currently paying for the part of the power plant burning natural gas.
"It's been a long time coming," Northern District Commissioner Brandon Presley, a Democrat who was once a lonely voice opposing Kemper, said after the vote. "I don't think anyone thought we'd get here."
One prominent opponent, Hattiesburg oilman Thomas Blanton, still opposes the deal, and could bring a legal challenge. Mississippi Power also must conduct a study to evaluate what to do with excess electrical capacity.
The agreement pulls the plug on a coal gasification project launched by one of the nation's largest utilities with the much-hyped promise of burning coal more cleanly while capturing climate-warming carbon dioxide.
But Kemper's price ballooned from a promised $2.9 billion as the project suffered delays and court challenges, and the company never made the first-of-its-kind technology run reliably. Ultimately, political support for Kemper failed, and elections united three commissioners last May who told the company to shut it down.
"The economics really didn't work out and the technology was hard to perfect," Mississippi Power CEO Anthony Wilson said after the vote.
Instead, Kemper will keep making electricity by burning natural gas and its 189,000 customers from Meridian to the Gulf Coast aren't supposed to pay for the gasifier's costs.
Because of federal corporate income tax cuts passed late last year, the amount that Mississippi Power will collect from customers this year will fall to $99 million from the $113 million that had been previously agreed upon. The overall amount the company will collect from retail customers over time fell from $853 million to $728 million because of the same tax law changes.
Mississippi Power had once warned of a total rate increase of up to 40 percent. Customers already have been paying 15 percent higher rates since 2015 for the part of the plant that burns natural gas, plus associated infrastructure.
A residential customer who uses 1,000 kilowatt hours per month will see bills fall from $130 a month to $127. Mississippi Power's rates are still high compared to neighboring utilities. Mississippi Power charged residential customers 50 percent more for electricity in 2016 than Entergy Mississippi, the state's other privately-owned electric supplier, according to U.S. Energy Department data.
Customers will eventually see their payments for Kemper fall even more, as Mississippi Power has agreed to pay off some costs over eight years, instead of stretching them out over 20. Reducing that payoff period is worth tens of millions of dollars to customers over time. The company also agreed to forgo recovering more than $50 million in other costs.
Mississippi Power had faced opponents who wanted it to get even less, estimating that a built-from-scratch natural-gas plant would cost less than $600 million. One set of those opponents, which included the Sierra Club, settled.
Blanton remains unreconciled, but declined to say Tuesday if he would sue. He won a state Supreme Court verdict in 2015 that forced Mississippi Power to make refunds to customers.
For Kemper County, Mississippi Power initially estimated a price tag of $1.8 billion when the plant was announced it in 2006. In a sprint to grab federal tax credits, Mississippi Power started construction in 2010 with only 10 percent of the design completed. The company underestimated the concrete, steel, pipe and cable it needed, and how many workers would have to build the plant. Some parts had to be torn out and rebuilt, even as a whistleblower said intense schedule pressure led the company to mislead others on its progress. The U.S. Securities and Exchange Commission closed an investigation into claims that the company misled shareholders.