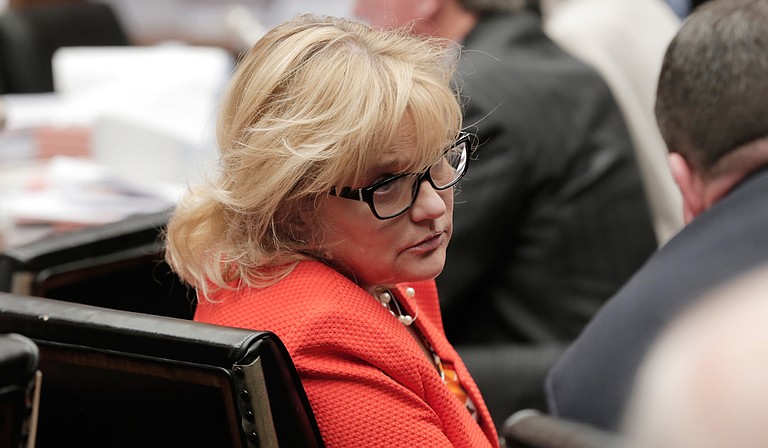 Wednesday, February 7, 2018
JACKSON — Abortion would be illegal after 15 weeks in Mississippi if a bill the House of Representatives passed late Friday becomes law. Rep. Becky Currie, R-Brookhaven, introduced House Bill 1510, and Rep. Andy Gipson, R-Braxton, brought what he called a "pro-life bill" out of his committee to the House floor, where it passed by a vote of 79-31.
Currently, abortion is prohibited in Mississippi after 20 weeks, the legally accepted point where a fetus might become "viable" and live outside the womb.
Currie said the measure was about abortion—not maternal health care.
"Once that mother decides she's going to carry that child past 15 weeks, she has access to health care, 100-percent good health care," Currie said.
Rep. Adrienne Wooten, D-Jackson, had lots of questions for Currie.
"Why would you force a woman to have a child who has decided that she does not want to have that child? Tell me what right the state has to force a woman to do something like that?" Wooten said.
Currie said she believed life and children are precious.
"I think that if you have a child, and you don't want it, that there's somebody else that does want it and will love it," Currie answered.
Wooten pushed back, pointing to the 6,000 children in foster care. (There are 5,683 kids currently in the state's custody.) Currie said the State helps contribute to the health of those children.
"If there's a child that doesn't have a home, they are taken under the custody of DHS, if they don't have food, we supply them food," Currie said. "... This is not a third-world country—"
"It's a third-world state," Wooten finished, ending debate on the bill, as Currie yielded the floor.
Gipson did draw a sideways compliment during the floor debate, however. "This is the first time since you have been chairman I've actually seen you allow a female to participate in debate about this subject, and this is very interesting to me," Rep. John Hines, D-Greenville, told Gipson during the discussion.
The Viability Debate
Mississippi lawmakers have restricted abortion access in the state to great lengths already. The state has one abortion clinic in Jackson, and current state law does not allow women to have abortions past 20 weeks of pregnancy. Doctors at the Jackson Women's Health Organization are required to tell women about the health department materials and furnish her copies if she wants to see them, as laid out in state law, and she must wait 24 hours between her initial consultation and actually getting an abortion.
The Jackson Free Press obtained a copy of the "Informed Consent" guide from the Mississippi Department of Health in November 2017. It says that a fetus has "no chance of survival outside the womb" up to 18 weeks and notes that "survival outside the womb is not probable" from 18 to 20 weeks. State law leaves "probable gestational age of the unborn child" to the judgment of the attending physician.
Viability of a pregnancy is different for each woman, but generally speaking, a pregnancy is usually viable around the 20-week mark. That is the standard the U.S. courts have recognized since the Gonzalez v. Carhart U.S. Supreme Court ruling, which allowed Nebraska to implement a late-term abortion law, which the procedure's opponents call "partial birth," despite both lower courts ruling against the measure. A wave of 20-week abortion bans hit state legislatures afterward, including in Mississippi.
Currie said lawmakers have precedence under the Gonzalez v. Carhart ruling to pass the legislation.
"[T]he (Supreme) Court upheld a federal prohibition on 'partial-birth' abortion even as applied to abortions performed before viability, therefore, any prohibition on pre-viability abortions including at 15-week gestational limitation must be carefully evaluated to determine if it serves as compelling state interest and imposes undue burden on women, so we have precedence," Currie said, while explaining her proposed legislation.
Hillary Schneller, a staff attorney at the Center for Reproductive Rights, disagrees. She said that states cannot ban abortion prior to viability, which she said is generally around the 24-week mark of a pregnancy.
"A fetus is not viable at 15 weeks—there's no scientific or legal basis for that," Schneller told the Jackson Free Press.
Constitutional Bill?
At least two other states have attempted to ban abortion with limits before 20 weeks: North Dakota and Arkansas. The Center for Reproductive Rights challenged both those bans in court and won both times. North Dakota attempted to ban abortion as early as six weeks in 2013, but the Center challenged the measure, and a federal court struck the law down, followed by an unsuccessful appeal to the U.S. Supreme Court.
Arkansas tried to ban abortion after 12 weeks in 2013 and failed after the Center and the ACLU asked the court to strike down the measure. Schneller reiterated that the bedrock principle of abortions-rights cases is that states cannot ban abortion prior to viability. She said the Center for Reproductive Rights is watching House Bill 1510 "very, very closely."
Some Democrats raised concerns about the measure's legality during debate. Rep. Kabir Karriem, D-Columbus, asked if it was unconstitutional.
"I hear the chairman behind me saying yes, it is. But trust and believe, I believe that there will be some constitutional challenges to this bill," Wooten said.
Some Democrats supported the measure, but Wooten and Rep. Sonya Williams-Barnes, D-Gulfport, spoke against the legislation. Williams-Barnes challenged her colleagues to care for the welfare of children in all aspects of policy, pointing to child-care subsidy bills and other health-care votes that hurt women's health care in the state. Ultimately, several Democrats voted for the bill, including Rep. Tommy Reynolds, D-Charleston, who spoke in its favor.
Planned Parenthood, which has one Mississippi clinic, in Hattiesburg, that offers contraception and family-planning services but not abortion, warned that the measure is unconstitutional.
"This bill is not only unspeakably dangerous for the women of Mississippi, but it's a waste of time and taxpayer money that we can't afford to lose," Felicia Brown-Williams, Mississippi state director for Planned Parenthood Southeast Advocates, said in a press statement.
"Mississippi voters have made it clear that we do not want the government meddling in personal health-care decisions."
Correction: A previous version of this story said physicians are required to go through Department of Health material with women seeking abortions. They are not; they are only required to inform her that those documents exist and furnish copies should she want to look at them. Email state reporter Arielle Dreher at [email protected] and follow her on Twitter @arielle_amara. Read more coverage of the abortion debate in Mississippi at jfp.ms/abortion.