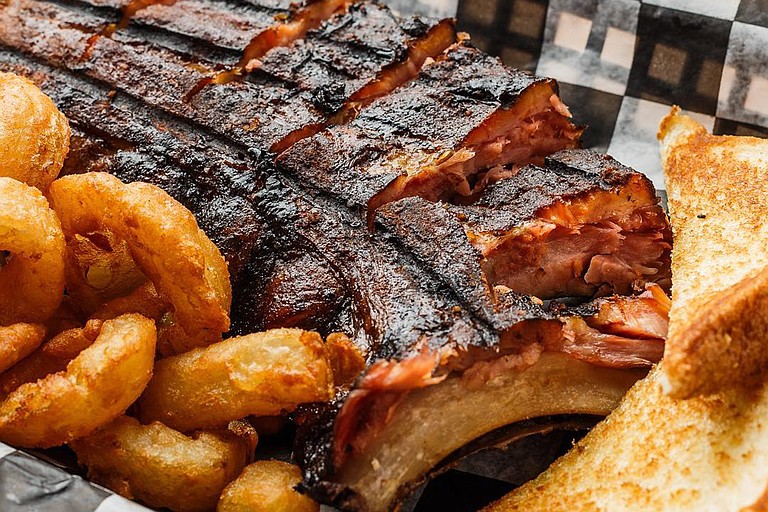 Tuesday, February 6, 2018
A new addition to the local nightlife scene arrived on Dec. 1, 2017, in the form of Lounge 114, an upscale restaurant and lounge in downtown Jackson. The 5,500-square-foot space features a full-range kitchen and a lounge with couches for guests. Lounge 114 features live blues, jazz and R&B music at least twice a week and will soon expand its current hours to be open on Sundays, manager Marvin Toney told the Jackson Free Press.
The menu at Lounge 114 features fried wings, fried or sauteed crab claws, sweet chili shrimp, Cajun chicken and sausage pasta, blackened catfish, burgers, grilled or fried chicken sandwiches, and more.
The restaurant also offers a blue-plate lunch special with one of two entrees to choose from each day, and sides such as collard greens, corn nuggets, mashed potatoes, buttered rice, fried okra, field peas and more. The entree choices are hamburger steak or baked chicken on Monday; sirloin beef tips or fried chicken on Tuesday; pork chops or meatloaf on Wednesday; red beans and rice, or fried chicken on Thursday; and fried catfish or spaghetti on Friday.
Lounge 114 (105 Capitol St.) is open Tuesday through Friday, with lunch from 11 a.m. to 2 p.m. and lounge hours from 6 p.m. to 9 p.m. On Saturdays, the lounge is open from 8 p.m. to 2 a.m. The restaurant also offers a happy hour on Friday nights with two-for-one drink special during lounge hours.
For more information, visit Lounge 114's Facebook page.
Steve's Ribs and Grill Opens in Ridgeland
Steve and Lisa Beagles, owners of Doe's Eat Place, recently opened a new restaurant called Steve's Ribs and Grill (870 Avery Blvd., Ridgeland). Steve's features Carolina-style barbecue with original recipes, sauces and sides all made from scratch.
The menu at Steve's features barbecue nachos, sliders, smoked baby back ribs, pulled pork, sliced brisket sandwiches, smoked turkey breast, smoked sausage hoagies, burgers and more. Steve's also offers sides such as coleslaw, fried potatoes, loaded potato salad, fried okra and onion rings, as well as desserts such as chocolate lava cake, pecan pie and banana pudding.
The Beagles moved to Mississippi from Miami in 2010 with their two daughters, Sarah-Beth and Rachael-Ann, who the Steve's website says designed the restaurant's logo while doodling together on a napkin.
Steve's Ribs and Grill is open Monday through Saturday from 11 a.m. to 2 p.m. for lunch and from 5 p.m. to 10 p.m. for dinner. For more information, call 769-251-0103 or visit stevesribsandgrill.com.
Watkins, Habitat and Owens Corning to Provide Roof for Jackson Veteran
Ohio-based insulation and roofing manufacturer Owens Corning Platinum Contractors is working with Jackson construction company Watkins Construction & Roofing and Habitat for Humanity Mississippi Capital Area as part of its national initiative to provide new roofs for local veterans in need and their families.
In the Jackson metro area, the Roof Deployment Project selected Arthur Mikell, an army veteran of the Vietnam War, to receive a new roof on Wednesday, Feb. 7. Owens Corning Roofing will also donate materials and labor to replace roofing shingles on the homes of military veterans and their families throughout the country.
For more information, visit roofdeploymentproject.com.